How ABLEnow Helps People With Disabilities be More Independent
---
Interested in learning more about ABLEnow? Learn about eligiblity and how to open an account here.
Sponsored by

After Richard Bagby was paralyzed due to a spinal cord injury 13 years ago, he wondered how he would be able to live independently. First, there were the practical aspects of adjusting to his new physical abilities, and then he faced a new financial reality. Richard depends on state and federal programs that require him to have less than $2000 in the bank and limit how much he can save. How could he possibly afford to live independently, care for his service dog, and prepare for the future?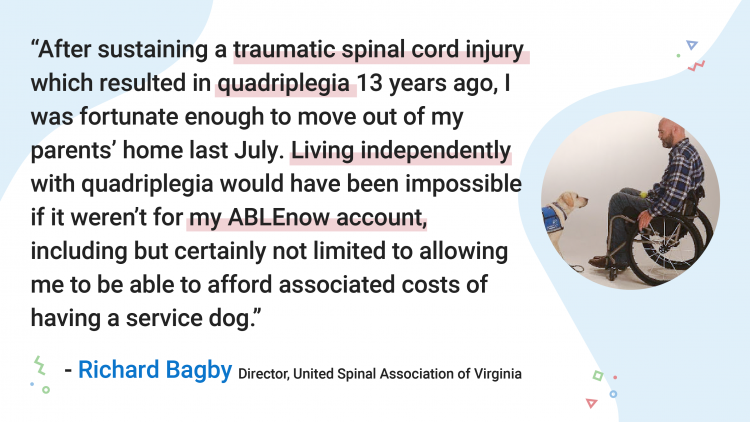 Millions of Americans with disabilities struggle with questions like these each year. In the past, unless they had the resources to set up and maintain a special needs trust, people with disabilities who needed support from government programs were limited in the amount they could save or invest. But now, those who became disabled before age 26 have another option. ABLEnow accounts allow people with disabilities to save and invest without losing essential benefits such as Medicaid and Supplemental Security Income (SSI.)
In 2014, Congress passed the Achieving a Better Life Experience Act, (ABLE Act), which provided for the creation of tax-advantaged savings accounts for people with disabilities. Up to $16,000 can be contributed to an ABLEnow account per year (or more via the ABLE to Work Act if the individual with a disability is employed). Any American who developed a disability before age 26 is eligible to open an account. An Authorized Representative such as a parent or legal guardian can open an account for a child with a disability or an adult who cannot manage the fund themselves. ABLEnow account owners can save their own money, and friends and family can also contribute.
Funds deposited into an ABLEnow account can be spent on "qualified disability expenses." Determining what counts as a qualified expense might sound complicated at first, but it isn't. Qualified disability expenses include basic living expenses such as utility bills, housing, medical treatments, insurance co-pays, transportation costs such as a bus pass or payments on an accessible vehicle, college or training programs, assistive technology, legal fees, service dog expenses, and more. ABLEnow accounts include a debit card to make paying for qualified disability expenses as quick and simple as it would be with a standard bank account.
Many government programs require hours of paperwork and months of waiting, but opening an ABLEnow account is easier than you may expect. You can enroll online in just a few minutes. The biggest barrier to setting up an ABLEnow account is lack of awareness — many people with disabilities and their loved ones don't know this program exists or realize how helpful it can be. ABLEnow is helping to change that by providing a simple, accessible website that makes it easy to get started. Customers can manage their account with ABLEnow's online tools and top-rated mobile app.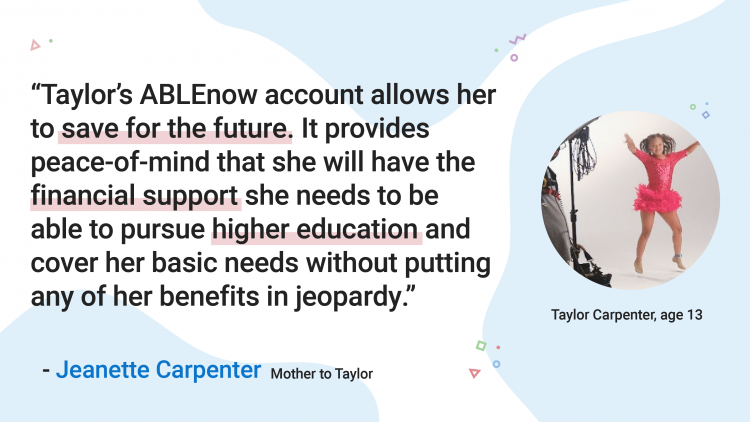 An ABLEnow account can help families plan a more secure future for their child with a disability and empower adults with disabilities to live more independently. Learn if you or someone you know is eligible at ABLEnow.com. 
Disclosure
Call 1-844-NOW-ABLE or visit ABLEnow.com to obtain information on the program. Seek the advice of a professional concerning any financial, tax, legal or federal or state benefit implications related to opening and maintaining an ABLEnow account. Participating in ABLEnow involves investment risk including the possible loss of principal. ABLEnow is administered by Virginia College Savings Plan. For non-Virginia residents: other states may sponsor an ABLE plan that offers state tax or other benefits not available through ABLEnow. ©2022 Virginia College Savings Plan. All Rights Reserved.