If Your Child Has an IEP, Make Sure You Give Their Teachers This
---
If your child has an individualized education program (IEP), by the time school begins — aside from the special education teacher and IEP team — it is possible not all of your child's teachers will have read their IEP. As kids move on to middle and high school, you may find this happening more and more, though it can happen in elementary school too. Sometimes, the only thing teachers know about your child is that they will be in their classroom and whether or not they will have a paraprofessional with them for support.
At the beginning of the school year, supports should already be set in place to welcome your child, but that is not always the reality. It's possible your child's teacher has not read the IEP because they haven't received a copy by the time the first day rolls around. To me, that's concerning.
Last year, my middle child, who has an IEP, started middle school. Suddenly, we had more than one teacher to work with — not counting teachers for specials such as choir or physical education.
I wasn't sure how many of her teachers would get a copy of her IEP and read it, even as they planned the year. One of the accommodations she receives is where she sits. She needs her desk to be wheelchair-accessible and close to the front of the class. We have always met with teachers before the open-house to ensure she gets some one-on-one time with them without distractions. Last year, almost every classroom was not set up in a way that met the seating requirements of her IEP. We ended helping teachers rearrange their classrooms so they were accessible to my child.
What is the best way to address these issues? Enter our one-page IEP Lite.
It is possible you may have been creating these one-page profiles for your child for years — many parents have. If you Google "student profiles" you will get all sorts of ideas and examples. There are so many, it can become overwhelming.
I've traced back these documents as far as 2004 when Helen Sanderson Associates developed its one-page profiles. Over the last 15 years, one-page profiles have changed and evolved but are always based around person-centered planning.
Person-centered planning promotes the human side of an IEP by bringing your child — with their strengths, gifts, what works and doesn't work — to the forefront. Basically, you want educators to see your child first, their diagnosis second. What do you want teachers to know about your child? What will help them understand your child better as a person?
While person-centered planning is more common when young adults with disabilities transition out of school or seek employment, advocates have been encouraging parents to take this approach as early as the first day a child begins school. It should have the information you want people to know about your loved one. This will help teachers and educators understand the vision you have for your child's future.
As I was trying to figure out how best to connect with each of my child's teachers, I came across a blog post from "our three little birds," who adapted a template based off of a person-centered planning session led by Roberta Dunn of FACT. I thought her template was super cute, so I created my own.
Now that I have received feedback from educators and am more experienced with one-page student profiles — and now that my daughter with Down syndrome is entering middle school — I see the need for a document that looks more professional. These profiles are my kids' "resumes." Most person-centered plans focus on strengths, what works and what doesn't work, but I feel it is important to include weakness, as well as key points from the IEP that teachers needed to know about and follow.
Adding an IEP section breaks away from a person-centered approach and changes the tone, but I feel very strongly the key points from my child's IEP should be included. Why? Because these are the key points I will be making sure are followed. This section also holds the teacher accountable and focuses on their role.
These one-sheets can help facilitate conversations and allow teachers to ask questions. While I want teachers to see my child first and disability second (person-centered approach), I also mean business. I am taking a step to help them understand how my child's disability impacts their learning, their time in the classroom and interactions with peers and educators. This is why in these profiles, I include IEP-worthy information throughout the document. This is not the time to tell the teacher my child has changed my life for the better, she is a ray of sunshine and if they get to know her they will love her, too. This is the time to say she can follow directions, but she needs to be given them one at a time. She loves books, but she is still below reading grade level and needs materials to be accessible to her. Basically, what does the teacher need to know about my child and how her disability impacts her when she is in their classroom? This information can still be person-centered, yet pulling from the accommodations, modifications and accessibility needed per her IEP.
These profiles can easily become two or three pages, but it is important to focus on just one page. You want it to be as easily "digestible" as possible, with bullet points and short sentences. If you feel you have more to say, maybe you write a separate letter of introduction or arrange a face-to-face meeting. Remember, we are approaching this as a professional "resume" for our kids.
I created two editable templates so you can easily create a student profile for your child. Last year, teachers were really appreciative of the handout. When I posted it on my Facebook page, I even had teachers who said they wish they had a template like it so they could hand it to their students (or the students' parents). One template has two columns, which you can use it for any class or grade. The other template has one column and has the option of including the class name, teacher name and your child's grade.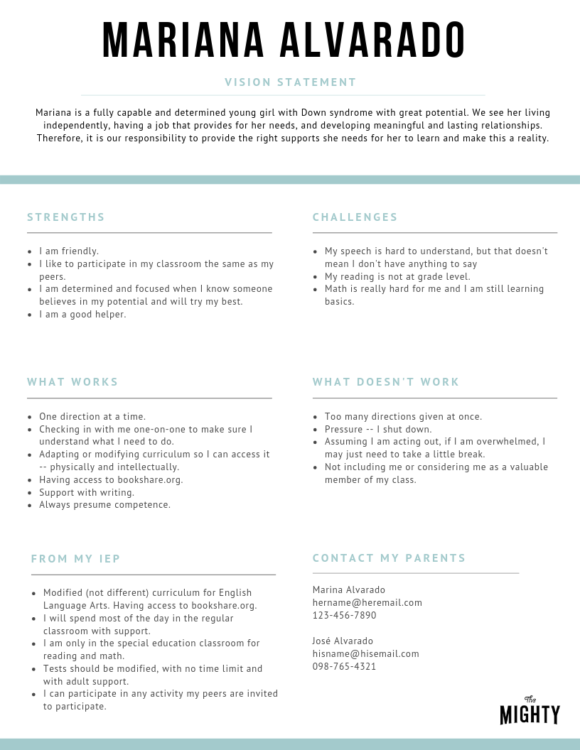 Download this two column template.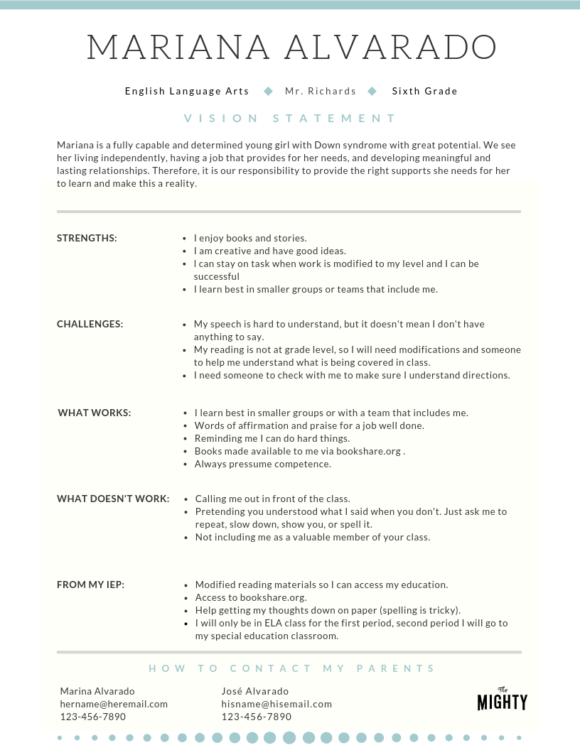 Download this one column template.
Tips for filling out the templates:
Create a vision statement, ideally with your child. If your child is older, have them write their own vision or personal statement. My daughter wrote hers last year:
Treat me with dignity and respect. I am not a little kid, I am 12, so please don't use baby talk, it feels condescending. I want to be treated as a real person. My disability (cerebral palsy) does not define who I am, but it is part of my identity. I can make my own choices. Please listen to what I have to say when it comes to my disability or accommodations I need, I know my body best.
This is not the time to get lengthy. Think clear and concise, ideally using short bullet points. What should the teacher absolutely know about your child?
IEP key points are just that, key points.
If your child is in middle school or high school, make one for each teacher and include information only relevant to each class. For example, if your child struggles with math and has a modified curriculum, exclude that in the document you give their history teacher. But you may want to include in the IEP section that tests are to be modified, with no time limit and with adult support for reading.
I printed out the one-sheets, now what?
Don't just hand them out and expect the teachers to read them later. Teachers are super busy at the beginning of the year and this may just go on a pile of things to get to later.
Bring them to each teacher at the open-house or preferably schedule a time before school begins. Read them together, this way you know they have the information and have a chance to ask questions. I had a few teachers express they were quite appreciative of having this information handy.
My daughter had some pretty great conversations with teachers based on her student profile and it made her feel much better about beginning the school year. As her little sister is joining her in middle school, I am creating these profiles for two of my kids with IEPs.
Last, if you are super creative and you just want to do your own thing, Canva is a free service you can use to create a template. There are also several online templates you can print out and fill out by hand. I don't want to tell you the ridiculous amount of hours it took me to create these editable templates, but I did it so you don't have to spend the time doing it.
Once you create your own, share an image with us here on The Mighty! #StudentProfile
Here are other posts that may help you get ready for this upcoming year:
Originally published: August 7, 2019