Why Airplane Access for Wheelchair Users Should Be 'All Wheels Up'
---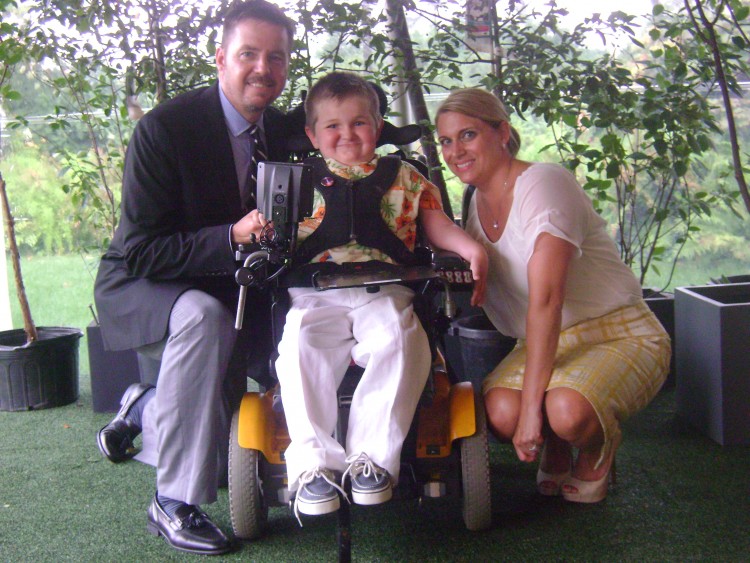 In 2007, my son Greyson was diagnosed with spinal muscular atrophy. We learned quickly that traveling with a child who used a wheelchair was difficult.  I realized I needed to do something to change air travel for people with a severe physical disability.
I started All Wheels Up in 2011, with the goal of creating a space for passengers to ride in their wheelchairs on every major air carrier. We are the only organization in the world conducting crash tests of wheelchair restraint systems for transport planes. While there are many great organizations and people working to advocate for better quality of care for people who use wheelchairs, when it comes to flying the friendly skies, the fact remains that planes are not truly accessible.
I recognized the hole left by the Air Carrier Access Act (ACAA) and the Americans With Disabilities Act (ADA). Currently, people who use wheelchairs cannot ride in their wheelchairs on the airplane. Instead, they must get into a transfer wheelchair at the gate. These transfer wheelchairs are incredibly uncomfortable, don't have a headrest, don't have a pressure relief cushion, and don't have upper body support. You have to be wheeled onto the plane by the flight attendants.
Once you finally get into your seat, you have to sit there without proper support for the entire flight. If you have a condition like muscular dystrophy, ALS, or cerebral palsy that leaves you with limited strength or balance, you will need someone sitting next to you to help hold you up during takeoff, turbulence, and landing.
Meanwhile, the wheelchair must be physically lifted into the cargo hold by baggage handlers. Power wheelchairs generally weigh at least 300 pounds, can cost $20,000 or more depending on the model, and can only be replaced by insurance every 5 years. Wheelchairs get damaged constantly and even sent to the wrong airport, and airlines spend millions every year repairing them.
This makes traveling on an airplane with a wheelchair incredibly unsafe and even impossible for millions of people. Many do not even fly because of bad experiences and stories they have heard from others.
All Wheels Up is thinking outside the proverbial box for people who rely on a wheelchair for safe transportation and seating. AWU is the only organization crash testing wheelchair restraints, wheelchairs and other wheelchair parts for private charter, commercial flight and not-for-profit airlines.  The project is multi-faceted with many other organizations' involvement. Even though the solution is simple, cutting through the red tape and having people step outside of their comfort zone will ultimately be the biggest hurdle. However, all of us at AWU work every day to make it achievable. Our goal is that one day in the not-so-distant future, people who need safer seating will be able to fly while remaining in their wheelchairs.
Our foundation is based on our research, not the notion that "it is not fair" or "wouldn't it be nice."  The most compelling information so far comes from a report published by Q'straint, the largest wheelchair securement company in the world. They have conducted crash tests of their Wheelchair Tiedown and Occupant Restraint Systems (WTORS) at 20G and passed. This surpasses the 16G sled testing that the airlines have established as a guideline for airplane seats. This ended up becoming our foundation of purpose.
The most disappointing report came from the FAA. The FAA report 7.2 medical criteria for transportation of patients by air ambulance states: "Quadriplegics will prefer cabin wall seating as providing more support on one side." This statement, in an official report, shows the lack of attention the FAA has given to the safety of air travelers with physical disabilities. For most who experience hypotonia from quadriplegia or a neuromuscular illness, wall support is not enough for safe seating, let alone for takeoffs and landings. And what about the person next to you on the other side — are they supposed to provide support as well? And how does one transfer safely over three seats without being able to stand?
If the aviation community becomes educated about the safety issues and begins to think outside of the current model, they will realize that improved access can be profitable. In the long run, they'll earn more money by bringing in customers who currently can't use their services, and save on fixing wheelchairs and paying out fines.
The FAA Re-Authorization Act of 2016 has four amendments specifically addressing the disability community. Two of the four address physical disabilities and wheelchairs.  While there is more work to be done with the bill, it is the first time in history that funding to test wheelchair restraints for cabin use has been addressed. The amendment states:
"SEC. 3116. Study on in cabin wheelchair restraint systems.
Not later than 2 years after the date of enactment of this Act, the Architectural and Transportation Barriers Compliance Board, in consultation with the Secretary of Transportation, shall conduct a study to determine the ways in which particular individuals with significant disabilities who use wheelchairs, including power wheelchairs, can be accommodated through in cabin wheelchair restraint systems."
All Wheels Up has successfully raised enough capital to conduct the first crash test of wheelchair restraints for transport planes on September 7th, 2016. We will be working with Calspan, a FAA-approved aerospace engineering and research facility to see if a wheelchair can pass the FAA crash tests using the Q'Straint system. We hope to also test several other wheelchair components to prove wheelchairs and Q'Straints can meet all the FAA requirements for safe air travel. We will be documenting everything for a full report that will be included in our feasibility study, which we will be sending to the FAA, U.S. Access Board, House Committee on Transportation, airlines, airplane manufacturers, and others.
AWU is working with disability organizations such as the Muscular Dystrophy Association, Easter Seals, Paralyzed Veterans of America, and United Spinal Association. We sit on the RESNA COWHAT board for wheelchair transportation safety. We have the full support of the FAA and the EASA (European Aviation Safety Agency), the DOT, and the House Transportation Committee. We are making great strides here in the United States and internationally. We will continue our work to ensure that someday soon, people with physical disabilities can access air travel safely and with dignity.
Learn more at All Wheels Up.
Originally published: September 6, 2016