5 Things I've Learned Since My Daughter With Disabilities Graduated High School
---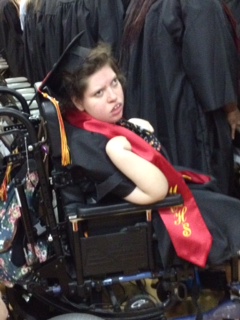 As my daughter, who has multiple disabilities which include seizures, approached her 21st birthday and graduation from high school, I didn't know what to expect. I was very happy we both survived 18 years in a one-size-fits-all system. I was glad to be done with IEPs, yet a little scared of what life would be like without the predictability of the school schedule. Day programs and available services vary widely from area to area. Although I educated myself about our options before she graduated, I was afraid of what life would be like. Here is some of what I've learned since.
1. The most important thing you can do is network with other parents. I found this is the best way to find information about day programs, and opportunities for recreation and socialization. The center my daughter attends is good, but not perfect. The ability level and age range of the other participants is wide. My daughter is in her early 20s, and the oldest person in her program is in his late 70s. She enjoys going and there is enough to keep her interested, but she needs opportunities to socialize with her same-aged peers. We found an art program with participants in her age group, and this is where we are able to meet other parents. Social media is a big help in finding church programs and special events held in our area geared toward recreation and fun socialization such as game nights or dances. There are activities out there, but finding them isn't always easy without the help of other parents.
2. Flexibility is necessary because routines can change without notice, especially in the morning. We were used to a very early pick-up time for school. The day program starts later and runs for fewer hours per day than school. One positive change is our later wake-up time. One negative is cutting back on hours at my job due to the increased time I need to care for my daughter before she leaves. Luckily my employer is flexible, so I wasn't forced to find a new job, or stop working altogether. Also, the bus doesn't always come at the same time. They do their best, but they are picking people up from all over the area, so if someone is not going that day, or isn't quite ready when they arrive, they may be earlier or later than usual. We are fortunate that my daughter's program includes transportation; not all programs do, which leaves parents doing the driving, carpooling, or hiring a car service.
3. I sometimes feel jealous of the freedom to come and go that some of my peers have. Most of my friends are becoming empty-nesters, free to have spontaneous weekends away or last-minute social engagements. I must plan everything in advance, such as who will be caring for my daughter, before accepting an invitation. My friends are very understanding and accommodating of my restrictions, but I still feel that little twinge of envy for their spontaneity.
4. Finding new physicians and health care facilities can be hard. I learned when searching for new doctors that the word "Medicaid" can close many more doors than it opens. At age 21, pediatric practices and the children's hospital can no longer treat my child. I knew the time was coming, but I still wasn't emotionally prepared. Adult practices are a different atmosphere from pediatric ones. Gone are the cheerful, colorful walls and cute animal pictures, smiling faces in the waiting room and cartoon character Band-Aids. Instead there are muted walls with framed landscapes, gauze and tape and somber, bored faces tired of waiting. I'm finding it hard to replace 20-plus years of trust I had in the doctors and their office staff. There's no more instant recognition by the staff and doctor knowing my daughter's history. It's not so easy giving a brief synopsis of a complex medical history to someone on the telephone before getting to the current concern. For me, finding the right fit is exhausting, and time-consuming.
By aging out of the school system and doctor's practices at the same time, a whole support system has been removed from our lives.  It takes time to build up confidence in a new approach to lifelong issues we've learned to handle a certain way. We are starting over, and those old feelings of self-doubt in decision-making I left behind many years ago have returned.
5. Life takes on a slower pace. Our days start later, and we have more free time. We are no longer going at the frenetic pace the school years induced. It's not entirely a bad thing. I've learned to embrace this more low-key way of life. We have become creative at finding things to do that fit our daughter's likes. She loves music, so we look out for local concerts in the winter and outdoor concerts in the summer. A walk at the park and a picnic is a pleasant way to spend a weekend afternoon in the summer and warmer days in the fall. I used to fear life after my daughter turned 21, but I have come to embrace it. I thought it would be sad and lonely, but it's not; it's just different and challenging in a new way. At the end of the day, my daughter is healthy and seems content, which is what the goal has always been.
The Mighty is asking the following: Create a list-style story of your choice in regards to disability, disease or illness. It can be lighthearted and funny or more serious — whatever inspires you. Be sure to include at least one intro paragraph for your list. If you'd like to participate, please send a blog post to community@themighty.com. Please include a photo for the piece, a photo of yourself and 1-2 sentence bio. Check out our Submit a Story page for more about our submission guidelines.