Living My Life in the Grey Area of Disability
---
When people talk about the "isms" in society, racism and sexism are usually the first that come to mind. Later in the list comes ageism. Often forgotten and misunderstood, is ableism.
Ableism: Discrimination or prejudice against individuals with disabilities.
In the last nine months of my life, I have thought a lot about ableism. A year ago, when I whole-heartedly identified myself as "able-bodied," I never even considered the nuanced meanings of "disabled" or "abled." I assumed that, like the other "isms" I've learned about or experienced, the categories were cut and dry. You were either "able-bodied" or you were "disabled." I never imagined I would one day live in the grey area.
On some days, I am undeniably disabled. I am in bed or, if I must go out, I'm in the wheelchair. On other days, I am walking on my own. That lasts for about six hours, then I crash. On most days, I am somewhere in between. I wake up feeling achy and tired, so I take my medication and monitor my stats. I drink a bottle of water and monitor my stats again. I concentrate on my breathing when I have to take the stairs. I position myself away from sharp edges in a room to ensure that a surprise syncope episode won't result in cuts and bruises. I stand up slowly and brace myself against furniture or people around me, and sometimes I have to sit right back down and try again.
That is the grey area for me. I can walk and stand on my own, sometimes. I need a wheelchair or help from my loved ones, sometimes. This is how I discovered the ableism that is hidden in disability binarism.
Disability binarism is the idea that disability is black and white; you are either able-bodied or disabled. This simplistic thought processes is damaging to anyone who finds themselves in the grey area of disability, which is a huge portion of the disabled community.
Disability binarism leads able-bodied people to dismiss the experiences of disabled people if they see any evidence of ability. For example, this "oh-so-funny" meme that circulated the Internet as seen below.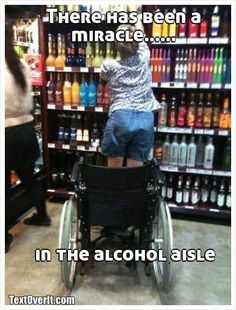 Disability binarism leads to uninformed assumptions about other people's bodies and experiences. This meme is highlighting the idea that there must be a miracle for a disabled person to be able to perform a task that an able-bodied person can. The humor is in "catching" a disabled person slipping out of character. There is no concern for understanding in this situation. The idea that this person may use the wheelchair to avoid falling when overcome with syncope or to function with severe fatigue is foreign to the viewer if all they understand is disability binarism.
I have found that disability binarism is one of the biggest driving factors for the ableism I have experienced. I think that this is because I was once able-bodied and I have transitioned into a period of my life where I am now in the grey area. Those around me, weren't always part of the transition so they do not understand my life in the grey area.
I use my chair a lot on my campus because it is the safer method of transportation. However, it uses a lot of energy to push myself, so when I can, I park my chair and I walk on my own. Seeing me in the chair one minute and then walking the next has confused a lot of people. I have heard everything from "I swear I see you in a wheelchair sometimes. What's wrong with you?" to "Wow. I thought you really were crippled. You know, you shouldn't pretend to need a wheelchair."
Neither of these comments is OK. Although your questions might seem like innocent curiosity, there is a major aggression/accusation in the question "What's wrong with you?" Let me set something straight here — you are not entitled to know how I became disabled. My appearance of a disability and then ability to function "normally" is not some mystery you are entitled to solve. Everybody has their emotional baggage that they must deal with; mine, unfortunately, is on display, and satisfying your curiosity at the expense of my comfort is not my responsibility.
Finally, let's take a minute to realized that somewhere at some point, someone watched a disabled person stand up and reach for something in a store and, instead of politely offering assistance or just going on with their life, took a picture and made a joke out of it. That is ableism: witnessing a moment from a disabled person's day, taking ownership of it and turning it into entitled entertainment for yourself.
Living with a disability can hard. Living in the grey area is hard for me. My day can be tainted with the fear that uninformed bystanders will dismiss the severity of my disability. If you see me walk today, will you doubt my need for my wheelchair tomorrow?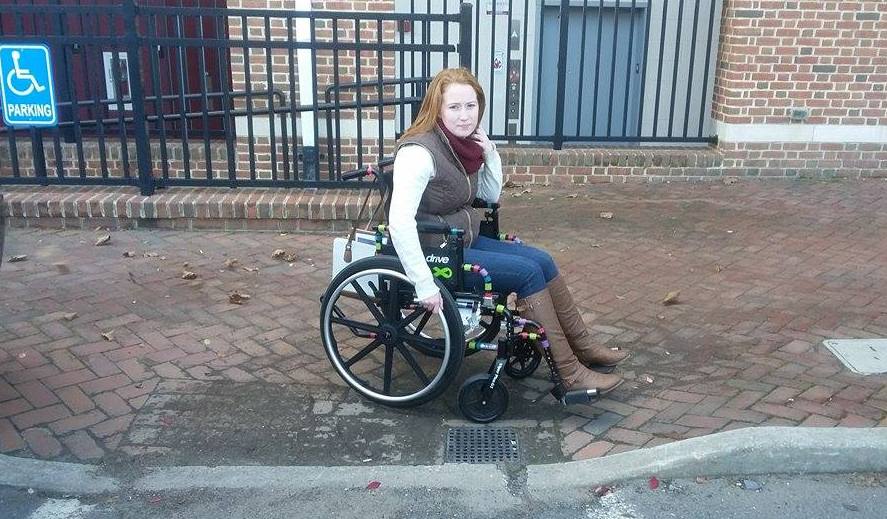 Originally published: March 17, 2016