Lyft Reaches Settlement With Justice Department Over Accessibility for Disabled Riders
---
What happened: Lyft has reached a settlement agreement with the U.S. Department of Justice over allegations its drivers refused rides to people who used foldable walkers and wheelchairs, in violation of the Americans with Disabilities Act.
The settlement agreement will now ensure that individuals with disabilities who use collapsible mobility devices will have equal access to Lyft rides.
The Department of Justice launched the investigation after a Los Angeles man who uses a wheelchair filed at least a dozen complaints about drivers that he was rudely treated or denied rides. The San Francisco-based company will pay damages between $4,000 and $30,000 to four people with disabilities, and pay a civil penalty of $40,000.
We're glad that through this agreement, we will continue improving our policies and making it easier for people with foldable wheelchairs and other collapsible mobility devices to get around using Lyft. Lyft is committed to maintaining an inclusive and welcoming community. — Lyft
Lyft agrees to resolve allegations that it violated federal law when its drivers denied rides to individuals with disabilities https://t.co/CZELPdf1b5

— US Attorney L.A. (@USAO_LosAngeles) June 22, 2020
The Frontlines: The Americans with Disabilities Act (ADA) was passed into law in 1990, and makes discrimination against anyone with a disability, in all aspects of public life, illegal. That important legislation also includes transportation and accessibility.
People with disabilities have repeatedly sued companies such as Lyft and Uber for discrimination and violating the ADA.
Lyft's competitor, Uber, has also faced its own share of lawsuits because riders with wheelchairs were denied transportation.
In addition to people with mobility devices being turned away from rides, those who rely on a service animal have also reportedly been denied rides from drivers
A Mighty Voice: Our contributor, Erin Migdol, asked the Mighty community to share something they wish drivers knew about their disabled passengers, and posted some of the responses in this article. "People with disabilities don't use mobility aids 'just for fun' or because they want to watch you put it in the car. They need these devices, and a driver's pleasant attitude and willingness to accommodate them (which they are required to do) will go a long way in helping them feel more supported and safe."
Get more on disability: Sign up for our weekly disability newsletter.
From Our Community: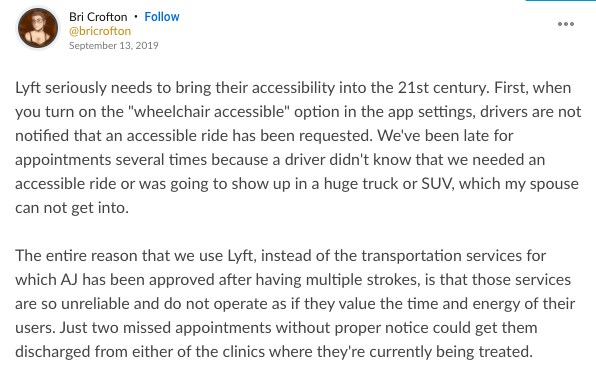 Add your voice: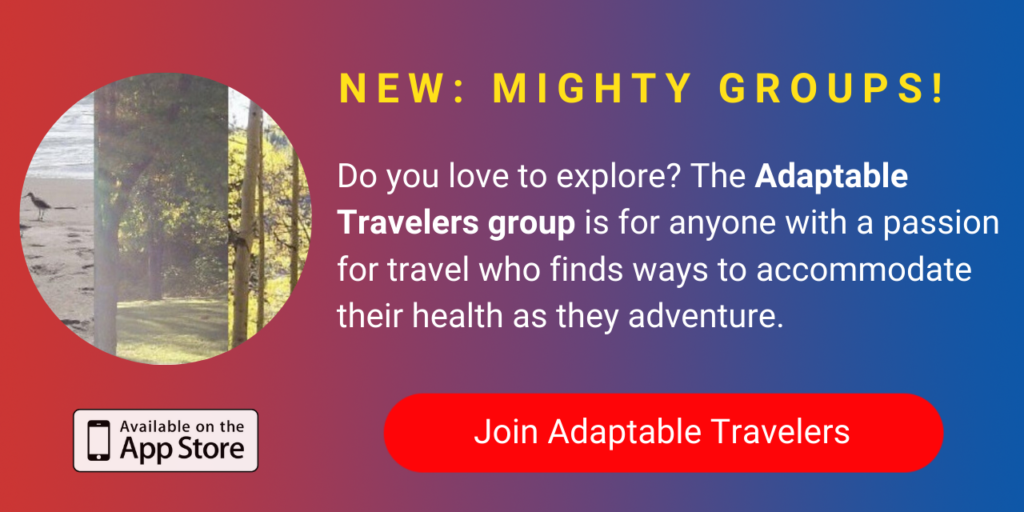 Other things to know: Ride-sharing services such as Lyft or Uber should be pleasant experiences for riders and drivers. But there does need to be more awareness surrounding riders of all public transportation and with all types of disabilities.
What's next: As part of the agreement, Lyft will revise its policies to clarify that drivers must assist disabled people with wheelchairs, scooters and walkers. The company must communicate these policies to current and new drivers, updating them four times a year. Lyft is also ordered to provide the Department of Justice with biannual written reports about its ADA compliance efforts over the next three years.
Originally published: June 25, 2020