Natalie Weaver Asks Instagram to Change Its Reporting Policies After Commenters Tell Her to Kill Her Disabled Child
---
On Thursday, disability advocate Natalie Weaver uploaded a video to Instagram and Twitter asking Instagram to help combat hateful speech towards people with disabilities and facial differences.
Weaver is no stranger to cruel comments. Like many parents, she shares photos of her daughter Sophia, who has Rett syndrome and facial differences, on social media. Unfortunately, unlike most parents, Weaver receives hateful and abusive comments on the photos she shares.
When Weaver goes to report these comments, there's little she can do to combat the hate her daughter receives. There are options for reporting hate speech on Instagram, but there are no options for abuse or threats specific to children or people with disabilities.
"Instagram's hate speech does not include anything to protect the disability community," Weaver told The Mighty. "I want the social media giant to take some responsibility to protect their users from being told to kill themselves or their children."
Please join me in calling on @instagram & @mosseri AGAIN to take a stance against hate speech, threats & encouraging violence towards children w/ disabilities & facial deformities. Please help me @TheEllenShow @ABC @NBCNews @CBSNews @CNN @TheTodayShow @facebook @MSNBC #InstaHate pic.twitter.com/yH0djurvom

— Natalie Weaver (@Nataliew1020) April 4, 2019
Instagram's community guidelines do not permit hate speech; attacks based on race, ethnicity, national origin, sex, gender, gender identity, sexual orientation, religious affiliation, disabilities, or diseases; or "serious threats of harm to public and personal safety."
However, when reporting a comment or an account on Instagram, there is no option to report hate speech, harassment or bullying due specifically to disability.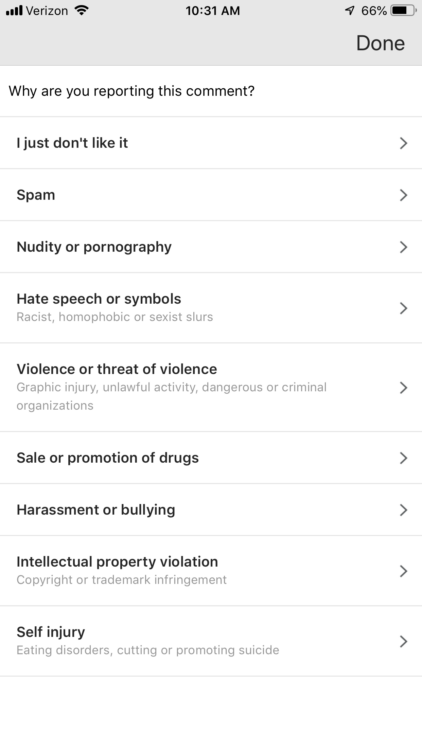 Weaver believes Instagram's reporting tool is neither intuitive nor easy to use. "They can simplify it," she said. "They can make it easier to report and notify people when they report specific comments."
Weaver has only been active on Instagram for about six months but said she has received three-times more hate on the platform than on Twitter and Facebook combined, platforms she has been using for years. Weaver has been using the platform to document her daughter's experiences, including her recent transition to hospice care.
Weaver spent months reporting the abuse her family has received — including comments telling her to kill her child, without ever hearing back from Instagram.
"Every time I reported an account they would not be found in violation," Weaver said. "Every time I reported a comment I never knew the outcome."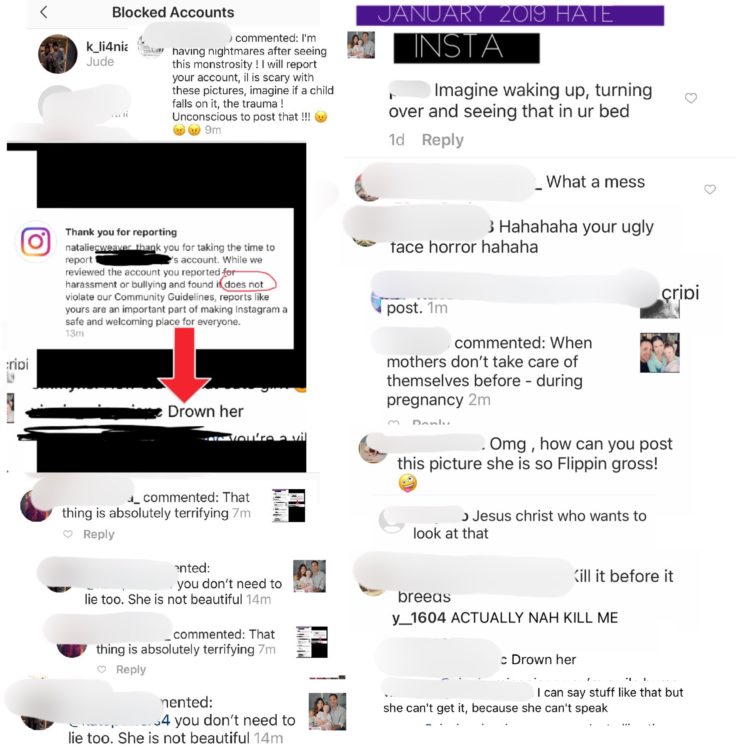 The final straw was the weekend before she shared her video asking Instagram to change its policies. Several meme accounts shared a hateful image made using her daughter's photo.
Yet when Weaver tried to report them, Instagram did nothing. Now Weaver wants Instagram to make its hate reporting more specific so that disabled people don't have to face the same abuse her family has. She said:
I want them to change their reporting tool to include disability and I want them to take a serious stance towards cyberbullying and hate speech, and I want them to hold accounts accountable for this and take real action by suspending them. I want them to protect their users, who they make money off of. They are doing nothing and that is not OK. That is my mission, to get social media giants to protect their users. They are not reinforcing their policies or taking them seriously.
Though Instagram did not respond to Weaver, it removed videos she shared of Sophia that people reported as "offensive."
The accounts that shared hateful memes of Weaver's daughter threatened to take down Weaver's account. There was a mass reporting of one of Sophia's videos and Instagram removed it twice. The third time she uploaded it the post was allowed.
This isn't the first time Weaver has asked a social platform to change its policies around disability. In Jan. 2018, Weaver asked Twitter to change its policies after a photo of her daughter was used to promote abortion. Weaver's petition was successful and Twitter changed the way tweets could be reported in April 2018.
Some have told Weaver she should remove herself from social media, but Weaver says she will not be silenced. Weaver kept Sophia's life private for seven of her daughter's 10 years because people were cruel. Now, with over 80,000 followers on various social platforms, Weaver wants to use her voice to change things for the better.
"People with facial differences are still not accepted by society so I chose to stand up for it, to fight to change that," Weaver said. "I won't go back into hiding."
The Mighty has reached out to Instagram and has yet to hear back.