Nike Releases First Hands-Free Adaptive Shoe With FlyEase Technology
---
Nike has taken another step toward accessibility for people with disabilities and health conditions with the release of a new step-in, step-out shoe, designed with its FlyEase technology. The shoe is created to be used hands-free, making it ideal for people with range of mobility issues or other conditions that limit motor skills.
Nike has unveiled their first hands-free shoe: the Nike GO FlyEase. pic.twitter.com/FZeKDTPUcf

— Front Office Sports (@FOS) February 1, 2021
Called the Nike GO FlyEase, it features a hinged design, with the hinge placed just forward of the shoe's heel. Nike calls the feature the FlyEase tensioner. When the wearer steps into the shoe they push the insole down with their foot, locking it into place. To remove the shoe, the wearer steps onto a rubberized portion of the heel with their other foot, then lifts their foot up and out of the shoe.
"Usually I spend so much time to get in my shoes," Champion wheelchair fencer Bebe Vio told Nike. "With the Nike GO FlyEase, I just need to put my feet in and jump on it. The shoes are a new kind of technology, not only for adaptive athletes but for everyone's real life."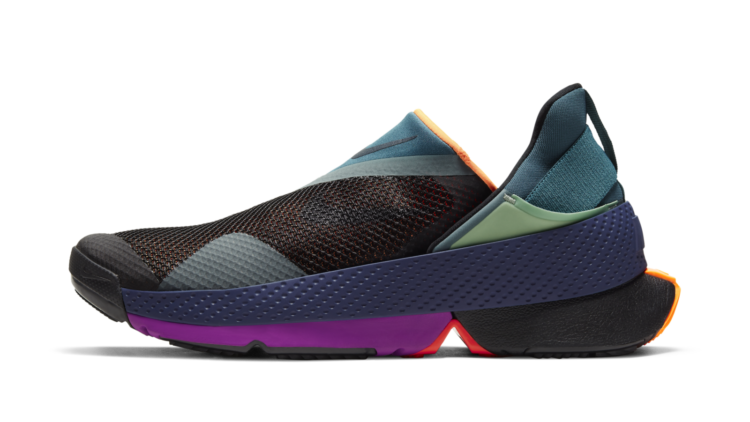 The FlyEase entry system was developed in 2012 after then-teenager Matthew Walzer wrote to the company requesting that they design a shoe for people who might have problems with shoelaces.
"My dream is to go to the college of my choice without having to worry about someone coming to tie my shoes every day," Walzer, who has cerebral palsy, wrote. "I've worn Nike basketball shoes all my life. I can only wear this type of shoe, because I need ankle support to walk. At 16 years old, I am able to completely dress myself, but my parents still have to tie my shoes."
All FlyEase shoes are designed with the goal of being easy to open and close, easy to put on and take off, and accommodating to different foot shapes. Other Nikes with variations on the FlyEase design include the Zoom Soldier 8, Lebron Soldier 9, Pegasus 32 and Flex Run models as well as an adaptive version of the iconic Jordan 1. Previous iterations had zippers on the heel that secured the shoe.
Some commenters on Twitter noted that Nike shoes can be expensive and hoping the company will price this one so they are accessible to those who need them.
The GO FlyEase will be available to some Nike Members via invitation on Feb. 15. A wide launch is planned for later in 2021. Initial color offerings include a mix of pastel green, pink, and blue; a blue/black combination; and solid black.