Why We Need to Talk About Police Brutality and Disability
---
Out of respect for my friends in law enforcement and not wanting to fuel the flames, I have stayed relatively quiet about my views on police violence. But as the mother of Emily, a little girl with autism and an intellectual disability, who is growing up in a violent and frightening world, it's time for me to speak up.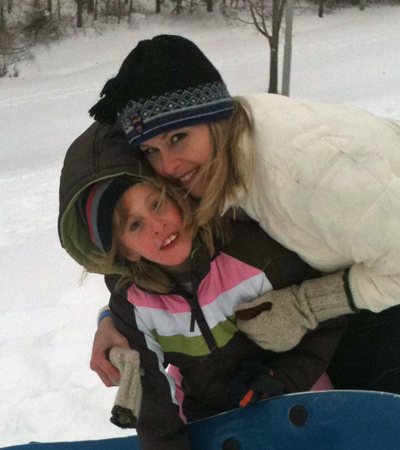 Lately when I hear "Hands up. Don't shoot," I get tears in my eyes. It's becoming increasingly difficult to not worry about how my daughter would react to a police officer pointing a gun at her. The fact of the matter is, she will run. I know many don't understand why I would even worry about such a thing considering that Emily is such a sweet child. But, what most of you don't know is that she can become violent when she is hurt. Or that she has a lack of awareness about the impact her behavior has on others. She doesn't understand when people are not laughing with her, but at her. Her behaviors can become very dangerous if she is egged on.
While many of parents have told me that my positive outlook about my child is inspiring, I have to admit that in some ways, it is just an act. I do a terrific job of hiding my fear, anger, and sadness about my daughter's life journey. Regrettably, the world is a very cruel and unkind place to those who have disabilities, especially those with developmental, intellectual, and psychiatric disabilities.
When Emily was in the second grade, I found her lying on her bed and sobbing. She was repeatedly crying, "I stupid." Something had happened at school that made Emily realize she was different from the other children. A part of my soul died that day, as I realized I could no longer protect her from or keep her blissfully unaware of her reality; our overly perfectionistic, impatient and vain world won't allow it.
Sadly, life is not easy for those who are in the minority. The challenges are real.
Several times a day I think about the way that a person's disability will impact his or her life. As a mom it's my job to help my daughter learn social and behavioral skills so she can be successful in life. As the executive director of a non-profit that empowers parents to advocate for their children with disabilities, it's my job to positively impact the way society interacts with those who have disabilities. Often, though, I find that I am fighting an uphill battle.
Too often I have terrified parents call my office because a school resource officer has restrained or arrested a child with a disability who has done nothing wrong. Too often I hear the stories of distraught parents of a child with a disability who is suicidal because of school bullying. And nearly every school day, I learn of a child with a disability who has been traumatized at school or suspended.
Before we can tackle the issues that are plaguing society, we must recognize that a piece of the narrative has been missing:
• In the 2013-2014 school year, 11 percent of students on Individualized Education Plans (IEP's) received out-of-school suspension, compared to 5 percent of children without disabilities. Twenty-five percent of African American male students with disabilities were suspended. It's even more alarming when you consider that children on IEPs make up just 13 percent of the school population.
• Research indicates that nearly 70 percent of youth in the juvenile justice system have a disability.
• Disabled individuals make up a third to half of all people killed by law enforcement officers. Stephon Watts, Freddie Gray and Kajieme Powell had something in common besides the color of their skin — they all had disabilities. Watts had autism, Gray had a developmental disability and Powell had a psychiatric disability.
Shamefully, there is very little media coverage regarding the ways society is failing individuals with disabilities. Let's face it — when you can't speak, are scared of crowds, or don't have the physical strength to peacefully protest, it can be very difficult to get the attention of the news cameras. So, hopefully, this post may reach a few who are willing to effect change.
The majority of our police officers are upstanding, caring, and courageous individuals. I am grateful to those who are willing to protect and serve. Unfortunately, though, it's hard to ignore the data that shows that people with disabilities are being subjected to a disproportionate use of force by law enforcement officers. According to research, police violence against an individual with a disability is often a result of lack of understanding and awareness by well-intentioned officers. Let me offer a few examples:
• A person who is deaf may appear to be ignoring a police officer's commands.
• An individual with an intellectual or developmental disability may not process an officer's commands quickly enough and appear to be non-compliant.
• An individual with autism may flee or walk away from an officer.
• Individuals with a sensory disorder may become violent if touched due to sensory defensiveness that provokes a "fight or flight" response.
• I could go on and on and on.
There is a community of individuals, many who are nonverbal, that have a higher risk of being shot and killed by law enforcement. If things don't change, my daughter could be one of them. It's time we stop allowing others to politicize the issues, and instead demand an open and honest dialogue.
Police officers need to receive more training on how to recognize a disability, and subdue an individual who has one without using violence. Schools need to stop suspending kids with disabilities and instead use positive behavior management. Children with disabilities must be taught alongside their typically developing peers. If they are not, most will have difficulty learning, and may never learn, self-regulation, executive function and social skills.
And, our society needs to understand that behavior is a form of language. Our actions speak louder than our words — just ask any parent of a child with autism. Our society must show compassion, patience, and tolerance for those who have different backgrounds, needs, and challenges.
It's easy to point fingers at the police, politicians, or protest organizers. However, I challenge you to stop looking to others to effect change, and instead, consider the actions that you need to take. We are all responsible for making the world a safer place for our children.
Originally published: July 14, 2016