To Able-Bodied People Mourning the Passing of Stephen Hawking
---
Stephen Hawking has passed, and it's a sad day for many. He was very well known outside of the scientific community and recognizable to a great many people.
But this article isn't a eulogy; it's a message to the able-bodied fans of Stephen Hawking.
Lots of people are doing posts, sharing pictures and such to commemorate his death, which is great, but sadly many of them are extremely ableist. It loops back to something wheelchair users have been saying for a long time: Just because we are in a wheelchair, it does not mean we are "wheelchair bound."
We are not bound, and wheelchairs do not confine us. They give us mobility; they give us the ability to move around, go places and explore. They are incredibly freeing for us!
Before I got my wheelchair, going outside was incredibly difficult, painful and utterly exhausting. After I got my chair, I cried. I saw it as a sign of my decreasing mobility, and a failing on my part. This was partially because of how society views wheelchairs and the people who use them. After I actually got into it and started using it, I found it to be incredibly freeing. The world opened up to me: short trips out no longer took days to recover from. Society disables people, sometimes more than their disabilities do. Wheelchairs are just one of many accessories that enable us.
So, this is a request to be critical of images you may come across regarding Stephen Hawking's death. If you see an image of him standing and walking away from his chair, try to avoid sharing it, and if you feel up to it maybe call it out for what it is. It may seem harmless, or even reassuring and/or heart-warming to imagine him rising from his chair and happily dancing off into an afterlife he didn't even believe in, but to a lot of disabled people, it's a bit of a slap in the face.
A friend shared a post made public on Facebook by Mike E. Williams who has been collecting types of ableist posts that are popping up regarding his death and disabled life, and they range from slightly insulting to downright cringe-worthy.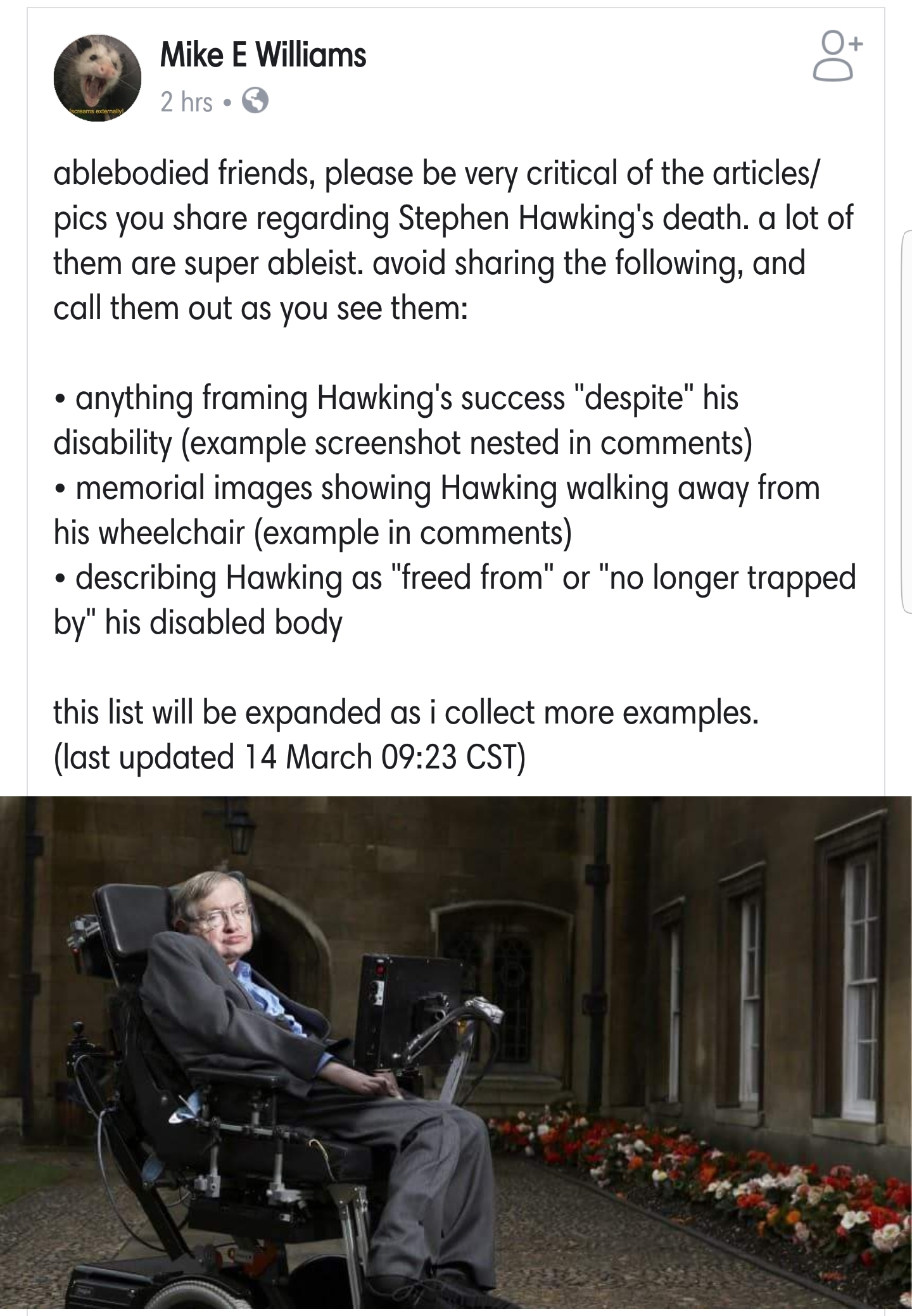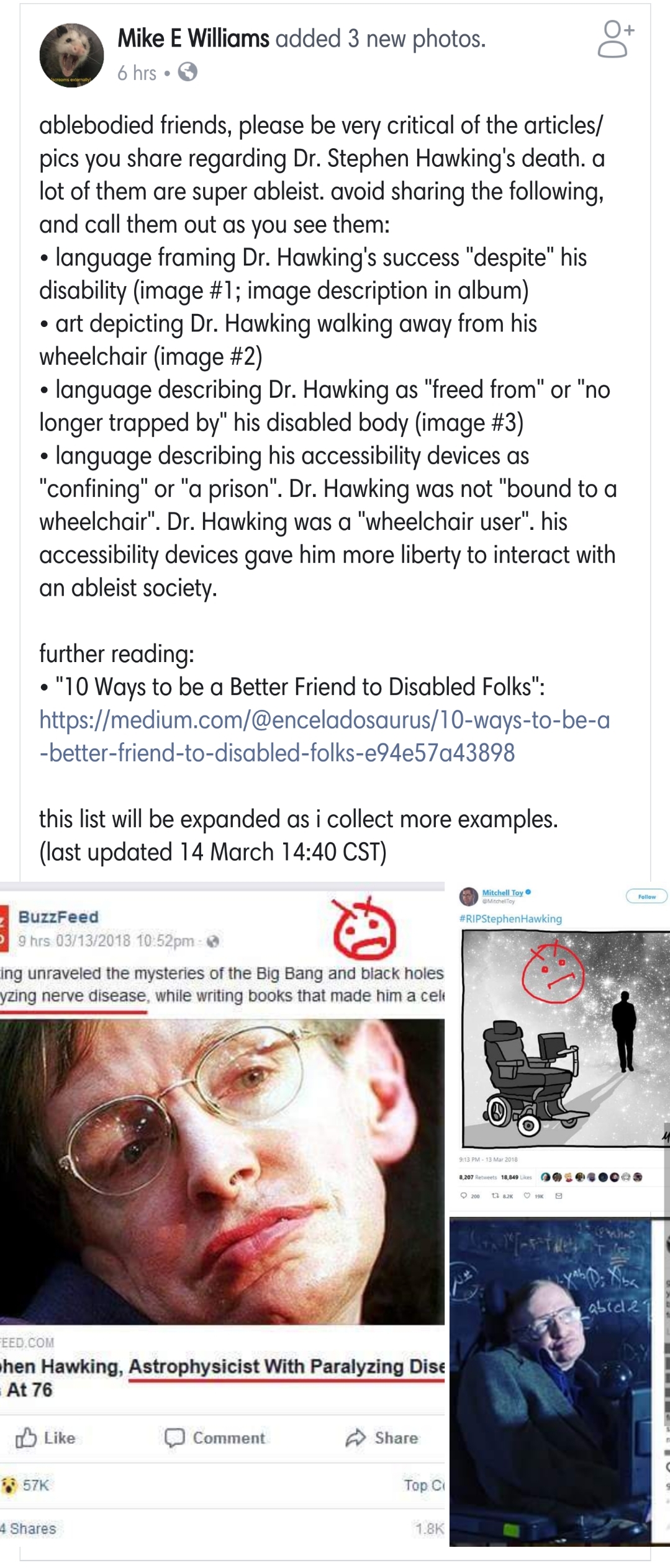 Those who knew Hawking would clearly appreciate the dominating presence of a real human being, with an enormous zest for life, great humor and tremendous determination, yet with normal human weaknesses as well as his obvious strengths. He was not a man who was confined to a chair, waiting to be freed. He was so much more. He was deeply involved in disability activism, so deeming his chair as a prison he has now escaped from is extremely insulting, not only to the man himself but to the people (disabled and otherwise) who saw him as an inspiration. To quote Professor Hawking himself:
"My advice to other disabled people would be, concentrate on things your disability doesn't prevent you doing well, and don't regret the things it interferes with. Don't be disabled in spirit, as well as physically."
Hawking was a great man; an activist for human rights, a critic against Tory policies, not to mention his achievements in science. His death is a loss to the world. He wasn't a person trapped in a wheelchair. He was disabled, and didn't shy away from it. When a person with glasses dies we don't post pictures of them throwing the glasses in a bin, galloping towards the sunset.
So why do so many posts, articles, images show him walking away from the wheelchair, being finally freed from its "confines?" And given he was an atheist, what exactly is he walking towards? Or, the strangest to me so far, that he finally "lost" the fight to his disease. He lived a very full life, doing what he loved to the great age of 76. I can't see that he "lost the fight" at all.
This seems to happen pretty much every single time a person who is disabled and well known dies. This time, it would be nice if people would think a little deeper and consider the implications of drawing an image of a "liberated" Hawking walking from his chair.
Originally published: March 19, 2018