Scouting Organization Settles Lawsuit After Changing the Rules for an Autistic Scout
---
A family in the U.K. has settled their lawsuit against The Scout Association. According to the BBC, the Gleeson family sued the British scouting organization after their son Ben, 11, who is on the autism spectrum, was prohibited from participating in events the same way his peers were.
When Ben joined the Scouts in 2015, his parents explained to his troop leaders what autism was like for Ben and provided possible strategies to help their son.
After a few incidents, Ben's leaders said he needed one-on-one supervision at events and he could no longer ride with the rest of the group on a bus to events or participate in athletics.
This decision, his parents said, felt akin to a ban from Scouting.
Beverly Gleeson, Ben's mom, told the BBC, "I felt he didn't need it. He didn't have this level of supervision at school. He'd made one mistake and then that was it, they wanted to make the rules and regulations. It was supposed to be a dialogue."
A representative for The Scout Association told The Mighty, that the way it handed Ben's case was "completely unacceptable." "We are very sorry that Ben and his family were not supported as they should have been by their Cub Scout Pack, and we have made a personal apology to them," the organization said, adding:
While cases like this are very unusual, we know that action must be taken. We have established an inquiry to investigate what went wrong in this case. We are very keen for Ben's parents to contribute and we have been in contact with them to see if they would be willing to take part. The National Autistic Society have agreed to be part of this inquiry.

Our Trustees are also looking at plans for mandatory training for all adult volunteers on how to make reasonable adjustments for young people with developmental disabilities; and changing national policy to allow the national leadership of The Scout Association to intervene in cases like this.
The Gleeson family also received £42,000 as part of their settlement.
This settlement follows a similar lawsuit in the U.S. In March, the Blythe family filed a suit after they were told their son Logan, 15, who has Down syndrome and is on the autism spectrum, was prohibited from becoming an Eagle Scout. Boy Scouts of America is a completely separate organization from The Scout Association.
BSA provides a training manual to its volunteers with the title: "Guide to Working with Scouts with Special Needs and Disabilities."
The last update to the document was made in 2013, which includes statements such as, "People with moderate cognitive disabilities are sometimes known as trainable mentally retarded people."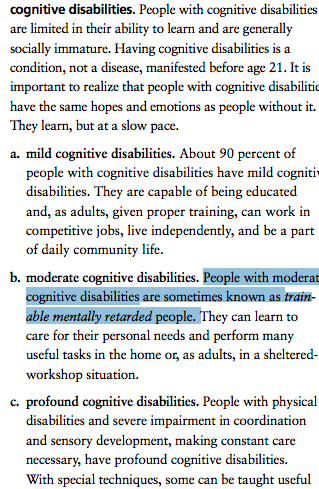 After the Blythes filed their lawsuit, BSA pulled the document from its website. When asked why the training manual had been taken down, a representative told The Mighty, "The BSA continuously evaluates and updates our extensive online materials. The document you referenced was flagged as one not yet updated and we are doing so now."
BSA did not mention when the updated training document will be available.