New Sesame Workshop Muppet Uses a Wheelchair
---
In a win for disability representation, Sesame Workshop recently introduced a new Muppet character who uses a wheelchair and forearm crutches to get around. Ameera will be part of Sesame Street's counterpart in North Africa and the Middle East, "Ahlan Simsim," which means "Welcome Sesame" in Arabic.
My second-grader (who uses a variety of mobility devices himself at times) and I watched this video together:
After watching he said: "I like her, because she has a disability like me."
When I asked him what it would mean for other kids to see Ameera too, he said: "I think other kids with disabilities will feel happy that they are getting represented."
"Sesame Street" has long been a "champion for diversity and inclusion." As someone who enjoyed Sesame Street growing up and now watches it frequently with my own children, I appreciate how the show has always incorporated diverse people as cast members, often including children who use wheelchairs (along with regular cast member Tarah, who was on the show from 1995-2000). And many in the Mighty community were interested to see Julia introduced several years ago as a Muppet with autism.
Ameera will also be featured in videos as "part of an initiative supporting children affected by conflict and crisis," according to Sesame Workshop.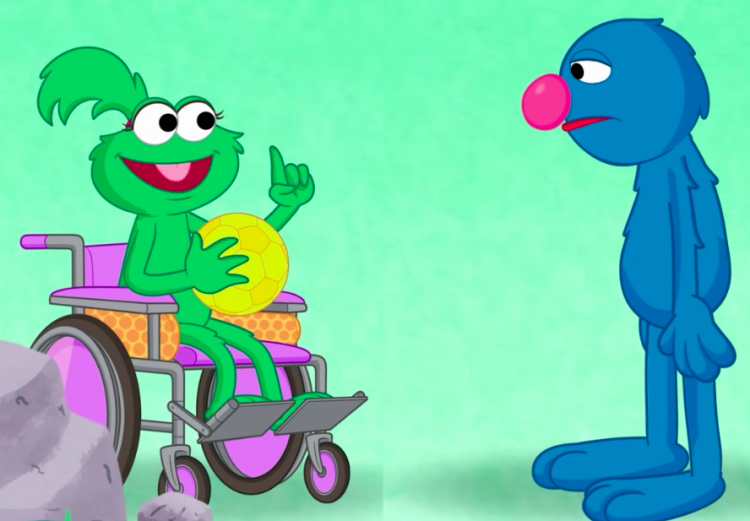 We hope that Ameera or another character like her makes an appearance in the U.S. version of "Sesame Street" soon. I would love for my kids, their friends, and all the little ones watching to regularly see Ameera on screen, helping normalize using a wheelchair and other mobility devices.
Images via Sesame Workshop's YouTube
Originally published: April 7, 2022