Dear Ableds, Stop Making Fun of Gadgets That Help Disabled People
---
Not everything is made for you and that's an understandably difficult pill to swallow.
We live in a world where inaccessibility is the default; where tools that are created to make things easier are heavily scrutinized, deemed "lazy," and called "useless."
"But ____ is such an easy thing to do. Whoever can't do it just isn't trying hard enough or being lazy."
"Who even needs this device?"
The answer to that is: people like me.
There are many gadgets that are explicitly geared towards disabled people that help make things more accomodating and accessible, such as shower chairs, AAC devices, shoe horns, rollators, and button hook/zipper pull devices. But there are also many devices that serve that same purpose but are lesser-known. Sock sliders, for instance, allow users to put their socks on when they're unable to reach down to pull them up without requiring the assistance of another person. Banana slicers, rocking knives, electric jar openers, and one-handed prep boards allow users with limited dexterity, amputees, etc. to safely prepare food. Even countertop dishwashers have saved my hands in my tiny apartment as someone who can barely wash dishes without pain.
We have this overarching belief that doing things the hard way is morally superior and that using tools to make things easier or to save you some time or energy, is cheating or makes you a failure.
There's been a rise in this activity on social media with the creation of TikTok accounts dedicated to making videos showing off different types of cool or interesting gadgets that tend to go viral. Ableds immediately take to the internet streets to proclaim the absurdity of the product as if they are the arbiters of whether or not a device has worth.
But when your entire worldview is centered around excluding the disabled experience (intentional or not), it makes sense that you wouldn't think outside of non-disabled people. You would forget that disabled people exist until you're reminded before declaring that you "didn't mean disabled people" or that "disabled people were obviously excluded."
This is a reflection of how pervasive ableism is in our society.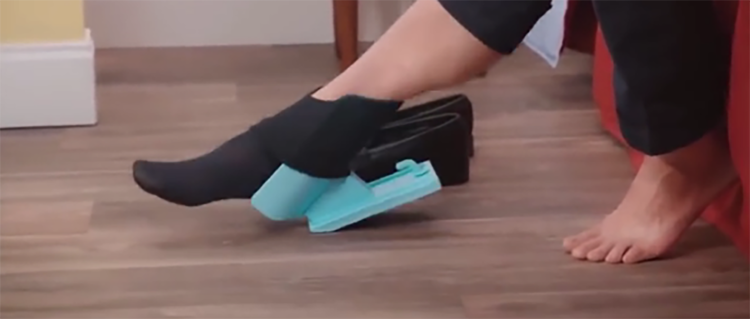 Ableism creates this mindset that everyone can do anything and if they can't, it's because they just aren't trying hard enough, dedicated enough, or they don't care enough. In other words, they're lazy.
Disabled people see it all the time. For example, wheelchair users are often told that if we just tried hard enough, we could walk normally or that even considering wheelchair use is giving up. This helps non-disabled people cope with the shakiness of life and the inevitable reality that we all can and will become disabled at some point in life. Ability and access needs can change for a variety of reasons out of our control.
Ableism harms everyone.
Perpetuating this notion that anyone outside of disabled people using an item to make a task easier makes them lazy hurts all of us. Whether you're disabled or not, living in a society that shames and degrades products to make life more accessible and accommodating leaves an ingrained belief in all of us that we have to push ourselves to do anything and everything, even if we aren't feeling up to it, to prove something.
It can prevent disabled people from seeking out mobility aids, students from asking for accommodations, and workers forcing themselves to work a job or do tasks that they can no longer perform.
As someone with mobility and dexterity issues being just some of the symptoms of my conditions, I can't stand to wash dishes at the sink. My hands are too weak to hold things for long and my back begins to hurt severely from too much time upright. Dishwashers and gadgets that will scrub the dishes for me are lifesavers. Dishes go from taking me weeks and causing several flare-ups and a possible trip to the ER from pinched nerves, to one day of gradually running dishes through my countertop dishwasher.
Disability encompasses a wide range of experiences, so not every device that could help someone else would be helpful for me. That doesn't mean that that device has no function or purpose just because I personally don't benefit from it. Every item created isn't going to be created for me.
Accessibility and accommodation aren't exclusive to disabled people. You don't have to be disabled to benefit from gadgets that make different parts of life easier. That's their purpose. Maybe using them saves you time, that's still a perfectly understandable and valid use. You don't need to reach a moral quota to be allowed to use something without being deemed lazy.
You don't get a cookie for choosing to wash the dishes by hand instead of using the dishwasher, or for being able to click a button with your own fingers instead of using automated devices that do it for you.