How Zappos Adaptive is Showing that Fashion Can be Accessible
---

Can functional be fashionable?
When was the last time you shopped for fashionable products that worked for you? Were you able to find clothes and shoes that were easy to put on and looked great?
Zappos has a shopping experience that brings together stylish products with unique features from innovative brands. To name a few… We have super soft clothing without tags or zippers for those with skin sensitivities. We have shirts and pants with magnetic closures for anyone with limited dexterity or those who may use one hand to get dressed. We also have a wide array of shoes that are easy to put on for a variety of needs.
Zappos Adaptive started a few years ago as the result of responding to a customer's need. One of our employees received a phone call from a grandmother who was looking for shoes to meet the needs of her grandson, who is on the autism spectrum. That call sparked our thinking about creating a solution to meet the needs of customers with a range of disabilities. We began researching vendors and speaking with people with disabilities and their families. Today, our team is deeply committed to finding products that are functional and fashionable, while making life easier.
Let's take a peek behind the scenes from a recent photo shoot…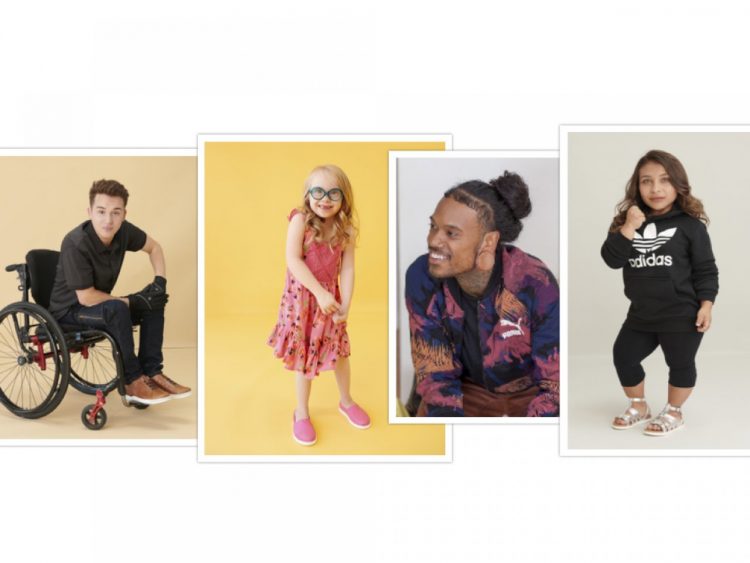 What's most important to us is that the looks work for the models. Stephanie Thomas, founder of Cur8able , elevated the experience by styling models who showcased the products we carry, which help make getting dressed easier.
Using her Fashion Styling System, Stephanie created outfits from our vendors that worked for the models' body types and met their individual needs and styles. This allowed the models to easily put on clothes and shoes that are comfortable, medically safe and fashionable.
"The fact that Zappos Adaptive is even open to listening to their market is why I came here.  It's working you guys!!  It's the biggest statement that anyone can make; it's what you say to others without saying anything.  Zappos is making it a thousand times easier.   I'm pleased and so honored to be part of this!"  – Dru Presta, model from the Zappos Adaptive photo shoot.
Since clothing isn't often designed with people with disabilities in mind, the photo shoot included many "wow" moments, with models wearing outfits they loved. Kaylee independently put on BILLY Footwear shoes – a first for her. Dru wore boots and gladiator sandals – a first for her, too. Gerald put on his shirt independently, also a first for him! And, Jonathan put on pants and shoes quicker than ever, with his prosthetic hand.
"I really feel passionate about what Zappos Adaptive is doing… they are asking the right questions, they are going to the community and they are working with you to meet those needs.  What I love about what we did with the shoot is that it's not just about throwing clothes on a model.  Zappos Adaptive is saying it's the priority to meet the needs.  If we can help one, we are helping many." – Stephanie Thomas, Cur8able
Check out our Zappos Adaptive website to discover a new world of product designed with you in mind.
We want to bring the styling experience to you! Zappos Adaptive is hosting Zappos Adaptive: My Style, My Way Contest. One lucky winner will win a grand prize of:
A free styling session with Stephanie Thomas!
A $500 Zappos [Adaptive] shopping spree to help you find clothing and footwear that you love and will meet your needs.
A trip for two to Las Vegas for your own personal photo shoot!
We will also be giving away $100 Zappos gift cards to four additional winners.
To enter:
Find the Zappos Adaptive: My Style, My Way Contest call to entry post(s)
Respond to the question in the Entry Post
Each entry should include a creative comment or photo/video, that shows off your personality, and includes #ZAMyStyleMyWay.
Follow Zappos Adaptive on Instagram and Twitter for additional chances to win!