50 Years After Willowbrook: How a Dark Time in Disability History Illuminated a Brighter Future
---
"We just found out our baby, a girl, has Down syndrome via our amniocentesis appointment. We know you have a sister with Down syndrome. We're calling you because you are the closest friend we have who truly knows someone with Down syndrome. What do we need to know?"
This was a call my husband and I made to a family friend in December of 1999. Our friend's sister, Amy, was younger than he was. And she had spent her younger years at Willowbrook, a horrible institution for people with disabilities in New York that was exposed to the world by a young reporter named Geraldo Rivera in 1972. She was later placed in group homes, spending more time with her family than she had when she was younger.
My friend's response was simple. He paused a minute and then said, "She will be the ultimate joy of your life. I know that. My family knows that. And she will have a much easier and better life than my sister does."
As our daughter Yassy grew from a baby to a toddler, walking with her pigtails, babbling, smiling, and playing, our friend's parents would see her when they came to town. They were always wonderful with her — so engaged. But near the end of each visit, there was always a brief mask of melancholy. We never asked why, we just knew. We could tell they wished their own daughter, who was now becoming an older adult in a group home, had had a much easier time when she was born. By all accounts, she too was adorable when she was little. They saw their daughter Amy in our Yassy's eyes.
And as our daughter has grown, she is now almost 22, I have had several childhood friends mention they had siblings with Down syndrome who were either sent to institutions, or kept away from the public at home. When we were younger, these siblings were never mentioned.
It has been 50 years since Willowbrook's evils were shown to the world in graphic film footage taken by Geraldo Rivera's film crew. Human beings with disabilities of all ages were treated in abominable and torturous ways, due to ignorance, arrogance, and an extreme void of basic moral compassion. It took far too long after the investigation for the institution to close, 15 long years, until 1987. But the deep tradition of placing individuals with any disability in institutions nationally started to change. Laws changed. More babies with disabilities were kept home with their families and started receiving educations. This is the story that Geraldo Rivera is most proud of, as he continues to champion causes for people with disabilities to this day in his private life. People with disabilities, their families, and society as a whole owe a debt of gratitude to Mr. Rivera for revealing the horrid truth that was the daily reality for so many at this former "training center."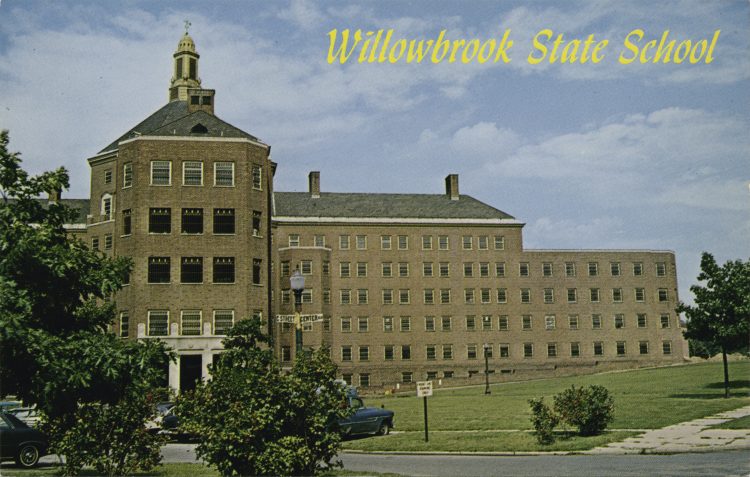 Disability history is important, and it is something everyone should truly know. Unfortunately, many of the survivors of Willowbrook were sent to group homes that became mini Willowbrooks. Vigilance and advocacy are always going to be important, especially for society's most vulnerable. This only comes with awareness and then action, something Geraldo provided in spades.
For all the good Mr. Rivera did, and continues to do, I feel the need to point out that in 2022 the standard is much higher than group homes which he continues to promote. The standard for children is to stay home, with as much support as is needed. The standard is to be educated, with real meaningful inclusive educations in a child's neighborhood school. The standard is to graduate and then either attend more continuing education, or work in the community. Not in sheltered workshops. In jobs that cross the spectrum of work everyone has, not just stereotypical jobs. Jobs that pay minimum wage or above, and that can hopefully include or lead to benefits. The standard is independent and interdependent lives in the community living by themselves or with roommates, spouses, or whoever they choose with whatever support they need. Not congregate settings. The standard is a well-rounded inclusive life that has the core foundations of friendship, love, work, and faith if desired.
In 1972 people with disabilities ranging from Down syndrome and autism, to cerebral palsy and more were too often hidden from the world. Today, people with disabilities can do anything from being respected professionals and leaders to winning Emmys, lobbying politicians, writing books, owning businesses, playing sports on school and college teams, and succeeding in TV and movies.
There is a wonderful light at the end of my story about Amy. My friend's niece is a successful playwright named Lindsey Ferrentino, who grew up knowing her Aunt Amy and hearing stories about her. Lindsey wrote an Off-Broadway play, "Amy and the Orphans," inspired by her Aunt Amy and family, and it is now being made into a feature film at Netflix which Lindsey is writing and producing. This is the shining hope for our future, younger generations that are growing up with people who have people with various disabilities in their households, schools, places of work, worship, and all around them in life. The organic fruit that the world is now starting to see smells very sweet and is beyond beautiful to see. We will now have more intelligent, empathetic, and well-rounded professionals, politicians, leaders, writers, parents, teachers, and neighbors. This is a win/win for everyone.
I for one cannot wait to see not only Lindsey's movie, but the other content this young 30-something has ahead of her. I cannot wait to see the friends my 21-year-old grew up with in her fully inclusive education become the world we all crave and need to see. And as I look at the future with hope, there is also gratitude for the lives my daughter and so many now have. Please take a few minutes to watch this important clip so you too know disability history, and then you can see just how far we have come.
Originally published: March 10, 2022