What 'Born This Way' Star Sean McElwee Wants You to Know About Being an Entrepreneur
---
Emmy Award-Winning Docuseries to End With Series Finale Christmas Special on December 18
What people view on television influences how they feel and believe, leading to how they act. Shows like Emmy Award-winning "Born This Way," which follows the lives of seven diverse young adults with Down syndrome as they seek to build independent lives, launch their careers and form lasting friendships, while breaking down stigmas surrounding interacting with people with disabilities.
One of the "Born This Way" cast members, Sean McElwee, brought his onscreen stardom to Capitol Hill to deliver a powerful message about entrepreneurship and jobseekers with disabilities. McElwee spoke about his personal "mission to show the world that people with Down syndrome can have a business and give back."
The U.S. House of Representatives Committee on Small Business convened witnesses Wednesday to speak about small business best practices for embracing corporate social responsibility — bringing reality television star, small business owner and disability employment advocate Sean McElwee and his mother Sandra McElwee to testify about the importance of supporting small business owners with disabilities.
Sean, who is the president and chief creative officer of his own business Seanese, and his mother Sandra, who serves as the chief dream facilitator, spoke about the difference he has been able to make in his community since founding his own micro-enterprise two-and-a-half years ago. Seanese is a t-shirt company with more than 130 designs on 12 different styles of shirts intended to deliver a message of disability inclusion, Down syndrome acceptance and humor.
Rep. Pete Stauber (R-MN) introduced Sean and Sandra McElwee. During his introduction, he became emotional and had to pause for a moment. Rep. Stauber, whose son Isaac has Down syndrome, called Sean McElwee a role model for children like his son.
According to the Census Bureau, one in 10 employed people with disabilities are self-employed. "Sean's entrepreneurial spirit delivers a clear message about the value of self-employment for people with disabilities," said Philip Kahn-Pauli, RespectAbility's Policy and Practices Director. "Many people with disabilities find their best option for employment is starting their own business."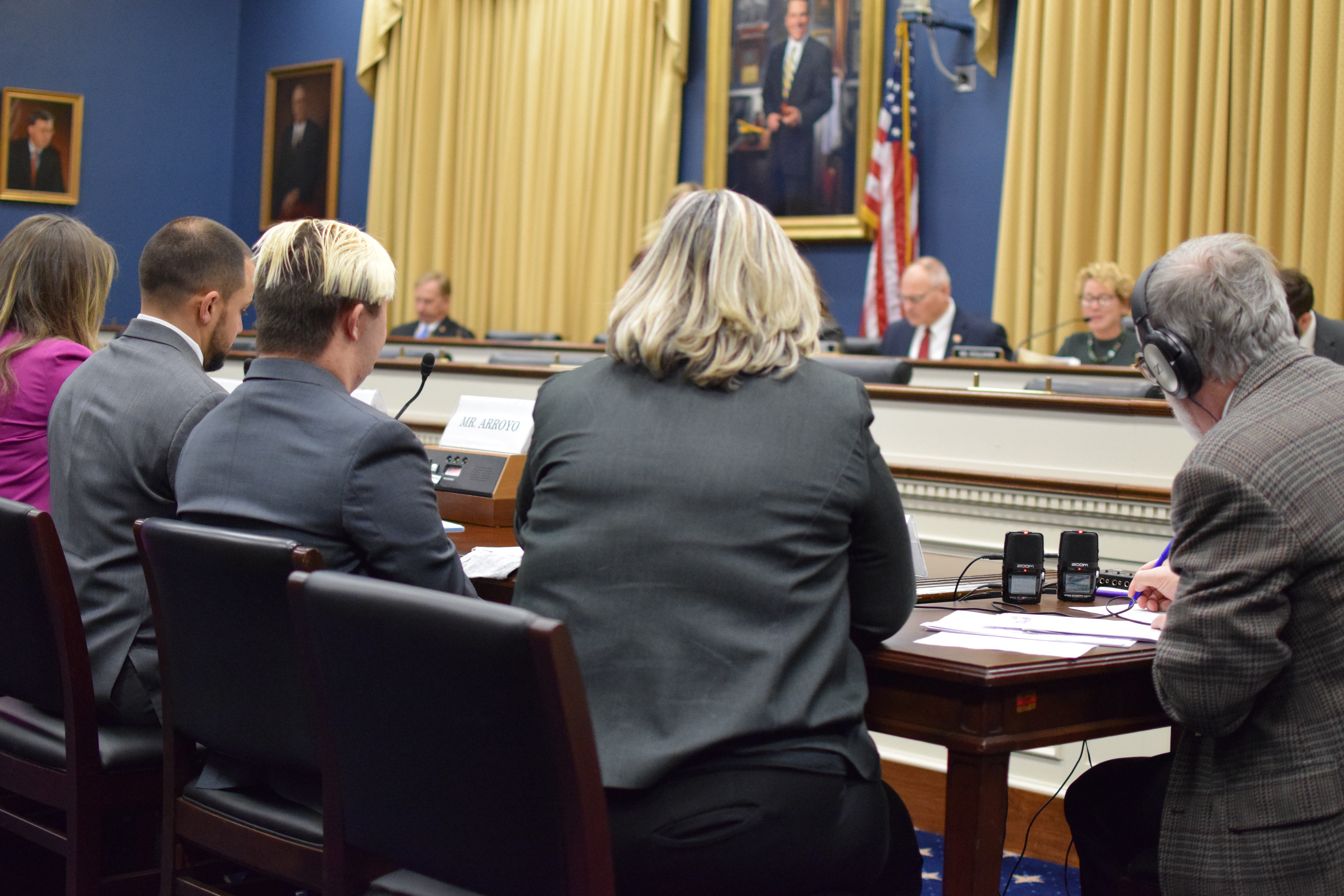 Using Their Platform to Destigmatize Down Syndrome
In addition to selling products, Seanese works to destigmatize what it means to have Down syndrome. "When Sean was born, we learned that many people choose to not continue their pregnancies when they have a prenatal diagnosis of Down syndrome," Sandra McElwee explained. So Sean had the idea of sending baby onesies along with letters to parents of babies with Down syndrome.
"One of our goals is to help parents move through the process of acceptance quicker so they can enjoy their children," Sandra McElwee added. "Showing the world that people with Down syndrome can contribute to their community is where we measure [success]."
Per the National Institutes of Health, more than 400,000 people currently live with Down syndrome in the United States today. About 6000 babies are born with Down syndrome in the United States every year, according to the National Down Syndrome Society.
Seanese has donated items and money to 37 organizations serving people with Down syndrome in 22 states including national advocacy organizations such as the National Down Syndrome Congress, the National Down Syndrome Society and RespectAbility.
"Born This Way" to End With Series Finale Christmas Special
As Sean's business begins to take off, his time on "Born This Way" is coming to an end. After four seasons, the A&E docuseries, created by industry legends Bunim/Murray Productions, will celebrate with a one-hour series-finale special, "A Very Born This Way Christmas," premiering on Wednesday, December 18 at 9:00 p.m. ET/PT. The special will celebrate the spirit of the holidays as Sean, along with Elena, John, Megan, Rachel, Steven, Cristina, Angel and their families gather to spread cheer and reflect on their personal growth across the four seasons of the series.
Ahead of the linear series finale special, aetv.com will premiere six all-new digital shorts, "Born This Way: Moving Forward" on Friday, December 13. Across the digital episodes, the cast will tackle important topics such as advice for families who have a loved one with Down syndrome, entrepreneurship within the disability community, a sibling's take on having a brother or sister with a disability, and the importance of people with disabilities participating in the democratic process. Episodes also will explore how the series came to be, and its impact on the Down syndrome community. The digital series also will air on A&E's YouTube Channel and on the Born This Way Facebook page.
Looking to the Future
When asked during the hearing what success would look like for Seanese, Sean McElwee had a simple but powerful answer — that a big store like Walmart or Target would license his designs.
McElwee's speech occurs just one day following the launch of a new coalition aiming to change how people see disability by changing what they see in popular media. The Visibility for Disability initiative is asking content creators to pledge their support toward giving people with disabilities more screen-time. The groups behind the Visibility for Disability movement, including the Calgary Society for Person with Disabilities, Easter Seals Alberta, RespectAbility and the Media Access Awards, hope their efforts will have a larger impact on how people view disability and inclusivity in all aspects of society.
McElwee was able to use the fame he gained from "Born This Way" to help launch his business, which brings employment full circle — from on screen to real life.
"Born This Way" won the 2016 Emmy® Award for Outstanding Unstructured Reality Series and was recognized as one of six honorees at the 2016 Television Academy Honors. The series also won the 2018 Critics' Choice Award for Best Unstructured Reality Series and has been nominated for an Emmy for all four of its seasons. Watch a preview of the "Born This Way" Christmas special and catch up on the entire series ahead of the finale at aetv.com.
Originally published: December 8, 2019