'Born This Way' Season 4, Episode 1 Recap: 'Pursuit of Happiness'
---
Editor's Note
The following is a review of "Born This Way" season 4, episode 1 and contains spoilers.
It is finally here, the long-awaited fourth season of "Born This Way," where we get to journey with seven young adults with Down syndrome as they each pursue their dreams.
This season, I'll be reviewing each episode with Peter Brodzinski.
Here is Peter in his own words:
My name is Peter Brodzinski. I am 32 years old and I have Down syndrome. I am an actor on the TV show "What Would You Do?" on ABC. I am the biggest fan of "Born This Way." I watched the whole seasons of "Born This Way" 1,2 and 3. In this episode of "Born this Way," I love the whole cast, everything is awesome, they are really nice people.
As the episode begins, the seven friends — Rachel, John, Cristina, Megan, Sean, Stephen and Elena — reunite once more and are excited to see each other.
Peter: In this episode, everyone can see what people with Down syndrome can do in real life. Like love, marriage, even though it's really hard for people with Down syndrome.
Cristina's Storyline
Cristina announces her wedding date and hands out invitations. Later, Cristina asks Rachel to be her maid of honor. This interaction between the two best friends was a touching moment.
As anyone who has planned a wedding knows, nothing about planning a wedding is easy. We watch Cristina and Angel try to plan their wedding and try to figure out how to make things work when they have different ideas about their big day — like food, venue and honeymoon destinations. Not to mention having to face the realities of what it means to live together and having to make compromises. Cristina and Angel deal with the same issues and challenges every single engaged couple planning a wedding and life together has to face.
As the mom of a 10-year-old girl with Down syndrome who dreams of her wedding one day when she grows up, the conversations between Cristina's parents and the conversations they have with Cristina feel quite relatable. They are perhaps more involved in the planning than other parents, and they have to help Cristina work through some of the challenges she is facing with Angel. Cristina's parents come up with a solution, and decide it may be best to hire a wedding planner. I found myself crying watching Cristina's wedding planning unfold, dreaming of the day.
Peter: Angel and Cristina love each other. They are getting married. They have some different opinions about things that they want to do and not do. Cristina had a little drama there for just a little bit about the picture of Angel when he was a boy in his underwear. She says, "that is inappropriate to have in my house." Angel says, "this is my house, too." Afterward, they were hugging and kissing and still in love together. That is why marriage has to be compatible. I can relate to Angel. I am Mr. Romantic and so is he. I have a girlfriend and that makes me really happy. I am just like Angel, nice, Mr. Outgoing. When they argue, Angel comes in and kisses Christina and that is how I like to be, too. Also, I saw Christina's brothers at the meeting at her house. I have my own brothers and that makes me happy for my future. If the parents are not there or they are gone, Christina has two brothers that can take care of her and be a role model and help them out with their marriage. They will need help to make sure everything is calm and relaxing and tell them what is good to do.
Sean's Storyline
Sean tells his friends he has a girlfriend, Caley. Sean has bleached his hair. He wants to look like Justin Bieber, and he really wants to get a tattoo. While his dad may not agree, Sean is an adult, and as such, he has the right to make his own decisions. I am glad they show the conflict between an adult with Down syndrome and a parent. I believe as parents, we can easily try to control our children's choices, even when it is not our place or time to do so any longer. As our kids grow, we have to learn to let go and to be honest, that is not as easy to do when your kids are more dependent on you. As an adult, Sean gets to make choices about his own body, and he faces one of his biggest fears throughout the process.
Peter: The one awkward moment was when John was picking on Sean and said about Sean's new blond hair, "Who is this? Is this Miley Cyrus?"And Sean really likes his hair. He thinks he looks like Justin Beiber. Also, Sean was so excited to get his real tattoo because it is his dream and he was so excited until he called his dad. He said, "Hey dad can I have a tattoo?" and his dad hung up on him. That was awkward. Sean did get a tattoo and he was brave and didn't cry and no drama. Then Sean's mom said, "Your dad is going to kill me," but that is OK because she was joking. And for my situation, I will never get a tattoo because I don't want to feel the pain. But I am happy for Sean to do it.
John and Stephen's Storyline
John and Stephen want to drive. They agree they will help each other study and they attend an event where they get to do a driving simulation and learn about self-driving cars. John's friend, Desiree, takes John to their local DMV to learn about what he needs to do to obtain a driver's license. Desiree asks about possible accommodations for John when he takes the test.
Peter: The cool moment in this episode was when John, Steven and Rocco saw the self-driving car. That is cool if they can say, "Take me to the gym," or "Take me to McDonald's" and they can go wherever they want. It was cool when they went up in the truck. It was like a rollercoaster ride. It looked scary to me but fun. John has the big dream to drive and I think he will make it happen because he is a little bit older.
Rachel and Megan's Storyline
Rachel is ready to move out. She asks Laurie, her mom, how she is feeling about the idea and Laurie responds, "Good and scared at the same time." In that same conversation Laurie explains she wishes Rachel could live with her forever, but she knows that is not what is best for her daughter. I am with Laurie, I am fine if my daughter lives with me forever, but will she want to? The idea of our adult kids moving out is something many of us who parent kids with Down syndrome think about. Where will they live? Will they be ready to move out? Will they have a job that gives them that independence? Rachel acknowledges she was not ready to move out five years prior when the family first discussed the possibility, yet she is aware that the obstacles she had before are no longer issues for her. Rachel knows she would get too lonely living on her own, and she wants Megan to be her roommate.
Megan wants to move in with Rachel. She tells her mom, Kris, she wants to move out and be on her own, "I feel suffocated sometimes." Kris supports Megan in her decision and jumps on board acknowledging this is a hard thing to do as a parent. Megan and Rachel discuss how hard it will be for their moms to let go. Kris and Laurie talk about the challenges their daughter will have ahead and how they can best support them yet allow them to be independent.
Peter: Megan and Rachel have the dream to move out of their family's house and find an apartment to live on their own. I can picture that, but their parents can be overprotective and treat them like babies. They shouldn't treat them differently because they have Down syndrome. Other people do that to people with Down syndrome in the wide world. Treat them like people. They have hopes and dreams, goals, everything is awesome for them. They can do jobs, living skills, love and marriage.
Ellen's rating:
Peter's rating: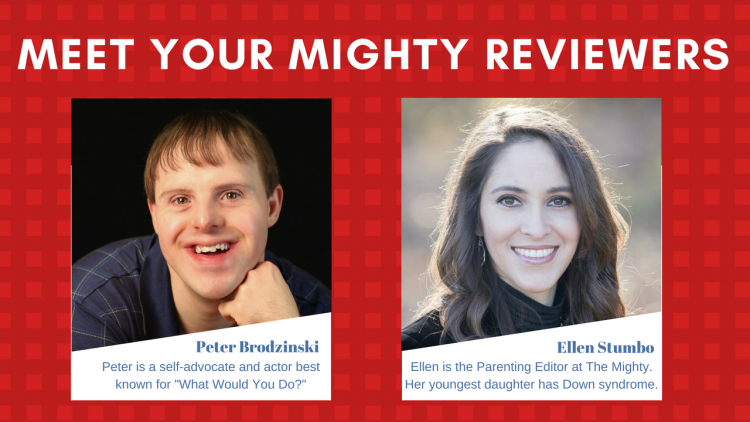 Banner image provided by A&E
Originally published: August 16, 2018