'Born This Way' Season 4, Episode 2: 'Til Death Do Us Part'
---
Editor's Note
The following is a review of "Born This Way" season 4, episode 2 and contains spoilers.
The focus of the second episode of the fourth season of "Born This Way" is health and relationships.
Cris, Rocco's dad, introduces the cast to Collin, a professional bodybuilder with Down syndrome, who leads them in a workout.
Peter: The coolest moment in this episode is when Rocco and his dad bring their friend Collin to meet the cast. Collin has Down syndrome and he is a bodybuilder. He is in great shape. Collin taught them a class outside to exercise and be healthy. Megan and Rachel talk about why it's important to stay in shape. Then they all went out to eat and Elena asked Collin if he had a girlfriend. She was trying to match him up with Megan! The cast had a lot of fun with Collin.
John and Megan's Storyline
John needs to lose weight, so he asks Megan to help him. Megan tries to encourage him to stay away from junk food and make better food choices. Megan has been interested in learning more about spirituality, and introduces John to yoga where they both meet with an instructor. John takes this experience to heart and teaches a yoga class to all his friends and asks them to answer the question, "What is your gift to the world." Their responses had this mama crying, people with Down syndrome are a gift indeed.
Peter: John and Megan are becoming best friends. Megan is trying to help John get healthier. She is a good role model because she wants to teach John to drink green smoothies instead of eating donuts. They took a class together to learn how to meditate and relax. People with Down syndrome should eat healthy and exercise. John and Megan are good role models!
Cristina's Storyline
Cristina wants a perfect and romantic wedding.
Cristina and Bea go shopping for a wedding dress. Cristina has a gift for her mom before they leave their house, a "Mother of the Bride" journal. The interaction between mother and daughter had me crying, it was beautiful. Someday, I may have those same conversations with my daughter, and somehow watching Cristina and Bea feels as if I was taking a look into our future. I believe many parents wonder if their kids will ever get married, so watching this happen feels like a little bit of hope planted in our hearts.
Rachel and her mom, Laurie, show up to watch Cristina choose a dress along with two other family friends. Cristina walks out wearing a beautiful dress and says, "It is too fast to be married." Bea talks to Cristina about her feelings, realizing Cristina is nervous about the future.
Cristina falls in love with a dress, but it's not the dress everyone else likes best. Cristina chooses the dress her mom likes and breaks down, resulting in honest conversations between Cristina and her mom, and later on with her dad. It seems Cristina is choosing the dress she thinks will make everyone else happy, although her family assures her it is up to her to choose the dress she wants for her wedding. I relate to Cristina here. For my wedding, I chose the dress my mom wanted and convinced myself it was the dress I liked best.
Cristina's parents recognize Cristina is really processing what it means to be married and if she truly is ready to make that commitment.
Peter: Cristina and her mother have a good relationship as mother and daughter. They are going out to look for a wedding dress. There was a little bit of drama. Cristina wanted to get the first dress that she really liked. She was obsessed with it. But her mom liked another gown. Cristina cried a little bit in the back of the shop by herself. Her mother came back and said, "It is your wedding day. Whatever you pick it is your decision." Then they were happy. Cristina loves her mom and her mom loves her.
Elena's Storyline
Elena's dad, Stephen, visits and asks Hiromi how their daughter is doing. Their conversation centers around the progress Elena has made in managing her emotions and how she continues to grow. Hiromi shares she dreams of Elena being in a loving long-term relationship that leads to marriage, but she is not sure Elena will be emotionally ready to be married.
Before leaving, Stephen stops by and surprises Elena at work. She is excited her dad is visiting. Elena shows him around and makes him a latte. Elena asks her dad for relationship advice as she wants to kiss her boyfriend, William. Later, as Elena and Hiromi get ready to have William and his family visit for dinner, she also asks her mom for permission to kiss William. Elena and William have a nice visit with their families, where Elena also brings up the fact they want to kiss.
Peter: Seeing Elena dating is relatable to me. There is a scene at the bowling alley with Elena and her boyfriend. They are bowling, and the music is playing. Elena says, "If you get a strike, I kiss you. If I get a strike, you kiss me!" They were laughing and having fun and were just like my friends and me when we go bowling every Tuesday. They are adults out having fun. It was awkward when Elena's mom showed her baby pictures to her boyfriend. It was a little inappropriate when Elena was talking about kissing and clinging to her boyfriend. Then she wanted a kiss on the lips, but her boyfriend kissed her on the cheek.
Our Rating:
Peter's Rating: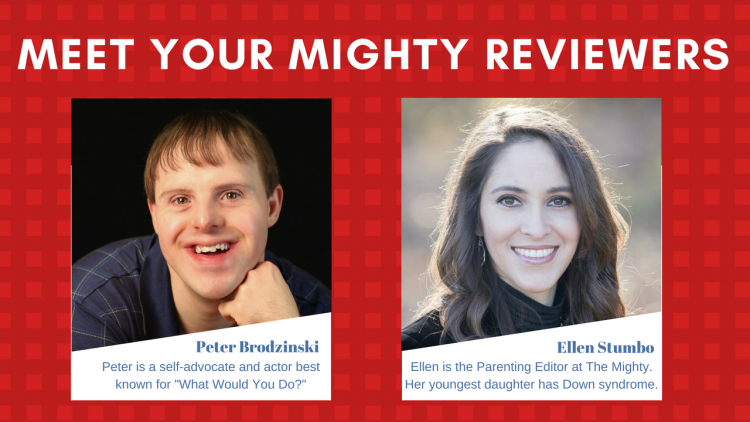 Banner image provided by A&E
Originally published: August 16, 2018