'Born This Way' Season 4, Episode 3 Recap: 'Don't Limit Kitty'
---
Editor's Note
The following is a review of "Born This Way" season 4, episode 3 and contains spoilers.
The third episode of "Born This Way" focuses on Cristina, Rachel, Megan and Steven.
Cristina's Storyline
Cristina and Angel go boxing. Like many engaged couples, they want to lose weight and be in shape for their wedding. Watching their relationship, it is easy to see their relationship is like most engaged couples. They continue to plan their wedding with the help of a wedding panner and continue to make decisions for their big day.
In this episode, Cristina's parents and Angel's grandparents discuss whether Cristina and Angel are ready to get married. They ask, "Is anyone really ready to get married?" Both couples discuss how naive they were when they first got married, and how they "knew nothing." Cristina and Angel have an advantage, they have taken time making this decision, and are both aware of what the commitment means. Not only that, they have the full support of their families as they continue to move forward.
During this episode, we also learn a little more about Angel's background and disabilities.
Peter's thoughts: First, Angel and Christina go to a boxing ring. They said they need to be in shape for the wedding. It was funny because Christina won the boxing match and Angel said, "You are a really competitive woman!" Christina said, "I kicked your butt!" She knocked him down in the ring!
Angel and Christina have two wedding planners to help them out. They need to figure out where their wedding is going to be. They are looking at a big ship that reminds them of the Titanic, a ballroom and a church. In the ballroom, they started dancing to test out the dance floor, see how it would feel at the real wedding. They took dance lessons in season two and now they are good dancers.
The parents and the grandparents are concerned a bit about the marriage. They are talking about when Angel was growing up and they never thought he would get married. Now they are proud of Angel because he is getting married. Angel is smart and he knows what he is doing. He can be a good husband. Christina's parents are concerned about married life because living together can be hard. But they are all very happy because they know that Christina and Angel love each other.
Christina and Angel said their favorite romantic movie is "Beauty and the Beast." My all-time favorite romantic movie is "Ghost" with Patrick Swayze.
Rachel's Storyline
Rachel is celebrating her 35th birthday in Vegas with her parents and her friend, Frank Stephens. Before Frank arrives, Rachel convinces her dad to ride a rollercoaster with her, although her dad is scared of roller coasters. As a mom of a 10-year-old with Down syndrome who is a daddy's girl through and through, I love seeing the relationship between Rachel and her dad. They have a close bond, and it is impossible not to smile watching their interactions as Rachel pushes her dad to be brave. It was one of my favorite moments in the show.
When Frank arrives, he announces he has a special surprise for Rachel, which turns out to be a thoughtful gesture for her entire family. Frank has inspired Rachel to become an advocate for people with disabilities as Frank has traveled all over the world representing the Down syndrome community. Rachel points out that she and Frank are just friends, but insider's scoop, I got to see them at the National Down Syndrome Congress and while Rachel assured me they are just friends, they seem to really like each other and are often asked if they are together. I am shipping this couple!
Peter's thoughts: Rachel's friend Frank Stevens comes to her birthday party at a hotel in Las Vegas. She is so happy to see him. She is proud of Frank and says he inspires her because he is a speaker and advocate for Down syndrome who talks all over the world. They go on a gondola boat ride. They are having fun. Frank is a funny guy and makes Rachel happy. Rachel is a very nice sweet girl. She is happy all the time. They are just good friends and they hit it off. It is embarrassing for them when they are on the gondola ride and the boat driver says you need to kiss under the bridge.  Frank was turning red and Rachel said we are just good friends.
The coolest part is when Rachel takes her dad on the roller coaster. I am really proud of Rachel. Before, she used to be scared of loud sounds and things like that and now she is brave. She is like a different woman now. She is confident. Her dad has not been on a roller coaster for a really long time, so Rachel tells him, "Dad, let me hold your hand." They go on together and the ride is so fast. At the end, they are very happy because they did a father and daughter thing together.
Megan's Storyline
Megan owns a fashion line, megology, which is her primary source of income. She hand-makes every piece she sells, which has made it hard to keep up with demand. Her mom explains they needed to find a way to make the business work better. They meet with Kevin, who takes Megan under his wing and presents her with new opportunities for growth. First, Megan gets to participate in a talk show talking about "Real Housewives," and she is introduced to Andrew Lee to discuss a partnership between megology and Sanrio. Megan is excited to expand her "megpire."
Peter's thoughts: Megan needs her business to grow to make her dream come true. She needs a bigger place for her business, megology. She has an interview and her dreams come true! She has a chance to meet the people from Hello Kitty and they want to be her partner all over the world. At the big meeting, Megan handles things like a grown up. She knows what she is saying, she can listen, and she is tough and strong. The thing is "don't limit her!" She is so confident. She knows what to do. She says that she likes to be the boss. Everyone at the meeting with Hello Kitty treated her like an adult. At the end, she said, "Let's put our hands in," and everyone did. I feel great for Megan that her dream came true. Now people with Down syndrome can see that they can have big dreams too.
Guys' Night Out Pool Game
Peter's thoughts: I love this scene because I have guys' night out sometimes, too. Sean, Steven, John and Angel were having a guys' night out at a bar and were playing pool and having a great time. They were laughing about racking the balls. After the pool game, the guys were drinking at the bar and having some guy talk. They were asking Angel questions about the wedding and marriage. Then the guys were giving him advice about the wedding. It is nice to have friends to talk to about big things in your life.
Our rating:
Peter's rating: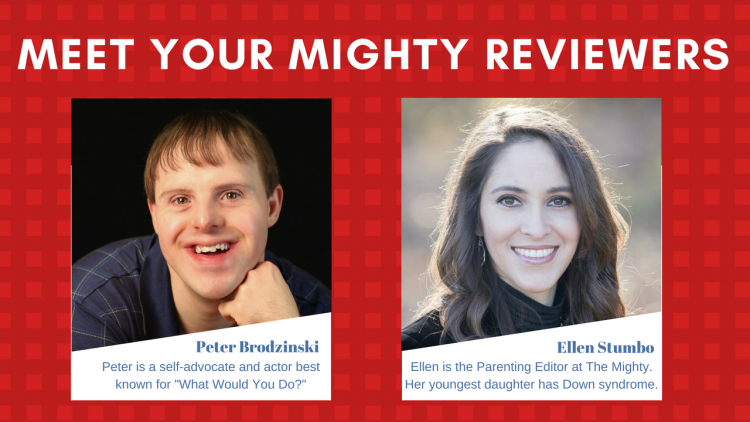 Banner image provided by A&E
Originally published: August 23, 2018