23 Celebrities and Public Figures Who Love Someone With Down Syndrome
---
Article updated November 16, 2020.
As a parent of a child with Down syndrome, I often wish there was more media representation of families like mine. After all, Down syndrome is the most common genetic condition in the United States — one in every 700 babies is born with Down syndrome.
While there might not be enough shows or other media outlets showing families like mine, there are celebrities and public figures who love someone with Down syndrome, who, by sharing their families, represent mine in some way. I appreciate their efforts to bring awareness and acceptance to people with Down syndrome and elevate the voices of their loved ones.
Here are some celebrities, athletes and public figures who love someone with Down syndrome.
1. Jamie Foxx and DeOndra Dixon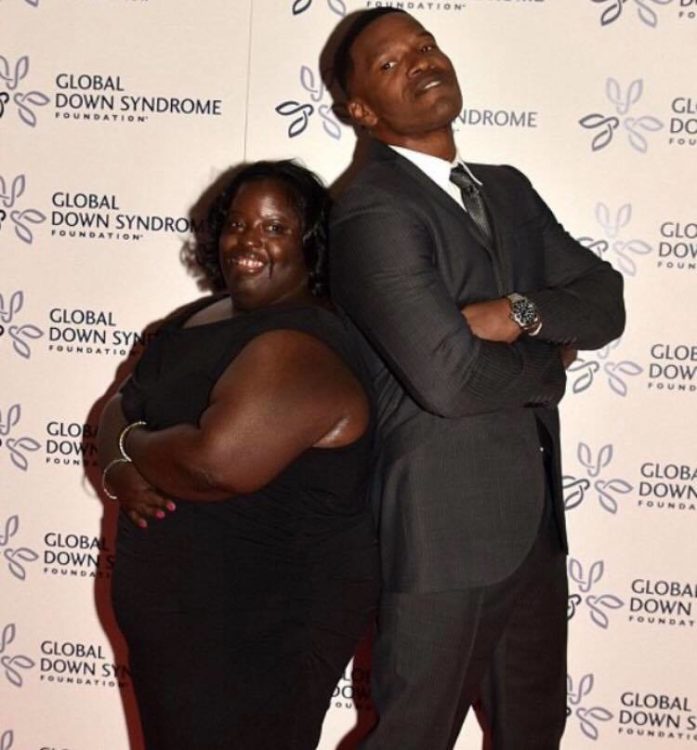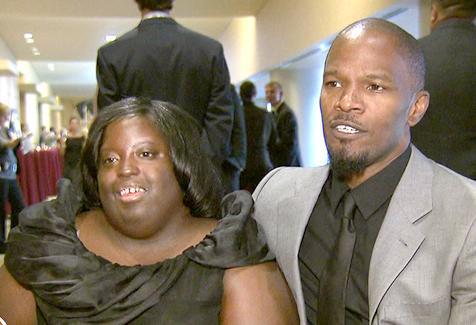 Oscar and Grammy winner Jammie Foxx had a younger sister with Down syndrome, DeOndra Dixon, who passed away in October 2020. Jammie and DeOndra were seen together at red carpet events or hosting the yearly fundraiser for the Global Down Syndrome Foundation, where DeOndra was one of their ambassadors. In an interview with the Global Down Syndrome Foundation, Jamie said of his now late sister, "It's the way our family treats her. With DeOndra, we let her jump in the water and swim a little bit, so to speak. Our family just treats her like DeOndra. She goes everywhere we go. She's usually the life of the party!"
2. Caterina Scorsone and Molly
Actress Caterina Scorsone, who can be seen on "Grey's Anatomy," shares pictures on her Instagram account of her beautiful baby girl, Molly, who has Down syndrome. In one of her posts she wrote: "Beauty. Love. Peace. Contentment. Acceptance. Belonging. Freedom. Adventure. Blessings beyond my wildest dreams."
3. John McGinley and Max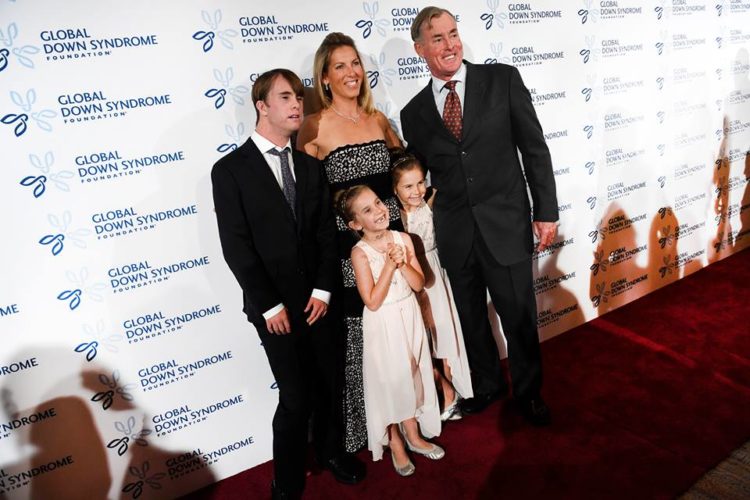 Actor John McGinley is perhaps one of the most recognized celebrities advocating for people with Down syndrome, specifically his son, Max. McGinley is a board member and international spokesperson for the Global Down Syndrome Foundation and a key advocate for the Special Olympics campaign: "Spread the Word to End the Word."
4. Sally Phillips and Ollie
View this post on Instagram
Actress Sally Phillips has a son, Ollie, who has Down syndrome. Sally made a documentary in 2016 titled: "A World Without Down Syndrome?" She set out to make this film with the purpose to ask the questions, "What kind of society do we want to live in? And who do we think should be allowed to live in it?"
5. Kit Harington and Laurent
Remember to pick up a copy of @TheSTMagazine tomorrow to read more about Kit and his cousin Laurent #KitForMencap pic.twitter.com/CEwRh44Slb

— Mencap (@mencap_charity) May 28, 2016
"Game of Thrones" actor Kit Harington has a cousin, Laurent, who has Down syndrome. In an interview with Independent he said, "We had a wonderful loving upbringing in the same family and had a great time growing up, many times under the same roof and became close friends as well as cousins. My only major difference with Laurent is that he has Down syndrome."
6. Julie Newmar and John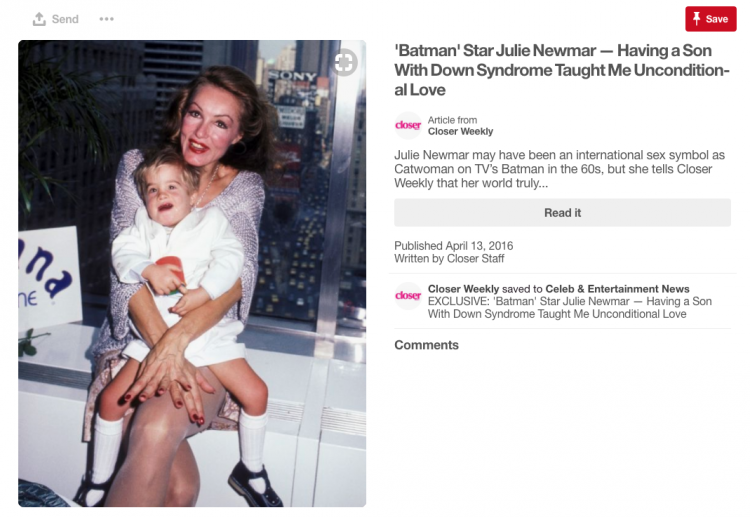 Julie Newmar is best known in her role as "Cat Woman" during the 60s' TV show "Batman." She has an only son, John, who has Down syndrome. In an interview with Closer she said of having a son with Down syndrome: "He's the cause of the great expansion of my outlook on life. He's responsible for my understanding and practice of unconditional love. John is what makes my life great."
7. Stevo-O and Dylan
Today is World Down Syndrome Day, and I'm shouting it out that I love my nephew, Dylan, lots and lots! #yeahdude pic.twitter.com/rOeVZnLk7H

— Steve-O (@steveo) March 21, 2014
Steve-O is best known for his (often ridiculous) comedy, but what some people may not know is he is a proud uncle to nephew, Dylan, who has Down syndrome.
8. Roy Rogers, Dale Evans and Robin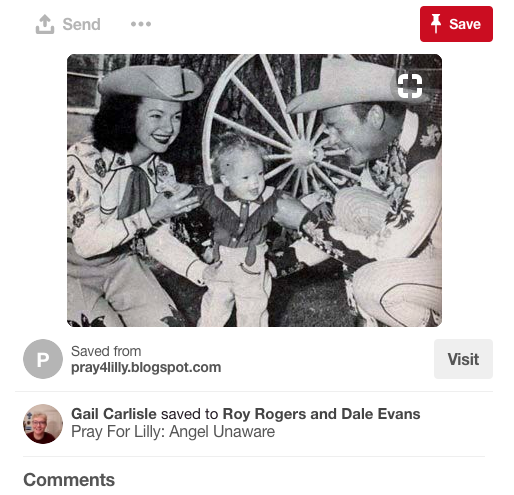 Entertainers Roy Rogers and Dale Evans had a daughter, Robin, with Down syndrome. Robin died two days before her 2nd birthday. Dale Evans wrote "Angel Unaware" after their daughter had passed away.
9. Albert Pujols and Isabella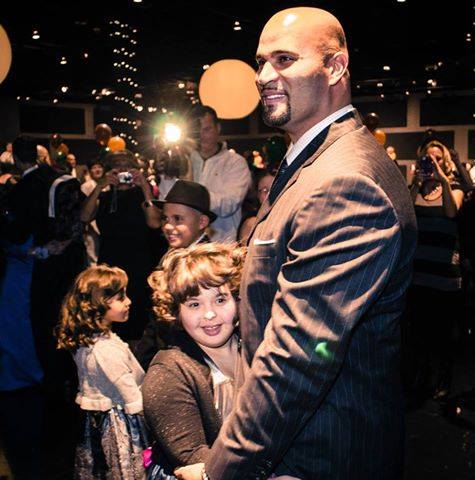 Albert Pujols is a professional Major League Baseball player who currently plays for the Los Angeles Angeles and previously played for 11 years with the St. Louis Cardinals. He has a daughter, Isabella, who has Down syndrome. Pujols writes heartfelt messages on his Facebook page where he shares about his daughter, who was the catalyst for him and his wife, Dee Dee, to create the Pujols Family Foundation. Through their foundation they promote awareness, provide hope and meet tangible needs for families and children who live with Down syndrome. They also provide extraordinary experiences for children with disabilities and/or life threatening illnesses. Pujols is originally from the Dominican Republic, and his foundation helps improve the standard of living and quality of life for impoverished children in the Dominican Republic through education, medical relief and tangible goods. In a Facebook post about his daughter, Pujols shared: "There is nothing ordinary about my daughter. I thank God every day that he made her extraordinary. If you love someone with Down syndrome, you know what I mean."
10. Heath Bell and Jordyn
And my biggest thank you to my family who supported me without fail. Can't wait to join my new team full time #family pic.twitter.com/OKrXq6dFBP

— Heath Bell (@HeathBell21) March 24, 2015
Heath Bell played professional Major League Baseball for the San Diego Padres. He has a daughter, Jordyn, who has Down syndrome.
11. Jake Matthews and Gwen
In honor of Downs Syndrome Awareness Month, I give a shout out to my favorite Falcons fan, my beautiful sister Gwen. pic.twitter.com/6rNyLW3AXa

— Jake Matthews (@jakematthews70) October 7, 2014
Great time back in College Station with the family for A&M Senior Day. Now back to work. #GigEm #riseup pic.twitter.com/QQvoEkqoLk

— Jake Matthews (@jakematthews70) November 16, 2015
Jake Matthews, offensive lineman for the Atlanta Falcons, has a sister, Gwen, who has Down syndrome. In an interview with ESPN he said: "When you're in a room with her, she smiles and you smile, too. She's been so good for our family. People don't understand truly what a blessing it is to have someone in your life with special needs. From afar, it can seem like a burden. But you wouldn't believe the amount of unconditional love she gives. She's not influenced by the outside world; everything she does is based from good. She's the most liked of all the Matthewses because she's so easygoing."
12. David Ragan and Adam
Happy World Down Syndrome Day!

One of Adam's favorite all time wrestlers. @RicFlairNatrBoy #WDSD17 #ExtraChromosome pic.twitter.com/aFMgWHz2aw

— David Ragan (@DavidRagan) March 21, 2017
All in the family today with @JacquelynRagan. Mom's watching from the house!! #RiseUp pic.twitter.com/rUJtlnmBe5

— David Ragan (@DavidRagan) January 22, 2017
NASCAR driver David Ragan has an older brother, Adam, who has Down syndrome. In an interview with SheKnows, David said, "Adam is just a normal older brother. My parents didn't really teach or tell me anything about Adam's capabilities. They just always treated him the same as me."
13. Joc Pederson and Champ
Champ and I had fun with @MizzenAndMain and meeting some fans! pic.twitter.com/2IhmPocjuc

— Joc Pederson (@yungjoc650) August 1, 2017
Dodger's outfielder Joc Pederson has an older brother, Champ, who has Down syndrome. Joc and Champ have a close relationship, and Champ can be seen at most baseball games. In May of 2017, Champ threw the first pitch (which Joc caught). Joc is highly involved with Best Buddies International; him and Champ run the website Live Like a Champ. You can also keep up with this brother duo by following Champ's Instagram account. In a piece for The Players Tribune written by Joc and Champ, Joc said, "A lot of times people say, 'I am sorry your brother has Down syndrome,' and I'm like, 'Really? No, it's a blessing, and I wouldn't be the person I am without him.' There is nothing to be sorry about. I am extremely lucky."
14. Gene Stallings and John Mark
Wherever you're watching Gameday, it's gonna get a little dusty during our Gene Stallings story. You've been warned. pic.twitter.com/xyhq0MFyMT

— Aggie Gameday (@AggieGameday) October 17, 2015
Happy Fathers Day Gene Stallings! Great man! pic.twitter.com/wMrf2jU94V

— Dave (@dynasty_dave) June 15, 2014
Former Alabama football coach Gene Stallings had a son, John Mark, who had Down syndrome. Coach Stallings has been known to reach out to new parents of babies with Down syndrome and write to them as they begin the journey raising a child with a disability. He wrote the book, "Another Season: A Coach's Story of Raising an Exceptional Son." Sadly, John Mark died at the age of 46 from a heart condition. In an interview with CBS News, Stalings said, "If the good Lord asked if he could give me a perfectly normal child or Johnny, I'd pick Johnny every time. No doubt about it."
15. Nik Kershaw and Ryan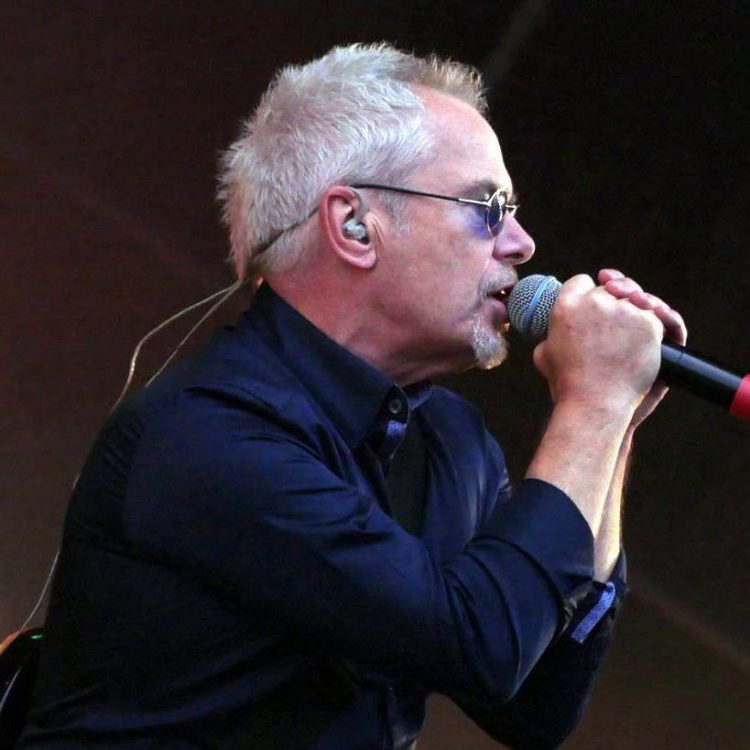 Nik Kershaw, a British singer, came to fame during the 80s. His second son, Ryan, has Down syndrome and is now in his 20s.
16. Joey and Rory Feek and Indiana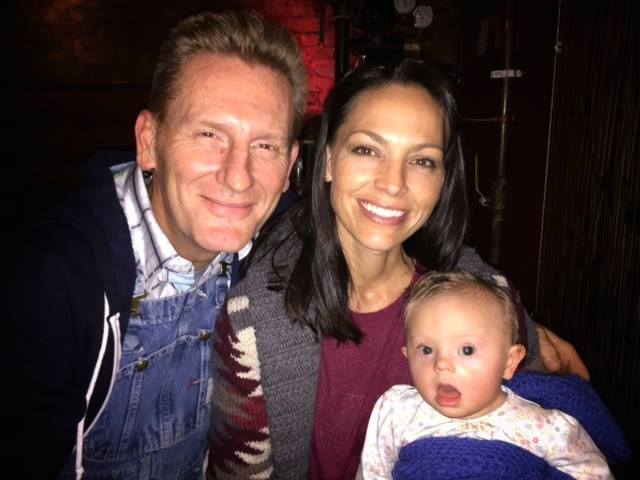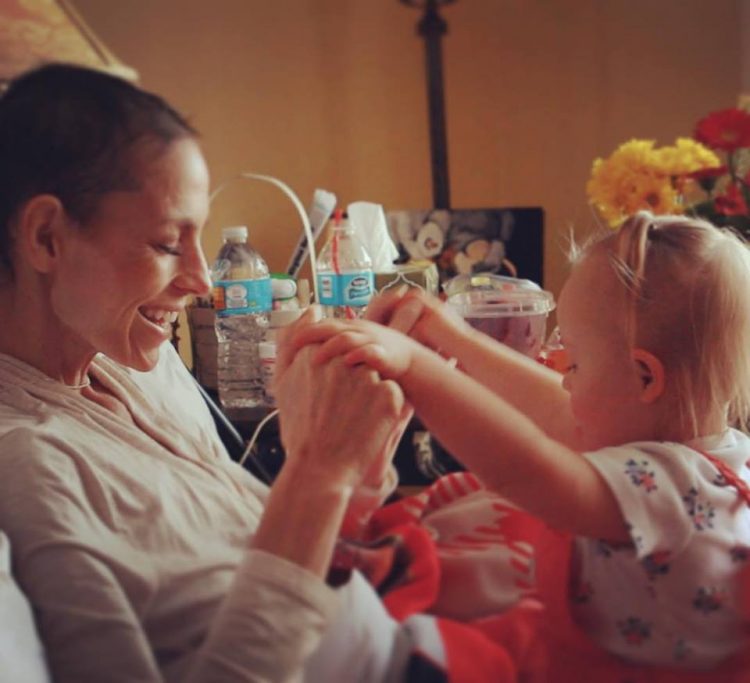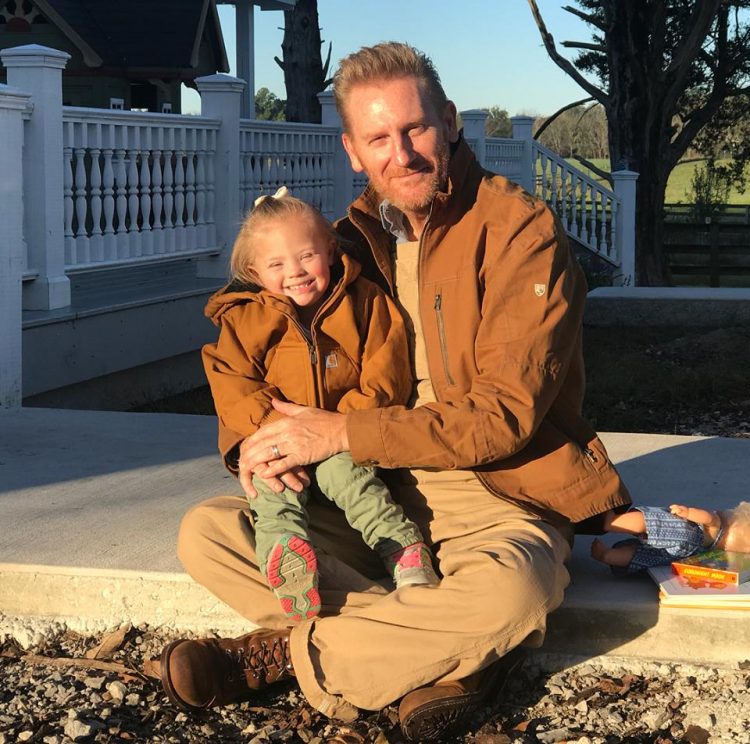 Joey+Rory were a beloved country bluegrass duo. In 2016 Joey died from cancer. Joey and Rory's daughter, Indiana, has Down syndrome. Rory writes in his about page on his blog, "Our youngest, Indiana, helps me to make sense of this world." Rory writes and films and shares his life and stories with Indie on his blog.
17. Joe Diffie and Tyler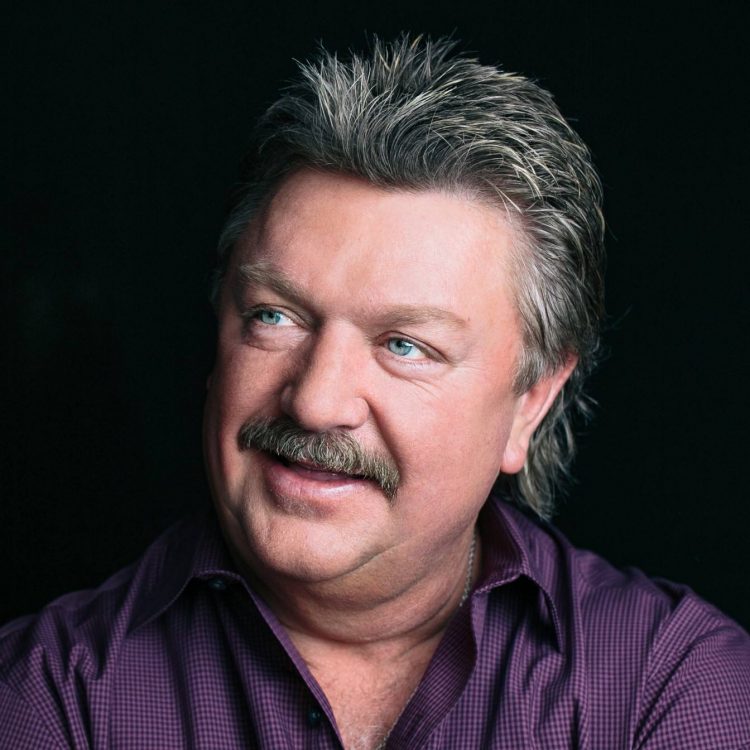 Country singer, Joe Diffie, has a son, Tyler, with Down syndrome. In an interview with People several years ago he said, "You're proud of all your kids, but with Tyler it's special because any small thing he does is like a giant step."
18. Michael and Lisa Gungor and Lucette
???? pic.twitter.com/DCto5JgjjE

— Michael Gungor (@michaelgungor) October 31, 2016
View this post on Instagram
Musicians Michael and Lisa Gungor, of the band Gungor, have a daughter, Lucette (Lucy), who has Down syndrome. When Lucy was born Michael wrote on his blog, "Life is a gift. Period. Life is more than salary levels or grade point averages. Life is more than rankings on a chart. Life is about things like love, wonder and joy. And let me tell you, this girl is going to be loved. And while I don't know that much about Down syndrome (DS) yet, the people with DS that I have seen certainly seem to know how to experience some very real joy and wonder." Lucette means "light," and Gungor wrote the song "Light" dedicated to their daughter.
19. Aaron Shust and Michael
View this post on Instagram
Christian singer, Aaron Shust, has a son, Michael, with Down syndrome. On his son's 5th birthday he wrote on Facebook:"Our boy was born with a 1 percent survival rate. He was born with half of a heart and has had two open-heart surgeries. X-rays showed he had no tooth buds, but they miraculously all came in. He was deaf, but was miraculously healed. We were told by doctors he would never talk or walk, but we can keep him still or quiet. I give testimony to the Love and Power of the One True God. Michael laughs, he hugs, he eats like a champ, even though he's tiny. And he just ran into the room and said 'hi, dada.' He is the joy of our lives. Cannot imagine life without him."
20. Dr. Jim Sears and Stephen
My brother's birthday shirt!!! Yup, he's a ketchup lover! pic.twitter.com/LmuUVgyWAg

— Jim Sears (@DrJimSears) May 6, 2013
Dr. Jim Sears has a brother, Stephen, with Down syndrome. In an episode of "The Doctors" talking about Down syndrome, Sears said, "Instead of just saying, 'Oh your child's going to have all of these problems, it's going to be bad, bad, bad,' [for] most families with kids with Down syndrome, that child is a huge source of joy."
21. Savannah Guthrie and Pierce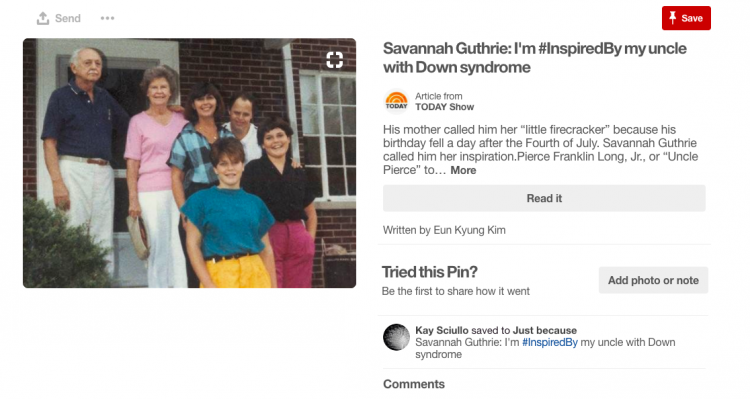 Savannah Guthrie, a journalist and news anchor, has an uncle, Pierce, with Down syndrome. Guthrie's uncle lived with her and her family for a period of time when she was growing up. She is involved with the National Down Syndrome Society. When she landed her job as an anchor for TODAY, she saw it as an opportunity to raise awareness for Down syndrome and said in an interview, "If I can be a voice to say you should get to know that person who has Down syndrome because your life may be dramatically transformed for the better, then I'd like to be that voice."
22. Beverly Johnson and Natalie
Happy World Down Syndrome Day!!
My beautiful niece Natalie help raises public awareness & my niece JC GDSFoundation pic.twitter.com/IQKRigsY0o

— Beverly Johnson (@BeverlyJohnson1) March 21, 2015
Supermodel Beverly Johnson has a niece, Natalie, with Down syndrome. Johnson is highly involved with the Global Down Syndrome Foundation. In an interview with the Hollywood Reporter she said, "I've been around [Down syndrome] all my life, and of course when my sister gave birth to a child with Down syndrome, it really hit home because then it was up to us as a family to make sure that [my niece] Natalie reached her full potential as a human being."
23. Martha Beck and Adam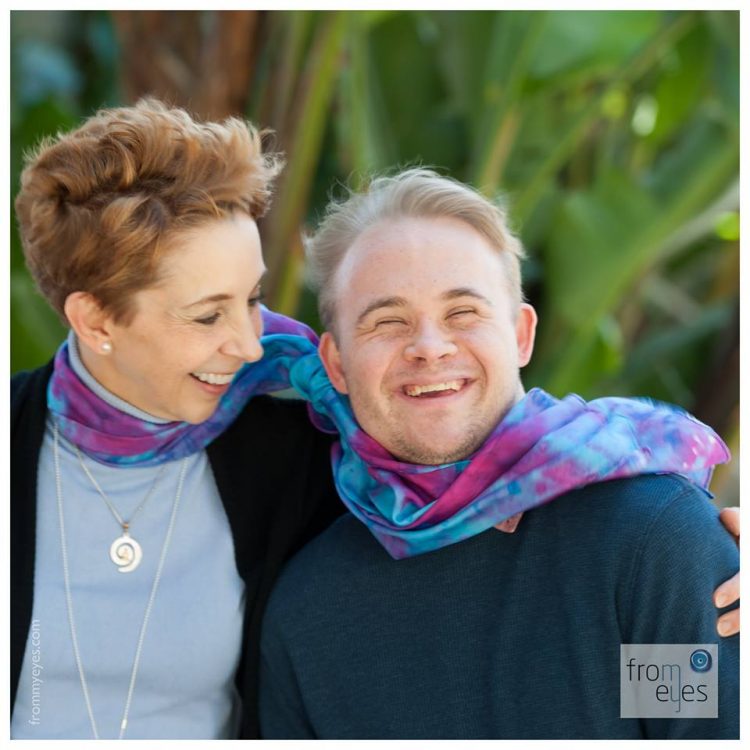 Author and life-coach, Martha Beck, has a son, Adam. Her book, "Expecting Adam" chronicles her pregnancy and the birth of her son. During her pregnancy, doctors urged her to have an abortion, and she said, "I had to answer the question: what kind of human being is not worth bringing into the world? If it's a flawed human, then we're all mistakes."
What other pubic figures do you know who love someone with Down syndrome? Let us know int he comments.