Actor and Best Friend With Down Syndrome Create TV Show Together
---
A real life friendship has become the inspiration for a new TV show pilot.
Chris McNelly has known Andrew Ankar and his family for a long time. The Ankars own several Ankar's Hoagies restaurants around Chattanooga, Tennessee, and when McNelly went to work there as a teenager, he and Ankar, who has Down syndrome, became fast friends.
McNelly, now 26, and Ankar, 20, run the Ankar Hoagies location in Hixon, Tennessee, together. McNelly, who splits his time between acting in Los Angeles and being a partner in the restaurant, says he spends more time with Ankar than he does with anyone else.
Recently, he co-wrote a television show starring himself and Ankar that centers around their unique friendship. In the show, called "Mac & Drew," the two men play brothers. Now, the pair are hoping a network will pick the pilot up.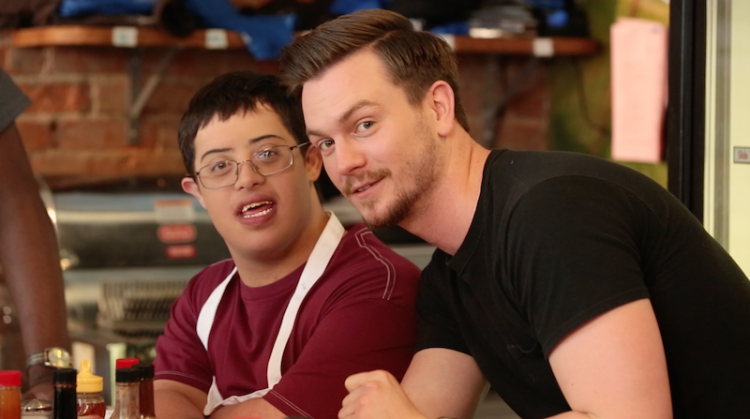 McNelly has known for a while that he wanted to do a creative project with Ankar, but it took some time to settle on the right one.
"We found an incredible cast that wanted to be a part of this project just for the sake of working with Andrew," McNelly told The Mighty. "Drew is a natural in front of the camera and he's hilarious on set. He brings an atmosphere of joy and energy to the set that makes long shoot days so much better."
McNelly says the show is funny and lighthearted but that it also touches on several important themes.
"We address family, responsibility, bullying, political correctness and ultimately finding the joy in life with what's right in front of you," McNelly told The Mighty. "I believe this show is going to have a broad audience."
McNelly and the show's cast and crew hope the the pilot episode will get them picked up for a full season of at least six episodes so they can reach a national audience. He also hopes the show can help to spread a message.
"I hope people watch our show and they have more gratitude for their own lives," he told The Mighty. "Maybe it'll spur them on to go impact people in any way they can."
Check out some images from the pilot episode below: 
Want to end the stigma around disability? Like us on Facebook.
And sign up for what we hope will be your favorite thing to read at night.
Originally published: May 29, 2015