To My Daughter With Down Syndrome on Your 1st Birthday
---
Dear Annabelle,
This year has been a bit of whirlwind. Since you were born on August 3rd, there have been many highs, lows, sleepless nights and countless motherly worries. A few minutes after you were born, I was told (by our wonderful midwife) that we needed to do "chromosomal testing." In that moment, I was completely exhausted and, quite frankly, not really listening. I wasn't really sure what chromosomal testing was, but I nodded my head and assumed Jesse was paying attention for the both of us. Two days later, the test results came back positive for Trisomy 21. You have three copies of your 21st chromosome. It was a hefty surprise.
After loving you for a year, I can say now that the dust has settled, you and Eli are my joy. You can't explain unconditional, overflowing love until you have children of your own. It's terrifying and glorious all at the same time. Your first year wasn't always easy, but that wasn't because of your diagnosis. It was because of my worry and the anxiety of the unknown.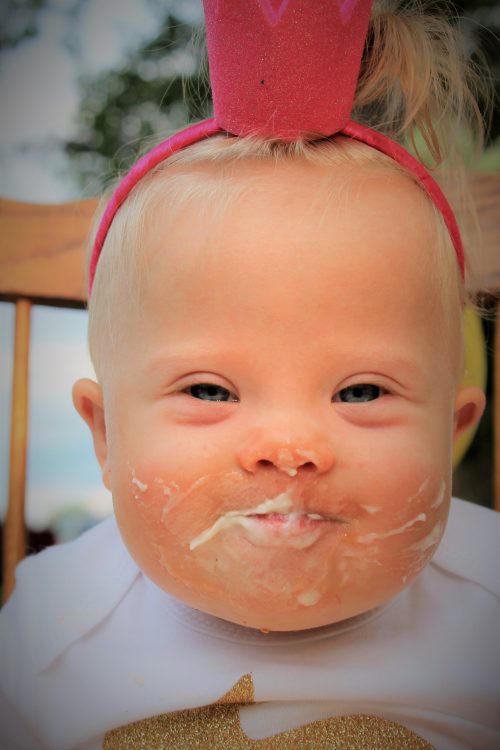 I wish I wouldn't have cried the day you were born. I wish I could have been given a glimpse into our future. If I could have seen one polaroid of you on your 1st birthday smashing cake into your mouth with your blonde ponytail and bright blue eyes, it would have calmed my fears. Please know I didn't cry because I was disappointed, angry or even sad. I cried because I didn't know you yet. I cried because I wasn't told how awesome you would be, I was handed medical articles with lists of potential heath concerns. I cried because I didn't know what low muscle tone was; I didn't know what an echocardiogram was. I thought I didn't know how to take care of you. Low and behold, the only thing you needed from me was love… and milk. You needed your dad to rock you and your doting big brother to show you off. Even a year later, Eli is still introducing his "baby sister, An-belle" to everyone.
Before you were born I thought I wanted a boy. I thought I would name a boy James or maybe Jonah. Before you were born, I would have thought I didn't want an extra chromosome. I believe God didn't give me what I thought I wanted, He gave me what I needed.
Happy 1st birthday to my sweet girl.
Love, always.
We want to hear your story. Become a Mighty contributor here.