10 Down Syndrome Blogs You Should Be Following
---
When it comes to disabilities and Down syndrome, there are literally hundreds of blogs you can follow from funny, heartfelt and inspirational to educational and knowledge-based. I know how hard it is to find blogs that really pull you in, make you feel a part of the family and leave you waiting anxiously for the next post. I also know that sometimes it's impossible to find a blog that gives up-to-date information on current happenings or opinions on books and helpful materials.
So I decided to make it a little easier for you.
Below are a list of blogs I think you should follow, from some of my personal favorites to suggestions from other community members. While there are numerous amazing blogs and creative writers out there, this is just a handful of the ones I wanted to spotlight.
1. Kelly Hampton – Enjoying the Small Things
"Our daughter Nella has Down syndrome. A week after she was born, I wrote and posted the story of her birth, and two years later Bloom was published — the greater story of finding beauty in the unexpected in life. If you have recently received a Down syndrome diagnosis in your pregnancy or have welcomed a child with Down syndrome and have been directed to this blog, here's what I hope you'll see — hope and happiness and hard days and victories and togetherness."
Jawanda Mast frequently updates her blog with snippets of every day life and how Rachel (her daughter) is doing or what she's currently working on; basically, their life with Down syndrome for the past 21 years. You can read back all the way to 2013 and there are some pretty amazing posts to read through. Not only do they give a glimpse into the future for those with younger kids, but these are real, honest and pure stories worth diving into.
3. Jillian Benfield – News Anchor to Homemaker
"You might have guessed by now that my name is Jillian Benfield. I'm a former TV news anchor/reporter, turned military wife and mom of three. One of my sons rocks an extra chromosome — also known as Down syndrome. My other son was diagnosed with a rare urinary tract disease, which resulted in some of the scariest months of our lives. God has taught me so much through the struggles with our boys and I write about these experiences often….I write about real life with raw honesty, all with a heaping dose of hope and encouragement. Although my articles are often serious and emotional in nature (as we have been through our share of heartache) — I'm also quick with a laugh. I don't know how to survive this whole parenting thing without finding the funny in the day-to-day. To get the lighter side of me, be sure to follow along on Facebook and Instagram, so we can laugh together!"
4. Confessions of the Chromosomally Enhanced
Elizabeth opens her heart and her family in order for the rest of the world to understand how beautiful Down syndrome really is. Her biological sister, Leanne, has Down syndrome, which ultimately led Elizabeth and her husband to adopt a little girl, Josie, who also has Down syndrome. They are no doubt the focus of this blog but other family members make appearances occasionally. Elizabeth also uses this platform to give information about great sensory, fine motor, open-ended toys and many others that are quite useful in development.
This is definitely one of my personal favorites for a number of reasons and we also publish a number of Courtney's articles on Save Down Syndrome. If you're looking for up-to-date information on education and inclusion practices, this is the perfect blog for you. Courtney states, "This blog will serve as a town hall discussion, debate even, on best practices of inclusive education and employment. Both are basic human rights. If we do not push for inclusive education and employment we will be left with a large, aging population of people completely reliant on the government and with no self-worth. Please join me in this debate!"
6. Down syndrome with a Slice of Autism
"This blog is all about Nick's world….the rest of us are just trying to keep up. Each post will contain information, musings, and rants about my life with Nick who is 26 years old and has a dual diagnosis of Down syndrome and autism (DS-ASD). Topics are related to everything under the umbrella of special needs. The information is provided for parents, teachers, caregivers, therapists, and anyone touched by a child having special needs."
Dawn, owner and author of Cedar's Story, doesn't just write about her son Cedar, who has Down syndrome. She gives others the chance to share their stories as well. These include stories of pregnancy after a Down syndrome diagnosis to open heart surgery and making an IEP profile. Cedar's Story official welcome note: "Welcome to Cedar's Story. This isn't just about my little guy, Cedar, but all of those we have met since his story began. As a mom of 6 I feel I have lots to share, but so do all of those who have come before and after us. Our goal is to encourage, educate, and bring hope to those whose lives are touched by Down Syndrome."
"Mother Theresa taught that, 'You cannot do great things in this world, only small things with great love.' I hope that sharing Marcus with you in this Down syndrome blog will change his world, and your world, too, for the better. That's why we are here. In 2013 I asked Google about healthy adults with Down syndrome. It replied with the sound of crickets and a tumbleweed floated across the screen. So we started this Down syndrome blog, and the world opened up. We have made many new friends and met many valuable advocates. This website is in part a response to the thirst for stories from adults with Down syndrome and their families; we want to help bring our truths and the truths of other families into the light."
9. I Am River
"I first started writing after River was diagnosed. I found it was a great way to get all my feelings out and not let them take over my mind. Things just seem so much clearer for me and manageable when I get them down on paper. Yes, I still use a pen and paper! What can I say, I just love the feeling of good old fashioned writing. Writing has helped me and my family, happy Mama means happy kids and a happy husband. Not long after I started writing I realized that i could use my words to help other families in the same position as me, who had a child with Down syndrome and maybe needed to read some words of encouragement or to just know they're not alone. There are some wonderful blogs that have helped me, and I would love to do the same for someone else."
10. That Dad Blog
As seen on Today, BBC News, USA Today, ABC News and many others, That Dad Blog is a big favorite within the Down syndrome community. Just a blog, written by a father of six, husband and creative genius, we not only get a look into their lives with Down syndrome but we also get the added bonus of enjoying their famous Wil Can Fly photos. Also full of helpful tips and tricks, this is definitely one blog you need to check out.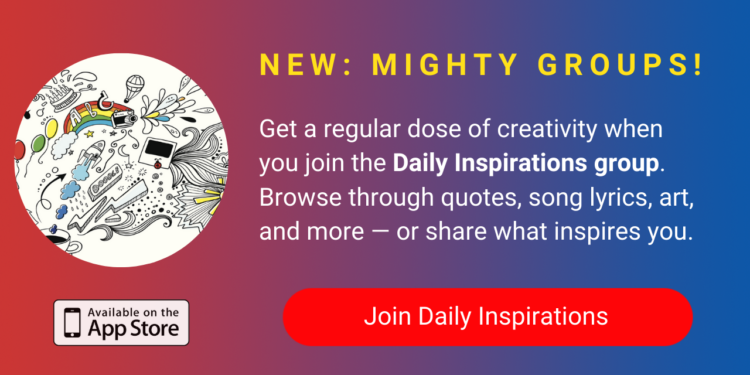 BONUS BLOG!
"This blog is all about an adorable 2-year-old girl named Alice who rocks an extra chromosome. It centers around her journey with Down syndrome and focuses on sharing accurate information about Down syndrome in order to change perceptions."
This is one blog that we absolutely love and I personally follow. Ann is a Down syndrome advocate, Save Down Syndrome ambassador and a frequent contributor to our blog. She posts a lot of great information regarding Down syndrome while also sharing personal insight into their lives and a personal connection to the DS community through stories about her daughter.
Do you have a favorite Down syndrome blog? Tell us in the comments.