Down Syndrome Diagnosis: A Father's Perspective
---
Many mothers share their stories about having a child with Down syndrome. I asked myself, why aren't fathers sharing their stories?
My wife and I have three kids: Becky, who is almost 5, Gabu who is 3 and a half, and Emma who is 8 months old and has Down syndrome. We didn't know Emma's condition until the day after she was born, when early in the morning a pediatrician visited my wife at the hospital (I was home with the other two) and told her he had found some signs that led him to think our baby might have Down syndrome.
My wife called me, and I've never felt as scared as I felt that morning. As a man, many of us hide our feelings; we are supposed to be strong, nothing should get to us us. But this news… this news were different. I thought I should not break apart, my wife needed me, my kids were right beside me trying to hear mom's voice, but I felt devastated over the diagnosis, afraid and lost.
The truth is, most people are not comfortable with something they don't know, and I didn't know what it meant for a person to have Down syndrome, especially a child of mine!
The week it took for the genetic results to arrive was a rollercoaster of feelings, and it all ended with the confirmation that Emma has T21. We made a decision then to give her our best, no matter what we faced.
As a father, I did not believe it when people came to me and said, "it's going to be fine" or "it's going to be OK," because they did not know what it was like to have a child with Down syndrome. They'd never been through something similar, so how could they say things would be OK and fine?
I decided I needed to find help, so I looked for it. As men, I believe it can be hard to put aside our pride and recognize that we do not have all the answers and admit we need help. Yet sometimes (most of the times) that is the best way. My dear cousin is the father of a beautiful kid, Mario Matteo, who also has Down syndrome. I used to think his life was so hard, and wondered how he was able to treat M&M so naturally, as if he was just like any other kid. So I decided to talk to him, to share my feelings with him, tell him how scared I was and how I didn't know what was happening in front of me. He told me a few words that stuck in my mind: "You have to keep calm, God blessed us with these children! Not everyone has them, God must have a plan."
His words made my day. They were the turning point from feeling devastated to feeling excited and happy and positive at the same time. I believe every dad needs to hear this, because once you are done feeling "bad," the road turns nice and beautiful. If you are like me, your life might change. Yo will wake up every morning and go out with your mind focused on giving your baby, your kid and your whole family the best life possible. You will pour your heart into what you do and count the minutes to get back home to your family, hold them in your arms and thank God for that precious moment.
I was never a fan of going out to parks, I got to admit I was a bit selfish when deciding what to do or where to go. Until one day I caught Emma staring at the tree leaves rustling in the wind. I never took the time to watch this happen until my daughter taught me how, not with words, just with the spark in her eyes of someone who admires and is amazed with the beauty of nature. I admired and was amazed at the strength she had to fight and get out of the hospital seven days after she was born.
My wife and I have made the decision to go outdoors every other week, to take long walks through the woods for a couple of hours with our children. It does not matter if we have to help them, carry them in our arms while walking up the hill, push the stroller through difficult roads or keep a gallon of water with us for drinking or for making Emma's formula bottle. It is all worth it.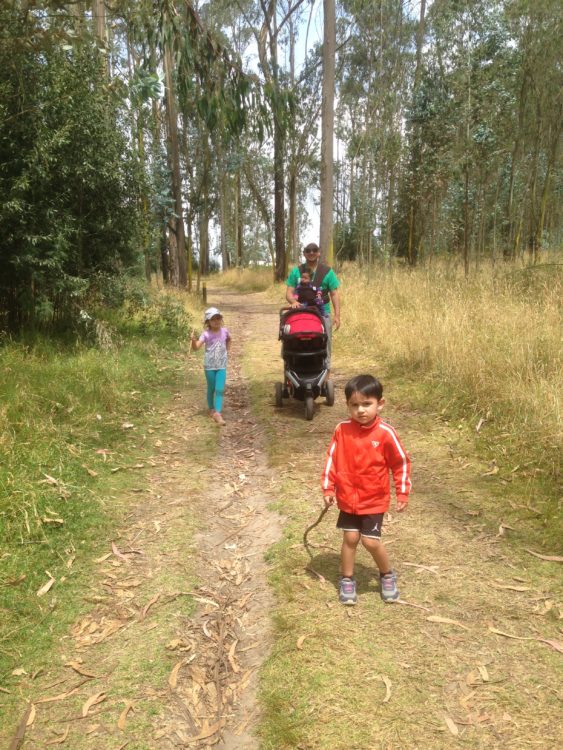 Dear friend, if you are struggling with your baby's diagnosis, you are not alone! Your fears are just as natural as the happiness you are about to witness through the miracle that is your child! Don't worry about being a good father, because you already are. Now take the time to marvel at the  privilege you have to watch your child's life happen just in front of you, because there is so much more beauty yet to come!
Now, when we walk through the woods, I have to take Emma out of her stroller and let her watch the dancing leaves and I ask myself: "Can this be any more beautiful?"
We want to hear your story. Become a Mighty contributor here.