When My 2-Year-Old Son With Down Syndrome Told Me Cows Look Like Cats
---
Fridays are generally my day off from work. My son and I have perfected our routine for that day. We get up, have breakfast, go to the gym, grab lunch, take a nap in the car (well, he does, anyway), then we go to his speech therapy appointment. It all flows nicely, so we haven't made any tweaks to it. We literally do the same thing every week. We even get lunch at the same place because I know he will always eat at Chick-Fil-A. I get my spicy chicken sandwich and he gets his grilled nuggets meal. Every Friday. They have gotten way too much of my money.
But we like going there. The people who work Fridays at lunch have grown accustomed to our routine, and they always greet my son like the regular that he is. Last week, they witnessed what I think was a pretty monumental milestone in his life.
If you know anything about Chick-Fil-A, you know they have cows as their mascots (who encourage you to lay off the beef and keep on enjoying that chicken). If you walk into one of their restaurants, you'll probably see those cows in various places. Last week, my son noticed the cow picture directly above our table and pointed it out to me.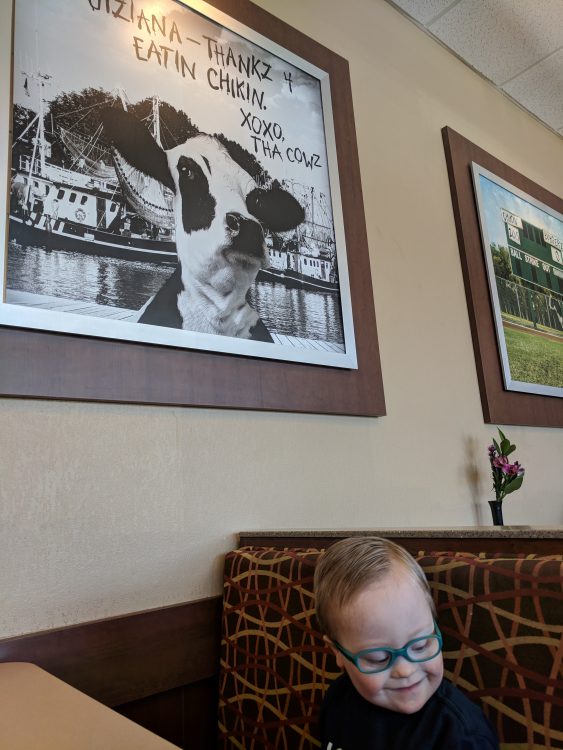 He grunted and motioned to the picture. He'd done things like that before, though. I acknowledged it and said, "Yes, that's a cow." Then we continued with our meal.
Then he motioned toward it again.
I said again, "Yes, that's a cow."
This time, he pulled his hands toward his face and signed "cat."
I animated my voice a little bit and said, "That's not a cat, that's a silly cow." He smiled. He knows what a goofy voice means. I showed him the sign for "cow" a couple of times (which he paid close attention to) and then continued with my meal.
A moment or so later, one of the ladies working that day came to our table with a small stuffed cow. "I saw you two talking about the cow and I had to bring him this." I thanked her, and she went back to work. Then I continued with my meal.
Then it hit me.
I had just had a conversation with my son about something he was interested in. His interest was so clear that even the lady who was working across the room from our table noticed. He clearly communicated his thoughts using a combination of motions, grunts, and sign language.
He does quite a few signs that he has learned through speech therapy, videos we watch at home, and our own reinforcement throughout the day. And he has used them to ask for things before. But this was the first time I have ever had a two-way conversation with my son about something he was interested in.
We talked about that silly cow on the wall.
We left lunch to head to speech therapy. Per our routine, he fell fast asleep as soon as we started driving. As he napped in the parking lot of our next stop, I looked at the therapy building and thought about what had transpired at lunch.
My son has Down syndrome. The extra stuff we do to help him reach his milestones can feel a bit overwhelming at times. Fridays are just one of the five days in which he sees a therapist of some kind each week. Sometimes, it seems superfluous and not worth the stress that comes with coordinating and keeping up with all of it.
And then, out of nowhere, you have a conversation with your son about cows and you realize how blessed you are.
In case you didn't know, cows sometimes look like cats, and my son apparently really likes them.
Follow this journey on Adam's Notepad.
We want to hear your story. Become a Mighty contributor here.
Originally published: March 9, 2018