Surfing for Higher Expectations for My Son With Down Syndrome
---
We recently were able to do a summer surf day with a group that helps people with disabilities.
My son was super excited!
This was the third time he had attempted to surf, and was soooo looking forward to rocking it!
On the day of the event, he became very nervous. We weren't really sure what thoughts were going through his head, because he has a hard time expressing his emotions. But, we had helped him to visualize the hope of standing up on board and how to balance.
When we arrived we were greeted by some highly enthusiastic amazing volunteers. They were as excited to see him, as he was to see them. It was awesome!
They got him into his water vest. They got him lacquered up with sunscreen. He was ready to go!
A volunteer asked him, "Are you ready to go?!"
My son said, " Kinda sorta…"
Which caught all of us off guard.
To us, who knew him, we knew that he was just saying he was a little nervous. Nervous and excited can sound alike for my son and many others who have a language challenge.
Sadly, they took it to a different context. They took it to think that he was nervous/scared to go out. I could see several of them look at each other.
I hurriedly said to several of the volunteers, "He is a good swimmer and is ready to do this!" But I could tell they had made up their minds. Without asking questions. And off they all ran to the water.
I realize in reflection that I didn't clearly state our goals. I didn't clearly state what his hopes were. But, no one asked either.
So, when he went out into the water with his team, they were excited that he laid down on the board and stayed on. They were excited when he got to his knees. They cheered ecstatically! But they never attempted to get him to his feet.
Not once.
They never asked what his capabilities were. They never presumed competence. They never assumed he could! They never got past "safe." They didn't even allow him to try. They did not allow him the dignity of risk and allow him to try and fail.
We are all humans. It's OK to try. It's OK to fail. But not trying — that's not truly living. Not for anyone.
While the day was gorgeous and beautiful, and we were out by the water surrounded by uplifting amazing volunteers, the day fell a little flat. We can chalk it up to just being a fun and awesome event — but it could have been so much more.
I wish he could have tried. I wish he could have celebrated doing something new.
Please have higher expectations!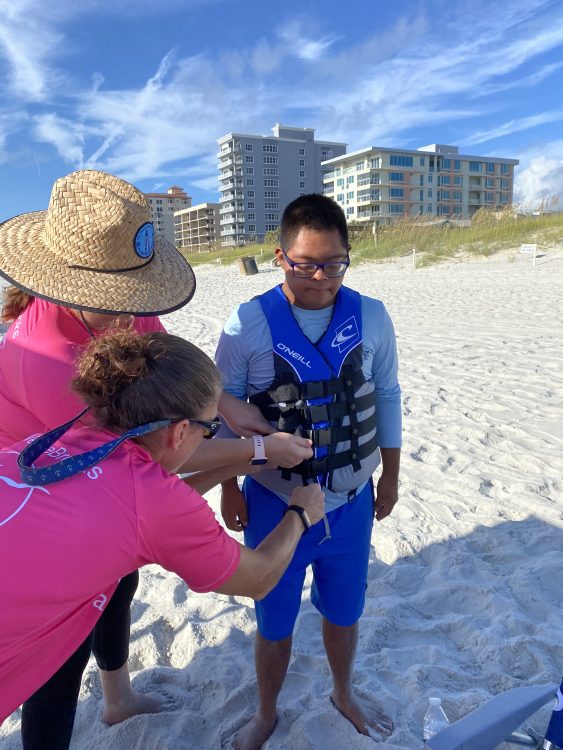 Originally published: September 19, 2022