Meet the First All-Down Syndrome Cast Improv Comedy Group the Improvaneers
---
True to form, Ohio-based improv group the Improvaneers, with a cast comprised exclusively of people with Down syndrome, are saying "yes, and" to bringing a fresh perspective to the improv comedy world.
On paper, the Improvaneers began in April 2018. However, according to Improvaneers founder Rob Snow, the idea to create a comedy group for people with disabilities started a little earlier. While visiting a friend, she told Snow her dream was to teach improvisation to people with disabilities. Snow, who has a son with Down syndrome (DS) and founded the nonprofit Stand Up For Downs, got permission to run with the idea.
"We auditioned over 25 individuals with DS over the age of 15 and ended up casting 10 of them," Snow told The Mighty. "That troupe became the Improvaneers and the first all Down syndrome improvisation troupe in the world."
Once the Improvaneers' cast was set, they got to work learning the foundational skills of comedy improv. The performers, who quickly bonded, met two hours every week for more than a year to build what Snow calls the "scaffolding" needed to perform compelling improv games. As the group practiced each week, they developed their comedic skills, sketches and performance skills.
Snow, however, had another motive for working with a group of people with Down syndrome. He trained in improv comedy at Second City Theatre in Chicago, ImprovOlympic and the Annoyance Theatre. Learning the skills needed to perform comedy on stage and collaborate with others could lead to other opportunities for people with disabilities — and he wanted to prove it.
"I knew if we could build the skills that improvisation teaches — problem-solving, quick-thinking, self-confidence, voice projection, eye contact, teamwork, and much more — then we might be able to greatly expand social and workplace opportunities for those with DS," Snow said. "If we really wanted this program to lead to more workplace opportunities we had to prove its effectiveness in several ways."
Snow worked with a psychologist at the Thomas Center For Down Syndrome at Cincinnati Children's Hospital to develop formal evaluations of the skills and growth each Improvaneer developed during their training. Across the board, the Improvaneers showed progress in key skill areas, especially communication skills and confidence. The evaluation also included speaking with cast members' parents and "doing full case studies on each cast member to talk with their employers, parents and the cast member to see how this program has affected their job performance."
The benefits of participating were clear to the cast members almost immediately. Improvaneer Nick Doyle, for example, found performing improv boosted his confidence. Snow shared Doyle quit his long-time job at a grocery store and took on an ambitious position to help others with disabilities find jobs.
"I love being on stage with my castmates performing. I love when I get laughs from the audience. It makes me feel like a rockstar," Doyle told The Mighty. "The training has helped me improve how I work with others and pay attention to what they are doing and saying."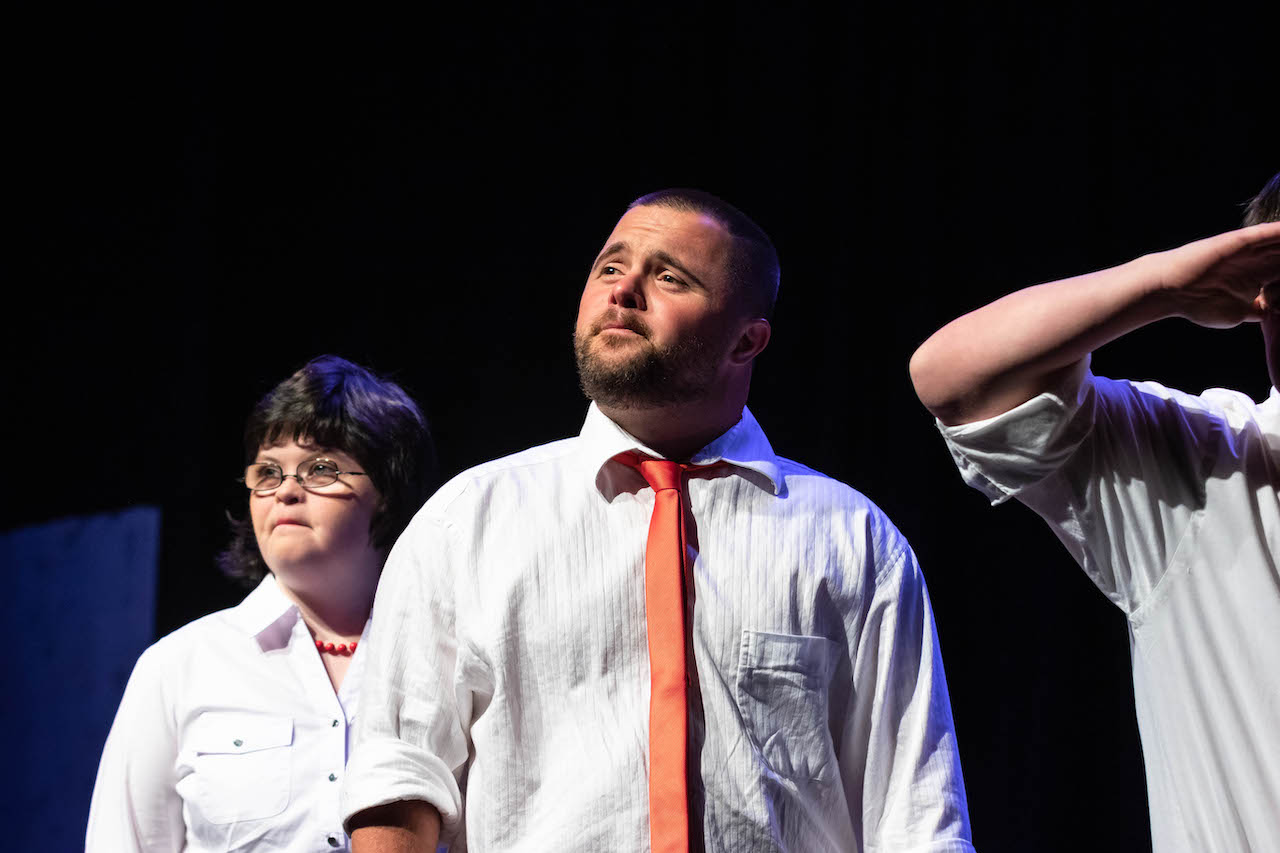 The group's parents also saw a major difference, including Improvaneer cast member Audrey Costilow's mom, Cheryl Costilow. Audrey participated in her high school theater company, which included a little improv. When Audrey discovered the opportunity to get back in the limelight, she took it and flourished both on and off stage with the Improvaneers.
"Offstage I can see positive changes in Audrey's social skills and confidence since she has joined the improv group," Cheryl Costilow told The Mighty. "I am incredibly grateful to Rob Snow and his wife, Ellen, for creating this amazing opportunity through Stand Up For Downs. Not often in life, one has the chance to help and encourage the number of people/families that this program will touch."
Doyle's mom, Lisa Doyle, also said she saw Nick gain stronger communication skills that built on his previous strengths. Lisa also highlighted that being able to perform for others and receive positive feedback was a big piece of Nick's growth as well.
"The feedback from the directors and the audience have made him feel valued in a way that has provided him renewed energy and motivation to establish and pursue his goals," Lisa Doyle told The Mighty. "Nick came to the table with a lot of strengths but this program has given him the tools to hone those skills and pick up a few new ones."
On July 26 and 27, the Improvaneers put all their hard work and improv chops to the test at two 90-minute shows with sold-out crowds. But the success of those first two shows is just the beginning for the group. Snow said the current cast will level up their comedy skills at continued weekly training and performances.
In addition to three upcoming headlining events — where the cast will get paid as performers — Snow plans to book the troupe additional gigs and expand the program. This will include three levels of improv training and certifying directors to train additional groups. The first two will be tested in Ohio in October with plans to roll out a larger expansion in 2020. Snow also hopes to adapt the Improvaneers model for other developmental disabilities.
"In the beginning I would talk about this program using words like ground-breaking and game-changing," Snow said, adding:
Now, after the past year we've had and the shows we recently performed, I would call those phrases understatements. It is absolutely a game changer for those with Down syndrome and ultimately for all those with developmental disabilities. I see this as a missing link to be used alongside job development programs to blow open workplace and social opportunities. My friend from Detroit asked me to 'imagine the possibilities.' I think we are now beyond that. We are now realizing the opportunities.
Participation in the Improvaneers is both life-changing and fun for cast members, while also making a real-world impact on employment opportunities and job skills for people with disabilities. And, as cast member Audrey Costilow shared, improv comedy may be just the boost others with Down syndrome need to chase their ambitions.
"If you have any dreams that want to come true, like mine, and want to try something new for a change, improv is right for you," Costilow told The Mighty. "I hope that anyone with Down Syndrome who has a dream, goes for it, even if performing is not a passion of theirs. I took a step forward joining the Improvaneers — now my dreams are coming true."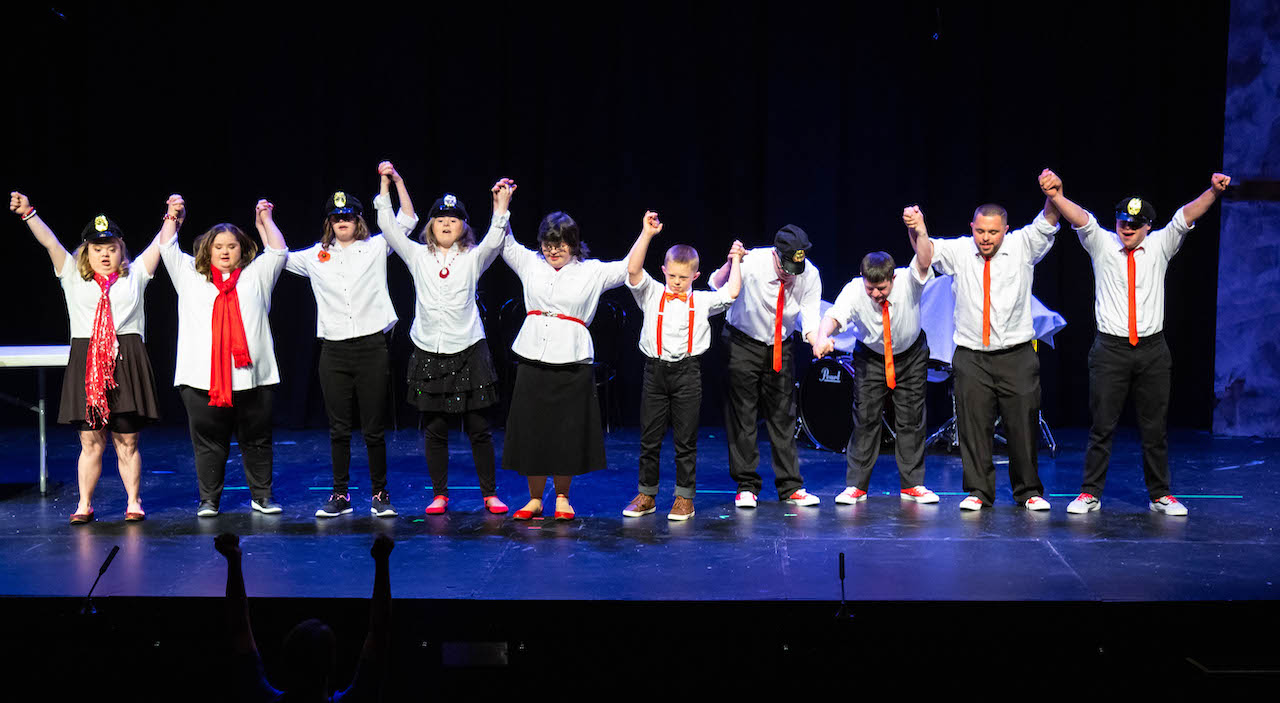 Images via Rob Snow/the Improvaneers
Originally published: September 9, 2019