To John Quinones, From the Mom of a Child With Down Syndrome
---
Dear Mr. Quinones,
I want to take a moment to say an overdue thank you, because you've done something amazing for the Down syndrome community. I want to offer you the perspective of a mom to a 7-year-old child with Down syndrome.
This last weekend, I had the good fortune to attend the National Down Syndrome Congress annual meeting. It's an amazing gathering that celebrates the Down syndrome community and provides sessions on advocacy, inclusion, education, medical issues, financial planning, independence and therapy disciplines. There is a Kids' Camp, Brothers and Sisters Conference and a Youth and Adult Conference for Self Advocates. There's also a wonderful exhibit hall featuring businesses owned by or serving the Down syndrome community. And there is dancing — lots of dancing.
Most of all, the National Down Syndrome Congress annual meeting is a place where everyone just gets it. We're all on slightly different versions of the same journey, celebrating milestones and successes, and learning to overcome obstacles.
On Thursday morning, the National Down Syndrome Congress offered a wonderful Advocacy Training Session. I participated in it, and I also had the chance to speak on a panel. I took my seat in the room early, because I knew there would be a crowd. And when someone sat down beside me, I looked up and said "hello" and was a little bit star struck. I think my eyes went wide as I said, "You're Peter — you were on 'What Would You Do?'"
Peter smiled a big smile and confirmed that he was on "What Would You Do?" — twice. One time posing as a grocery clerk and the most recent time as a customer at a restaurant. Of course, I knew he'd been on the show twice; I'd seen both episodes.
Peter and I introduced ourselves, and he introduced me to his mother, Jan. Throughout the conference, we got to know each other and became friends. We talked a lot about "What Would You Do" and why it was so important. We also talked about Peter's experiences with your show. It was wonderful to have viewed your segments on television, but it was even more incredible to hear the insights that Peter provided as an actor and his mom provided as an observer.
Jan and Peter spoke of how amazing the experience was, and Jan commented that Peter was treated like any other actor. As moms in the Down syndrome community, that's what we hope for: high expectations and respect. I know you're probably thinking that what your cast and crew did was nothing extraordinary, but that's actually the point. Your cast and crew treated an individual with Down syndrome like an ordinary person.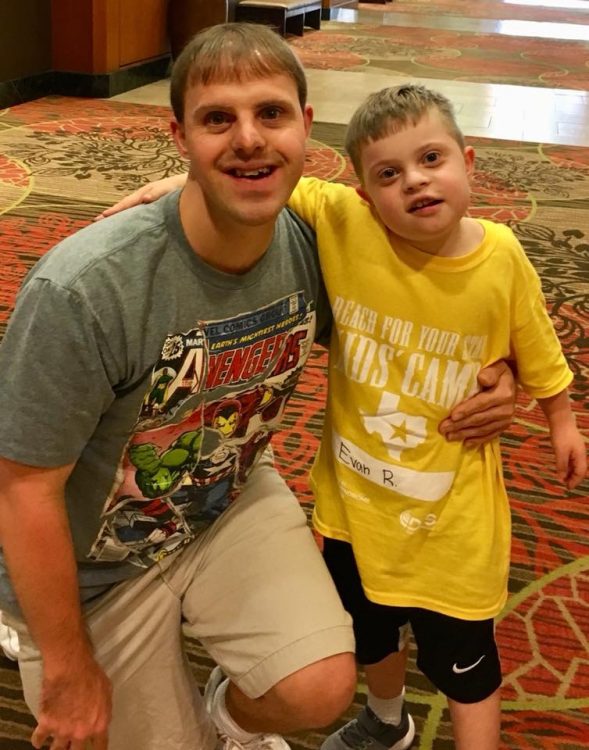 Mr. Quinones, I'm sure you know that when millions of people watch your show, we often see behaviors and actions that restore faith in humanity. We watch as ordinary people observe the worst of human behavior and then step in and stand up for someone being treated unfairly or cruelly. For the Down syndrome community, your show is necessary and timely, because even though we've made great strides toward inclusion and respect, high profile individuals sometimes set humanity several steps backward.
Earlier this year, comedian and game show host Steve Harvey and his wife posted a video where his wife uses the R-word. Instead of encouraging his wife to apologize or recognizing how that word could be considered hateful, the comedian defended his wife using the insult saying "it's a word, ain't it?" In January, comedian Tom Segura introduced a sketch lamenting that you can't say the R-word anymore. In his routine, he goes as far as mocking people with Down syndrome specifically, when he says that instead of saying the R-word, you have to say, "Your idea has an extra 21st chromosome, if you ask me."
Every day, the Down syndrome community advocates so those with Down syndrome are treated with the same dignity and respect that any human being should be afforded. Some days, it's exhausting, because there are individuals who routinely use demeaning language and countless others who defend that language. But then we turn on the television and see segments of, "What Would You Do?" that show the Down syndrome community we're not alone, that there are many good people who will jump in and stand up for individuals with Down syndrome.
When I saw those segments, I shed tears of happiness and of relief, because it meant the Down syndrome community doesn't have to shoulder that burden alone. It means there are others who will stand up and advocate for our loved ones, and that even in this world where there is so much negativity, there is still a lot of good.
Thank you, Mr. Quinones, for including these segments and elevating the issue of the R-word. I hope to see Peter and others with Down syndrome featured on your show in the future, because we still have work to do.
Sincerely,
Julie Gerhart-Rothholz, mom to Evan.
Banner image of John Quinones via Facebook
Originally published: July 22, 2018