John's Crazy Socks Owners Testify Before Congress On the Importance of Fair Wages for People With Down Syndrome
---
Disability self-advocate, John Cronin, and his father, Mark Cronin, co-owners of the million-dollar company, John's Crazy Socks, represented the National Down Syndrome Society (NDSS) before the U.S. House Committee on Small Business on Wednesday, May 9. They spoke on the importance of ending the practice of paying individuals with disabilities sub-minimum wage and the employment injustices plaguing the disability community.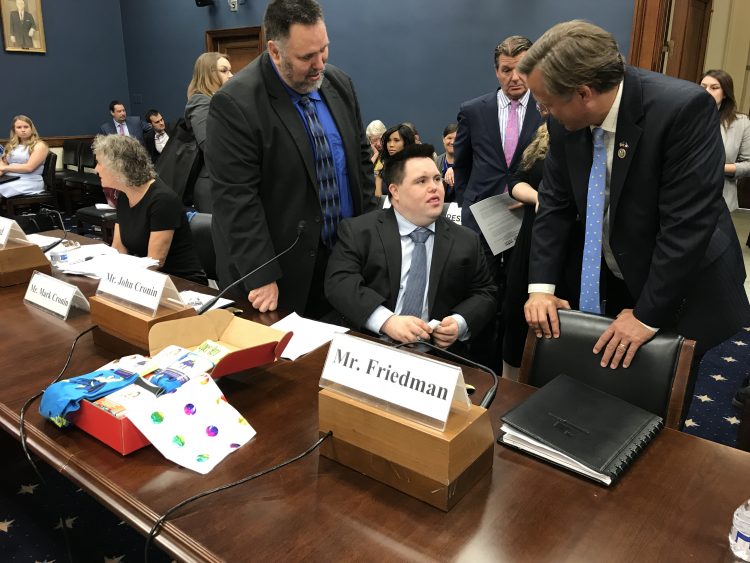 At the hearing titled, "Ready, Willing, and Able to Work: How Small Businesses Empower People with Developmental Disabilities," the Cronins highlighted how employing individuals with disabilities has contributed to their success as a small business and how outdated laws — or as NDSS refers to the systematic problem — Law Syndrome, is what truly holds individuals with Down syndrome back.
"John is a prime example of how an individual with Down syndrome is breaking barriers to prove that individuals with Down syndrome are ready, willing and able to work," NDSS President and CEO, Sara Hart Weir said. "People like John are why NDSS strives to create a world in which all individuals with Down syndrome can become valued members of communities — including within the workforce. At NDSS, we aren't just focused on creating jobs, we are focused on creating career opportunities for all individuals with Down syndrome."
Through employing individuals with disabilities, the Cronins have witnessed first-hand the bias against the disability community through antiquated labor policies that force individuals with disabilities to choose between a career and crucial government benefits they receive. As an individual with Down syndrome and business owner, John has actively advocated on behalf of those with disabilities for years with NDSS, the leading human rights organization for all individuals with Down syndrome.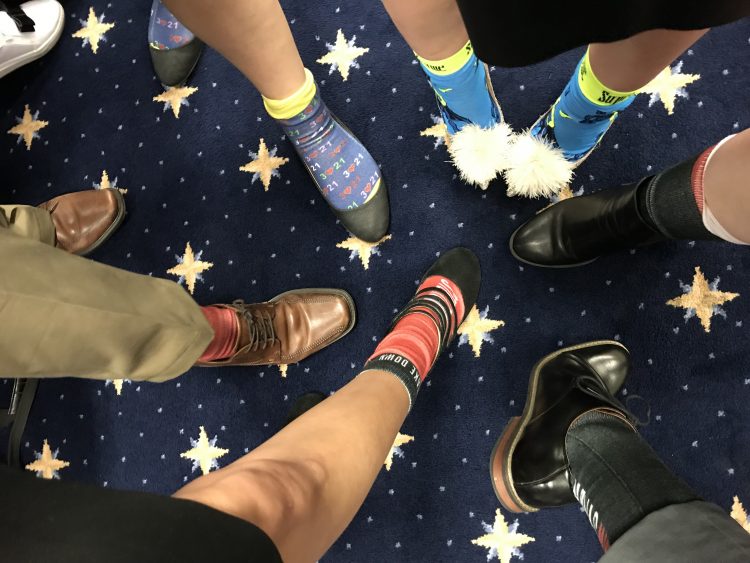 "These issues are very personal to us. While we are successful small business owners, we are also paving the way for other individuals with differing abilities," Mark said. "Fifteen of our 33 employees at John's Crazy Socks have a differing ability, and we are very proud of that. These individuals, and all others with differing abilities, deserve to be paid a real, fair wage wherever they choose to work."
During their testimony, the Cronins advocated for the passage of the bipartisan H.R.1377, Transitioning to Integrated, Meaningful Employment (TIME) Act introduced by Rep. Gregg Harper (R-MS). This legislation seeks to end an 80-year-old law in section 14(c) of the Fair Labor Standards Act (FLSA) which still, in 2018, allows individuals with disabilities to pay wages less than the federal minimum wage to workers who have disabilities.
"Showing Congress the accomplishments of all people who are differently abled can do, rather than what we cannot do, is important," John said. "I am proud to represent my business, NDSS and the entire differently-abled community in my testimony."
To learn more about John's Crazy Socks and how to get involved with the National Down Syndrome Society, please visit www.johnscrazysocks.com and www.ndss.org.
Originally published: May 9, 2018