A Letter to Chili's From the Mother of a Child With Down Syndrome
---
Dear Chili's:
I read the recent story on The Mighty and via a CBS news site where a man with a child with Down syndrome was allegedly fired after asking co-workers to stop using the R-word. The story was disturbing, and it speaks to a larger problem: Somewhere along the way, Chili's training program failed. Whether it was on Chili's part or on the manager's part is irrelevant. The end result is that the public read about how a manager let an employee go who objected to a term you'd never allow an employee to use in front of a customer.
I know I wasn't there to witness the scene as it unfolded. I have no idea how all parties reacted, but that story should have read differently, and the resulting public response would've been a world apart. Disability social media is lighting up with headlines about firing an employee for objecting to use of the R-word. The negative publicity is amazing, and I'm sure you're wincing and trying to figure out how to clean up the mess. Had that manager acted differently, Chili's would've been the hero of social media with headlines like "Chili's Manager fires employee for using the R-word."
While I'm sure Chili's doesn't condone bullying, belittling, use of derogatory language with customers or employees, this negative publicity will surely result in the public interpreting this one manager's actions with corporate-level failure. I have some suggestions that could solve your problem quickly:
Act quickly and decisively. Whatever it is you're deciding to do, do it quickly, and let the public know you've taken action.
Send a communication to your entire organization and ask that all your employees take the R-word pledge at www.r-word.org. The R-word is hurtful and hateful, and it belittles all those living with intellectual and developmental disabilities.
Train everyone that hateful language, whether with customers or with coworkers, is unacceptable. Underline it. Bold it. Italicize it. And note the consequences of use of that language in the employee handbook (if it's not already there).
Take a bold step and partner with Down syndrome organizations. My suggestions: become a partner organization for the Buddy Walk. Provide several $25 gift cards that can be directed to the many Buddy Walks that take place throughout the year. For information, visit the NDSS's site.
Reach out to the National Down Syndrome Congress and sponsor their annual meeting later this month. For more information about their annual meeting, visit www.ndsccenter.org.
Join the Changing the Face of Beauty #100in2015 campaign by including an individual with Down syndrome (and other disabilities too) in your advertising. People with Down syndrome are your customers too, but they're never reflected in your commercials. Including them now would be wise. For more information, visit www.changingthefaceofbeauty.org.
Allow individuals with Down syndrome to have a free entrée on World Down Syndrome Day (

March 21

) next year.
These simple steps will rectify your current public relations situation and will make it clear that at Chili's, it's not acceptable to use the R-word, and people shouldn't be fired for objecting to its use.
Regards,
Julie Gerhart-Rothholz,
Mother of Evan, who has Down syndrome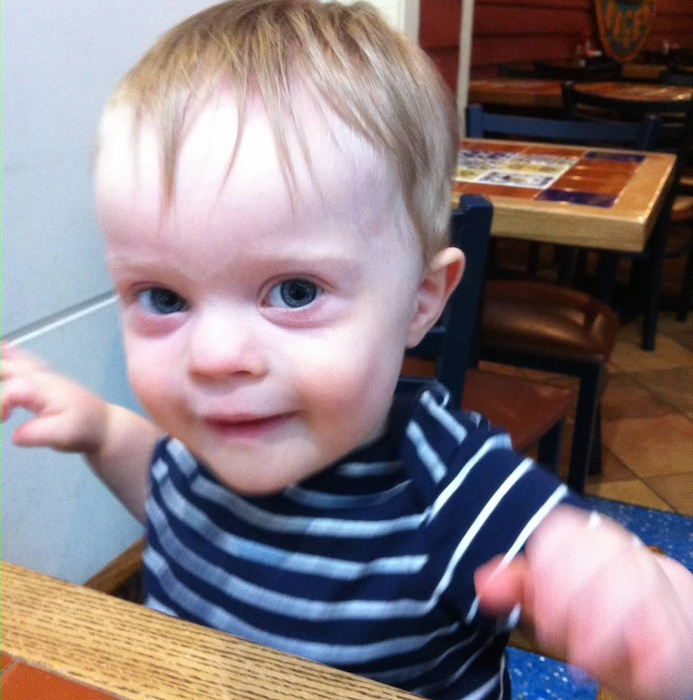 RELATED: Special Needs Dad Allegedly Fired for Objecting to the "R" Word at Chili's
The Mighty is asking the following: Describe a moment you were met with extreme negativity or adversity related to your disability and/or disease (or a loved one's) and why you were proud of your response — or how you wish you could've responded. If you'd like to participate, please send a blog post to community@themighty.com. Please include a photo for the piece, a photo of yourself and 1-2 sentence bio. Check out our "Share Your Story" page for more about our submission guidelines.
Originally published: June 3, 2015