To the OBGYN Who Delivered My Child's Prenatal Down Syndrome Diagnosis
---
It's incredible that it has now been two years since Eddie and I received Kalisye's diagnosis. Two years. Two years, and yet that day will forever be cemented in my mind as a formidable experience that changed my life, changed my outlook on so many things, and which encouraged my first action as a parent advocate.
It's interesting how we can always find the silver lining, right?
Sadly, my experience is, at least in part, all too familiar for many parents of children with prenatal diagnoses, and so for them, and even more, for myself, I have decided to finally put my thoughts and wishes into words. I have decided to write a letter to my (first) OBGYN.
Dear Dr. ______,
I'm not sure if you remember me, as I was only in your care for a short segment of my second trimester. But to help refresh your memory, I was the 26-year-old with no concerning past medical history whose baby was prenatally diagnosed with Down syndrome. You were the one who called after hours to give me the news, and I was the young woman who did not return to your practice after receiving that news. But before you decide to throw this letter away, I ask that you take the time to read it in full, and to allow yourself to process the words I am sharing with you.
I want to apologize for not giving a full explanation, or even being brave enough to explain my decision to discontinue with prenatal care under your supervision. Understand that it has taken me two full years to muster up the courage and appropriate words to send this to you. Please accept my sincerest apologies for the time gone by.
I was never angry with you, but more hurt by the approach you took to disclose this life changing information. I want you to know that. I hold no grudge against you, but only wish you might use my words to help shape your patient interactions from here on out.
Although it may not have been as life-altering of a conversation to you, you must remember that this was news regarding my first child. You must also remember that the diagnosis came after weeks of additional testing and pending results. What you may not remember is what you told me that evening. Surely you didn't know that I answered your phone call alone, as my (then boyfriend, and now husband) was on a trip for work. I didn't expect you to know that.
Regardless, I do wish you had shared the information with a little more empathy. As a clinician, you hit most of the important points expected during this opportunity of disclosure, but what you failed to do is listen — truly listen. While you did hear me when I cut you off and told you that I was not interested in terminating my pregnancy, you did not allow me to process the news, nor did you ask what my wishes were for my pregnancy and for my child. Instead, if you recall, you continued on in what can only be described as an annoyed explanation of the fast approaching deadline for termination in Hawaii, ending in a statement of something like, "otherwise you'll have to start planning to get a plane ticket to another state which has later termination laws."
I do appreciate you explaining to me the importance of the overall decision. I did then and I do now. A woman should have all information to make such a big decision. What you failed to provide, however, was the other side of the story — the opportunities and resources available to me if I did follow my clearly stated wishes of carrying this pregnancy to full term.
In the end, as you know, I refused to give into the concept of termination, and my husband and I named our daughter Kalisye. Against great odds, she was born without a major heart defect, although we did endure a month long stay in the NICU for complications related to pulmonary hypertension. We continue to see specialists consistently, but fortunately, Kalisye has never had any major health complications.
She is the happiest girl you could ever meet. Her positive and fun loving nature is truly contagious and always elicits laughter, smiles and waves from strangers.
Needless to say, from any stand point, she has and continues to have an excellent quality of life. That, and knowing she is always loved, will always be the outcomes that my husband and I work tirelessly to provide her with. But aren't those the same wishes that all parents have for their children, disabled or not? As a parent yourself, I'm sure you can relate.
So as a parent of a non-fatal, life-altering prenatal diagnosis, I encourage this from you in your future practice as a medical professional. Please continue to offer the superior clinical care that you are so well known for. But in addition, please don't forget to include your sense compassion. Understand that the news you share with women and couples on a daily basis is shaping their lives. In circumstances that elicit emotional reactions, use silence as a therapeutic form of communication, as well as honesty. The, "I can't even imagine what you're going through," "I know this is a difficult decision/situation for you right now"… those statements offer a lot more than rushed information.
Since our last conversation, I have become a registered nurse and have earned my MSN in the area of Public Health Nursing. That diagnosis that you shared with me has helped to positively change my passion and direct my career path. That diagnosis you shared with me has also given me some of the happiest days and moments, ones that I truly wish I could share with others. There are so many opportunities and resources available for the unexpected, or even "undesirable" pregnancy, and I can attest to that on a personal level.
I do hope that you take away a little insight from my words, but if nothing else, please look at this picture of my daughter, which I have included with this letter, to put a face to the joy that we get to experience every single day. May you better understand that sometimes, the greatest form of love can grow from even the most unexpected of situations.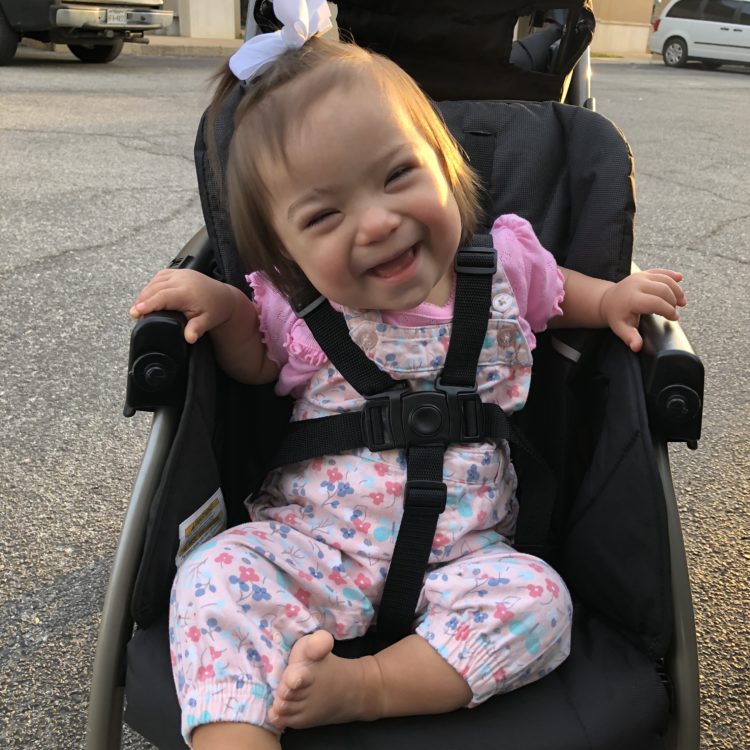 Sincerely,
Kristye
Originally published: September 30, 2018