Backstage at New York Fashion Week With Madeline Stuart
---
Backstage at the Manhattan Center, Madeline Stuart is practicing her runway walk. The 19-year-old darts between hordes of models, many of whom, at 6-feet-tall, tower over her petite frame. While any other person might be intimidated, Stuart, now walking at her third New York Fashion Week, doesn't bat an eye.
Stuart may not be the only model with Down syndrome walking at Fashion Week this year, but she is by far the most prolific. In addition to her two years at New York Fashion Week, Stuart has walked in several other international fashion weeks and has appeared in print campaigns, music videos and as the face of several companies.
It's half an hour until showtime, and if Stuart is nervous, she certainly doesn't show it. In the waiting area, it seems as if everyone knows her name, and she greets them all as if they were old friends, taking the time to pose for selfies and high-fiving other models as they strut by. It's almost time for the audience to take their seats, and Rosanne Stuart, Madeline's mother, is running through last minute preparations with her daughter.
"Can we get someone to touch up her makeup?" Rosanne Stuart asks, scanning the room for a makeup artist. It's coming up on 8 p.m., and Stuart has been at the center since before 5 p.m. "Burgers?" Stuart asks her mother, who flags down a tube of lipstick matching her daughter's complexion. "Of course, we can get burgers after the show," she replies. Stuart grins and then pouts as an assistant touches up her lips.
As Stuart is getting her lipstick reapplied, her mother and a filmographer working on a documentary about Stuart get settled in the audience. Stuart, who is walking for Bound By The Crown Couture, is the last of three shows.
It is finally Stuart's turn on the catwalk. All heads turn as she bounds down the runway, the cape of her black dress held up by both of her hands. Stuart's energy is contagious, and everyone in the audience is cheering, making more noise for Stuart than they did for any other model. By the time Stuart reaches the end of the runway she has solidified herself as the star of the show, a title she further cements by doing a cartwheel at the end of the runway. The audience rises to their feet as she turns to walk back, her face beaming with pride.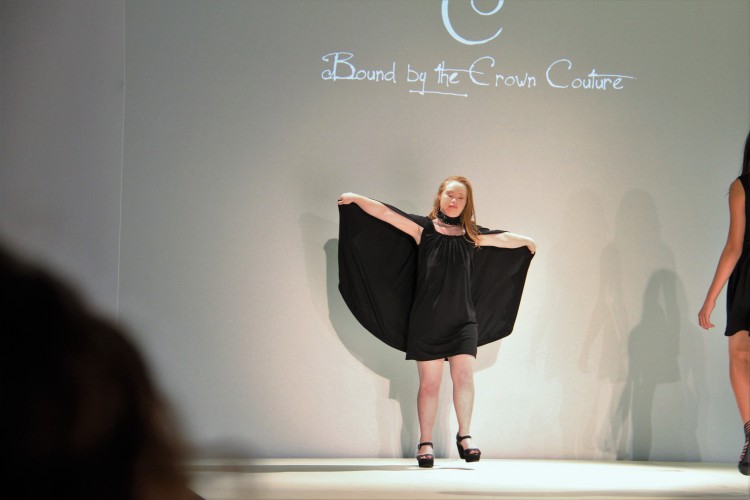 At 19-years-old, Stuart has the schedule of a New York Fashion Week elite. When she isn't walking in one of her four shows, she's getting the VIP treatment somewhere else. Her jam-packed itinerary includes sitting front row at other fashion shows, parties, pilates class, red carpet events and fittings.
Her second and third shows fall right in the middle of fashion week. For her second show, Stuart walks for the Speechless Vulgarity collection. At her third show, Art Hearts Fashion Show, Stuart walks twice. First for House of Byfield and then Rutu Designs.
Stuart closes out her final New York Fashion Week show dressed in Vivian Hu, performing with Disney Channel songstress Meredith O'Connor, as part of a benefit for the Steven Siller Foundation. The two performed "Stronger," of which Stuart also appears in the music video.
Now that New York Fashion Week is over, Stuart has two weeks to rest before gearing up for her next show. According to Stuart's mother, the teenager will be home in Australia for a bit and then off to Tokyo for Tokyo Fashion Week. In November it's off to Dubai for Runway Dubai.
To learn more about Madeline Stuart follow her on Facebook, Twitter or Instagram.
Image via Wikimedia Commons/Madelinemgmt
Originally published: September 20, 2016