Clerk With Down Syndrome Gives Special Needs Mom a Moment She'll Never Forget
---
With just a simple gesture, a Ralph's grocery clerk in Mission Viejo, California, made one mom's day.
On Tuesday, the clerk named Sydney approached Mighty contributor Suzie Skougard and her 17-month-old daughter Carly. Skougard had met Sydney before — when she was pregnant with Carly, she'd make a point to wait in Sydney's line, even if it wasn't the shortest. "I wanted to [know] what Down syndrome would mean for my daughter as she got older," Skougard wrote in a viral Facebook post. "What would her life be like? Would she be anything like this woman?"
Tuesday's exchange helped her answer those questions.
"I have Down syndrome like her," Sydney said, "and I have a big heart."
"You definitely do have a big heart," Skougard replied.
Sydney then asked if Carly knew any sign language. When Skougard said she did know a few signs, Sydney offered to teach her one more: "I love you."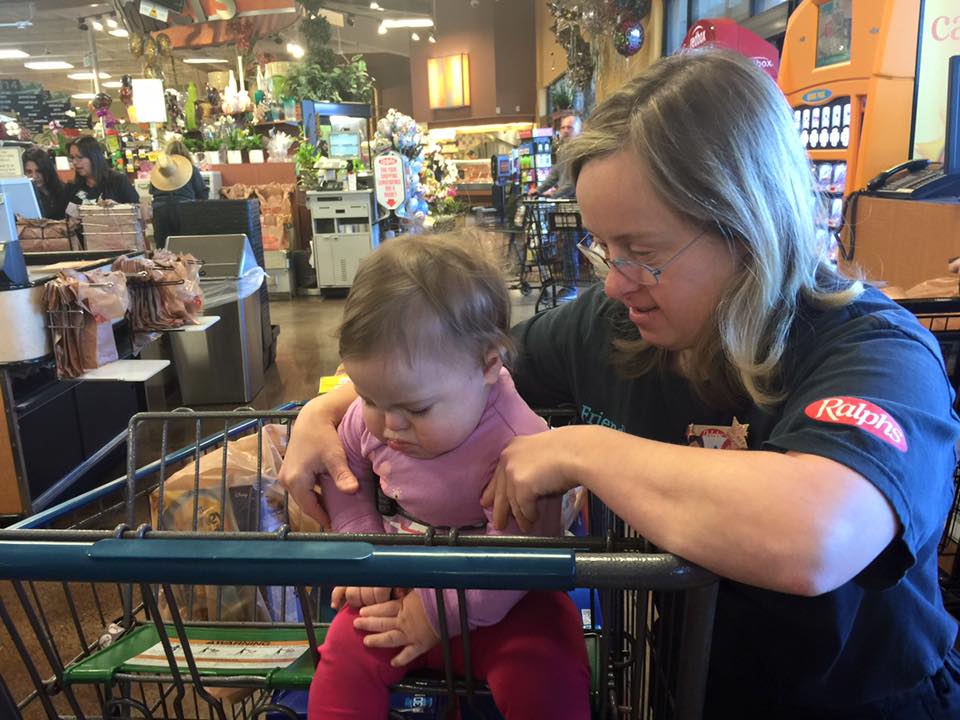 The moment left a mark on Skougard, who posted the picture above on her Facebook page Team Carly Jean:
I interacted with a lot of people at the grocery store. There was a woman who scolded me for not having shoes on Carly on a cold day, (she kicked them off), a clerk who was less than interested in helping me find an item, and an impatient person that shoved past because we were following behind an elderly gentleman that was moving slowly when they were in a hurry. 

Some people feel like people with Down syndrome don't contribute anything meaningful to society, but amidst all the Grinches today, she stood apart. And just being her, she gave us an amazing gift. A smile. 
Skougard's post was shared almost 3,000 times in four days. The response, she says, has been absolutely beautiful.
"I didn't expect it at all," she told The Mighty in an email. "So many people have written private messages about how they were inspired by the post and how they'll take the time to interact more with those with disabilities when they encounter them in their day to day. There have also been messages from parents with a new diagnosis, and it's been an incredible feeling to be able to pay it forward, give them words of comfort and help guide them toward resources like their local Down syndrome association."
Skougard says Ralph's has since contacted her and has plans to honor Sydney for her kindness.
"It just goes to show how a single kind act can spread and grow," Skougard told The Mighty. "We were just the lucky ones to be on the receiving end of Sydney's good graces."
---
Have you seen the first film with a national release to star a person with Down syndrome? Check out the film "Where Hope Grows" today!
Originally published: December 19, 2015