21 Moments With My Daughter With Down Syndrome
---
It's just an extra 21st chromosome. One piece of genetic information that seemed at one time to define my daughter. For me, Down syndrome was a huge and overwhelming diagnosis back in 2006 when Jaycee was born and diagnosed.
Time has passed, and my attitude has changed since her birth. Down syndrome is just part of her story and ours. It is not the story.
In honor of World Down Syndrome Day, here are 21 moments from the story of my family's life with Jaycee.
1. First ultrasound picture — It was a glimpse of my first-born with knowledge that a daughter was in our future.
2. Snuggles after delivery — Before we knew about Jaycee's Down syndrome and atrioventricular canal defect, there were a few hours when my husband and I just marveled at our new baby without worry. We examined every finger and smiled at every movement and sound.
3. A doctor's announcement — After waiting four long hours during Jaycee's open-heart surgery, I was relieved to hear the surgery went as planned and all was well with our infant.
4. First wobbly steps — Jaycee took her first little steps during a physical therapy session. All those hours in therapy sessions and hard work paid off!
5. Walking for Down syndrome — Our family teamed up to raise money for our local Down syndrome group and participated in an awareness walk. It would be the first of many times "Team Jaycee" united.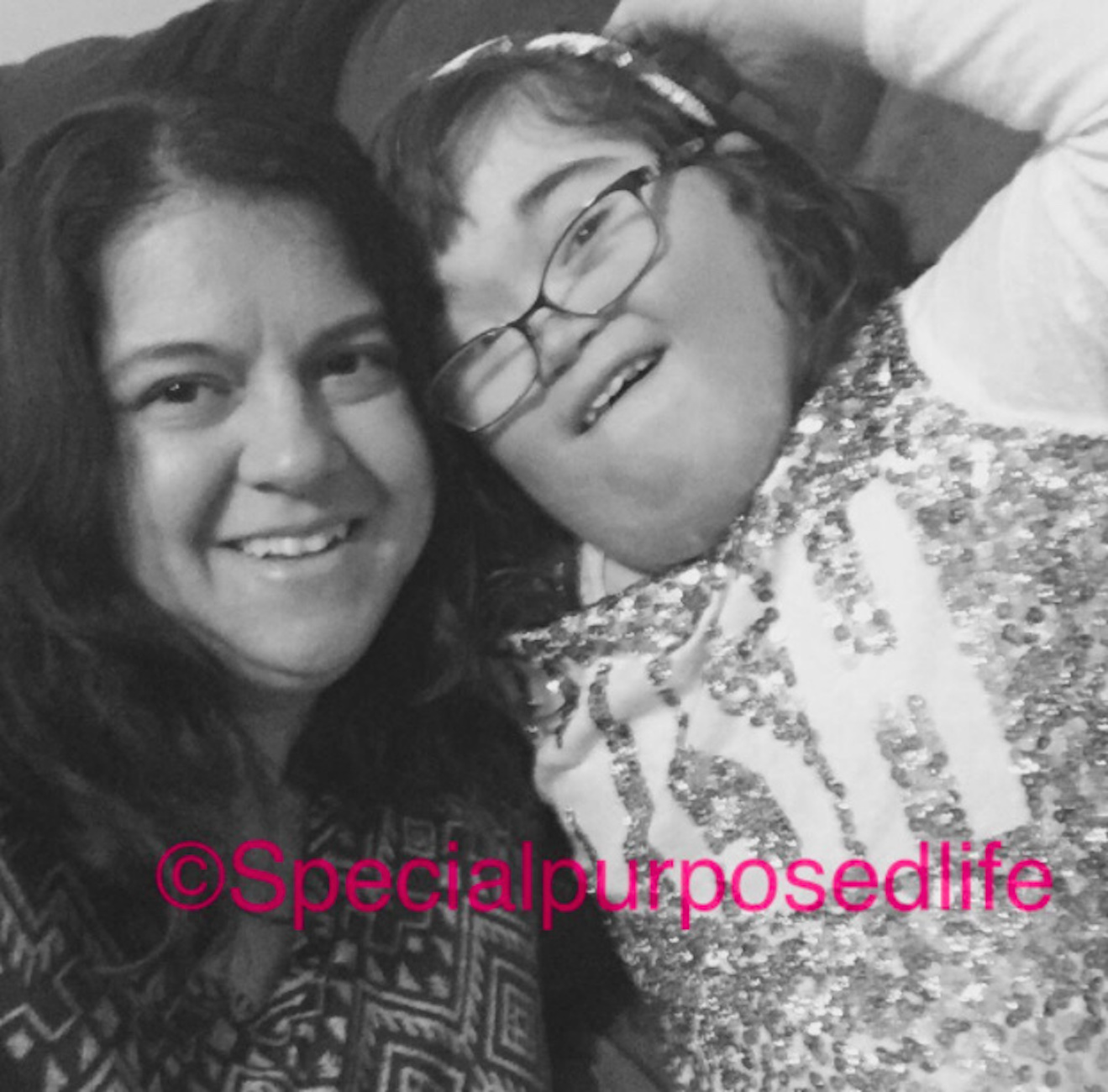 6. The best word ever — There's nothing sweeter for me than hearing my child say my name. "Mama" melted my heart.
7. First school drop-off — Taking Jaycee to preschool as a little 3-year-old resulted in tears from one of us. I'll let you guess who.
8. Jaycee becoming a big sister — During my pregnancy with my son, I explained to Jaycee she was going to have a baby brother soon. Right after Elijah was born, Jaycee came into the hospital room to meet him. She signed, "baby," as she peered into his bed while the nurse weighed and measured him. She instantly loved him.
9. Self-feeding — After months of occupational therapy, hand-over-hand spoon feedings, and trials of many spoons, the day Jaycee fed herself with a spoon was cause for celebration. We could eat together as a family at the same time, and she could be more independent.
10. Second first steps — After a long and serious stay in ICU when she was in first grade, Jaycee came home with a wheelchair. She could not climb steps; she could not even sit up unsupported. When her strength came back slowly and she started walking again, it was a gift to watch.
11. Jaycee, the competitor — Jaycee loved participating in the softball throw at the track-and-field for Special Olympics. She kept looking at those of us in her cheering section to make sure we were all paying attention.
12. The three big words — "Love you, mama!" After weeks of breaking up this phrase into simple word approximations, Jaycee one day repeated it back. It sounded like, "Uh oo, mama," but it was the beginning of a beautiful exchange between us.
13. School dancer — After some bravery on my part, I signed Jaycee up to participate with her peers in the yearly school fundraiser cheerleading and dance group. Jaycee knew the moves and proved she could do amazing things if I didn't limit her.
14. Elsa and Anna — Jaycee was fortunate to receive a trip through Make-A-Wish, which meant she got the royal treatment at the Orlando theme parks. She absolutely loved meeting the "Frozen" cast after a show. Her joy was precious.
15. A lifelong relationship — At a family gathering, Jaycee marveled at her cousin dressed up as a deer. From then on, Jaycee fell in love with her cousin, who she refers to as, "Deer," ever since.
16. A pep rally — Jaycee's school held an energetic pep rally for the athletes participating in Special Olympics. Jaycee ran through the lines of smiling cheerleaders. Instead of bursting through the paper banner at the end, she crawled underneath it. It was such a funny moment.
17.   A friend party — When your elementary school daughter wants to have a birthday party with friends, you make it happen.
18. A baptism — After weeks of teaching and preparing, Jaycee went through the water baptism at church like any other child. She came up out of the water smiling, just like all of us who were surrounding her.
19. My daughter on stage — During a pageant for girls with intellectual disabilities, I saw my little girl transform into a princess and enjoy being in the spotlight. Her abilities were celebrated, and she continues to show off her crown to visitors at our home.
20. Water coaster enthusiast — Water coasters are a thing and my daughter loves them. While I scream my head off wishing for the ride to come to an end, my daughter shows no fear and laughs all the way through.
21. Home plate with Molina — When Jaycee won an opportunity to meet Yadier Molina during a Cardinal's game through our Down Syndrome Association, there were several seats filled with our friends and family cheering for her. Molina autographed her baseball right after she did.
Our life with Jaycee has set us on a path we did not anticipate. Then again, who could predict some of these moments we've had with her. Some of them have been extraordinary, a few have been challenging, and others have been gratefully mundane.
Time has shown us there is a full and good life beyond a diagnosis. Happy World Down Syndrome Day!
Follow this journey on A Special Purposed Life.
We want to hear your story. Become a Mighty contributor here.
Originally published: March 15, 2017