I Won't Accept Professionals Who Want to Give Up on My Child With Down Syndrome
---
After asking our therapist why Savannah's walking and speech hasn't been a priority, I received a shocking response that placed my daughter in a statistical box. My view on "educated specialists" has changed greatly. I dare not take anything away from someone who has a higher education or a doctorate. However, I am also highly educated, and sometimes a degree doesn't make one an expert.
Late in my pregnancy, an educated "specialist" highly pressured my husband and I to terminate Savannah based on an extra chromosome. Now a physical therapist is telling us not to worry about Savannah walking because statistics tell us a child with Down syndrome will not walk until the age of 2 or 3. Savannah just celebrated her 2nd birthday in March. The therapist quoted statistics and referred to those statistics from the 60s' and 70s.' I question the accuracy of that information. Not too long ago in the United States, children with Down syndrome were institutionalized. Let that sink in!
This is exactly why as parents we are our children's biggest advocate. This type of thought process is exactly why we advocate for the rights and opportunities of those who may not be able to speak for themselves yet. Witnessing statistics being broken daily by our children is why we must further educate the educated.
Every child is different. Every child has various needs. Every child will learn at their pace.
I'm not in a race or competition to see how fast Savannah will accomplish goals. I simply want her to do her best in her timing, just as I want for my typical children. I want the same rights and opportunities for Savannah that her sisters have. God has absolutely overwhelmed me to fight for not only my children, but others who cannot speak for themselves yet. I have basically  been told today that Savannah isn't worth investing in a walker.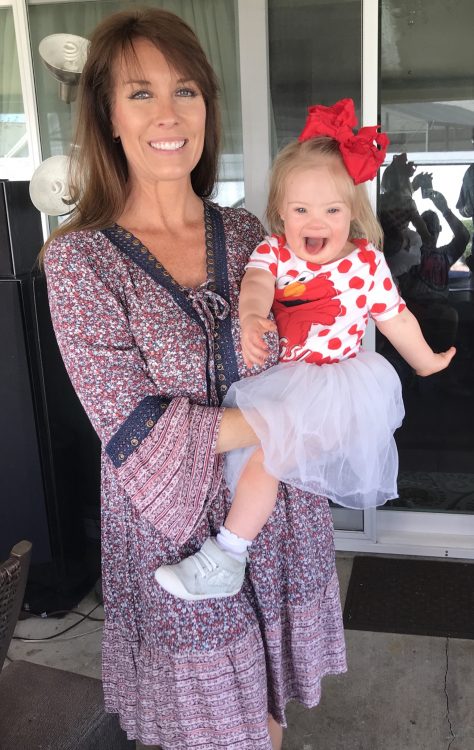 I'm here to shout your worth, Savannah! Momma will be your advocate, teacher and biggest cheerleader! If I don't get the answer I want when it's best for you, I'll keep asking. I will fight for you. I will defend you. I will pray for wisdom and seek in those I believe to be the true experts, which in my opinion, are fellow mothers and fathers who have walked this path before me. I will research and try every possible way inside and outside the "norm" to give you the best and provide what's best for you because you are worth it.