How a Soccer Team Included and Befriended My Son With a Disability
---
Sports are an important part of our culture. They provide entertainment, build communities, encourage strength (mental and physical) and teamwork. There are many benefits to having sports programs, from little leagues up to the professional ranks. As with anything, the fascination with athletics varies from person to person, from sport to sport. I'll admit, I'm not a big fan of any one sport. I like to watch certain teams (go Buckeyes!), and I love the Olympics, but mostly, I can take it or leave it. I do always enjoy the human interest type stories that evolve from the athletes' experiences; often, I think those stories entertain me more than the games themselves.
Five years ago, our very own story began with a local sports team.
In the summer of 2012, I received information about a soccer camp that was being hosted by a nearby high school soccer team. At that point, my son, Alex, was the only one of my kids who was old enough to participate, so I asked the organizers how they felt about having a camper with Down syndrome (that was back when I asked; now I typically don't give a heads up and just expect that he will be accepted into community programs). They enthusiastically welcomed him, and one hot summer evening, an almost 8-year-old Alex showed up to camp.
He promptly refused to play, and we left shortly after that.
The next night, though, we tried again; this time, a high school player took Alex aside and passed a ball back and forth with him. That passing drill somehow evolved into a game of Duck, Duck, Goose. I nervously watched, worried that Alex was distracting the high school player or the other campers, but the coach assured me he was fine and as long as he was having fun, that's all that mattered.
He had an absolute blast.
Alex finished that week of camp with a big group of new high school friends. He had a great time, and while he didn't develop many new soccer skills (by his own choice, not because of a lack of effort by the team), he found something perhaps more important: inclusion and friendship. Several weeks after the camp, I received an email from the coach, checking in on Alex and asking if there was a way the team could remain involved with him. We were so touched that they were still thinking about Alex, and we invited the soccer team to join us at the Columbus Buddy Walk that year. We were blown away by their response: the coaches, players and their family members supported our team, walked with us, posed for photos and once again illustrated how great inclusion can be. Alex was thrilled to see his new friends again, and the following summer, he returned to camp.
Like the first year, he didn't care for many of the soccer drills, but he had a ton of fun and continued to make new friends, and those new friends once again showed up to support "Team Alex" at the Buddy Walk. Soon after that, the team decided to host another camp, just for individuals with Down syndrome. This pattern has continued ever since that first year, and as Alex gets older, those friendships grow stronger. Alex's original friends from the team are now college students, but they still make a point to visit with him and exchange hugs and high fives. He feels like he's part of the team, and that's how he's regarded by the players and coaches. It's a remarkable thing to see.
This past summer, as we drove to the first night of soccer camp, I suggested to Alex that maybe he should run the soccer drills rather than play Duck, Duck, Goose. "No, Mom!" he replied. "They like to play Duck, Duck, Goose! That's how they include me." After realizing he was right, I stayed out of it. These kids get it. Alex is treated like any other kid, but they know when he needs a break or when something needs to be modified (or changed completely) to suit him. They look after him, and he looks up to them.
Alex started attending the high school soccer games a few years ago, where he sometimes finagles his way to a seat on the bench to fiercely support each and every player. That bench with his soccer pals is one of his most favorite places to be. He gives pep talks, he encourages players as they come on and off the field, and he cracks jokes to make his friends laugh.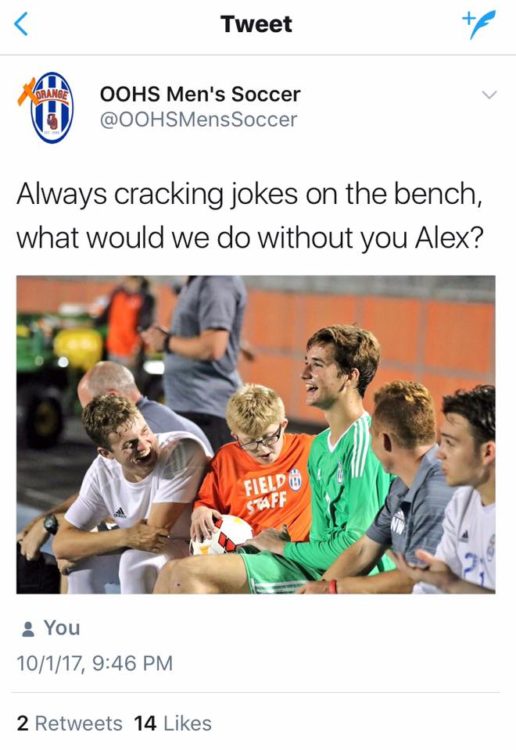 Recently, we took Alex to see his friends play their last home-game of the season, and it was Senior Night. Alex has been around the program as long as this group of seniors has, and he was really excited to celebrate them. He was invited out on the field with the team before the game started, to line up with them as the seniors were recognized, and he gave high fives to everyone as they passed by him. Admittedly, I'm a big cry baby, and it doesn't take much to make me cry; I was teary eyed as the tributes the players wrote to their families, teammates and coaches were read as they walked across the field with their parents. When one of the seniors stopped to give Alex a huge hug, I may have choked back an ugly-cry right there in the bleachers. It was such an amazing demonstration of the friendships Alex has developed with the team over the years.
It's our hope these high school kids, their coaches and their families know how truly grateful we are for them. Inclusion is not always an easy thing to accomplish, but they pull it off so effortlessly, making Alex feel like part of their soccer family. We look forward to continuing the tradition, and while Alex may not attend that particular high school, he will always be one of the biggest fans of that soccer team.
After spending this many years observing at soccer camp, watching my younger son play on his teams, and attending these high school games, I still can't claim to know much about the sport of soccer. What I do know, though, is that it brought my family a beautiful gift of inclusion, and for that, it might just be my very favorite sport.
We want to hear your story. Become a Mighty contributor here.
Originally published: October 13, 2017