How My Son With a Disability Encouraged a Stranger in the Waiting Room
---
Arriving to work this morning, I took the time to turn my face towards the sky, the rain falling lightly on my face as I approached the entrance. There's just something about walking in a light rain shower that transports me away from the stress and strain of this life. It calms me and usually leads to a reflective moment or two. Glancing at my phone, I got a notification that my Facebook memories were available to view, so I took a quick peek. The first memory took me back three years ago to the day I met H. The vivid colors and emotions of that encounter in a doctor's office waiting room that day back in 2015 came back to me fully. I can see now through the lens of perspective and time that my life's cares at that moment were more "light rain shower," but H's were a full torrent of fresh pain, her life having been ripped apart 10 days before we met. If I may be so blunt, not only was there a deluge, but a massive landslide of sorts had crashed upon her, the rain had been so heavy for her.
Recalling this memory of H, and me sitting across from her that day with my son, Allan, in his wheelchair… all I could do was tear up at the powerful moment we shared.
She sat there across from the two of us, her eyes watery, but her smile prominent. It occurred to my heart to ask, have I ever been so incredibly wounded in this life, but still found the steel in my spine to defy that pain and smile anyway? That was H that day. Having a discerning spirit, I immediately locked in on her and noticed how she observed my son in his wheelchair, making happy babbles, not minding the rest of us nor worried about whether he was too loud or not. As is usual in my life of Down syndrome and autism, Allan, for no reason I can quite understand, began to smack his head (self-injurious behavior). I tried to calm him, but he continued to cry, so I did what I've done so many times before. I began to clap my hands rhythmically as a little song and hand clapping brings Allan back to a calm state.
H's smile got bigger and she turned to look at me and said softly, "You've got a beautiful boy there. Promise me you'll enjoy him."
I shook my head to offer a light rebuttal with a chuckle, "Ma'am, he's a handful as you can see. A sweet boy, but super ornery when he wants to be."
Her response floored me and those listening in the waiting room: "My boy was ornery, too. And I wish he were still here. Twenty-two years old and I lost him 10 days ago in an ATV accident. So when I say enjoy him, I know it's hard… but please enjoy him." She brought me nearly to my knees; the air went out of me.
Without another word, the five other ladies in the waiting room, me, and the receptionist circled her, Kleenex and hugs being shared. Such a heartbreaking encounter, but remembering that moment even in this space/time three years later, I am still in awe that H found the strength to smile through a storm. How could she smile through the wind that must have knocked her over at the suddenness of his passing? How could she still be moving forward with the blinding rain of grief and loss? She shared before I was called back that her family and her church had been a rock for her, and as we made our way towards the exam room, I had to wheel Allan past her.
Without prompting, my Allan boy touched H's forearm. Something told me to stop, so I did. He then reached for her other arm and lifted them and began to clap them together. And for a moment, I stood still and let Allan do what he has been divinely gifted to do. Allan cannot speak, but Allan has taught me words do little, but actions speak volumes. I watched him and H clap hands, tears streaming down her face, her smile never dimming. She mouthed "Thank you" as we left and sitting here at my desk today, I wonder how she's doing. Three years might as well be yesterday.
Despite this life of disabilities, my encounter with H that day makes me that much more sensitive to the coworker I pass in the hallway whose countenance seems gray. It makes me more patient towards the person with an apparent attitude behind me in line. As I never know in spite of my own rain storm that surfaces with my son's health scares from ER visits to prognosis that breaks my heart into pieces, when I'll encounter someone who's endured the catastrophic.
My prayer for my heart is to choose grace and open myself to be the life raft for another soul overwhelmed by life's storm. H may never know, but her example strengthened me that day, and I heeded her advice — I do enjoy my sweet boy. And I'm grateful that despite her having seemingly lost everything in her storm, she sheltered my heart from the steady light rain.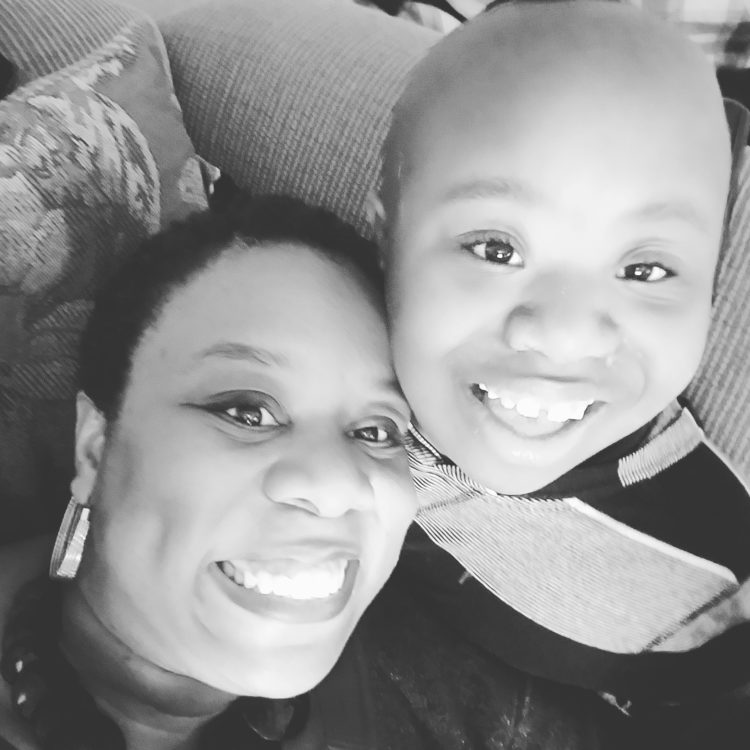 Originally published: September 30, 2018