When My Son With Down Syndrome Performed in a Dance Competition
---
Alex loves a stage. He enjoys performing, he adores the attention, and he can usually find a willing audience. When my daughter joined the competition team at her dance studio, Alex was eager to follow suit. But, the company program is audition based and requires an intense rehearsal schedule, and Alex simply doesn't have the stamina to participate in that type of program.
We are so fortunate to have a wonderful dance studio and a director who believes in inclusion. Realizing that there are students who aren't quite ready to compete at the company level, yet have a desire to experience some of the privileges that come with company membership, she introduced an Ensemble Company. Dancers in this company are not required to audition, and they take two classes per week and learn a performance piece, which is performed at one competition in the season. To compare, dancers in our studio's company program take at least three classes per week (and often many more) and compete in three to five competitions throughout the season. I was especially excited to learn about this opportunity; I felt like Alex could definitely handle that commitment.
But, being the over thinker that I am, I decided to speak with the director before signing Alex up for the program. I opened with, "Do you think this would be appropriate for Alex?" As much as he loves to dance, he has noticeable differences. His low muscle tone makes it nearly impossible for him to point his toes, and he's typically a second or so behind his fellow dancers. I was worried that maybe I was just too excited for him to participate, and I wanted to be realistic. The director, however, didn't miss a beat. "I can't see any reason why Alex couldn't do this," she quickly responded after my initial question. That was it. I figured that if she wasn't worried about it, then I definitely shouldn't be. Sometimes, even our kids' biggest advocates need reassurance from others in our communities, and she definitely provided this for me that day.
Alex became a proud member of the inaugural Ensemble Company at his dance studio. He learned a fun jazz piece, and he worked really hard. Parents in our dance studio are invited to record their dancers' progress at the end of rehearsals, in order to facilitate practice at home. This is such a huge asset for my visual learner! I text those videos to him, and he watches them, over and over, until his choreography is memorized. His teacher has commented that Alex is a student on whom she can always rely on knowing his choreography. Before we knew it, it was April and time for the Ensemble Company to join the other company dancers from our studio at competition.
I think I was more nervous than my dancers. I pride myself on being a low-key dance mom; I'm there to pay the bill and offer encouragement, but everything else is on them. But, knowing that Alex was going to be on stage, dancing in front of so many people who don't get to see how hard he works, terrified me. I considered writing a letter and asking the studio director to send it to the competition organizers, to give the judges a heads up about Alex and his Down syndrome. I just didn't want them to be mean in their comments; I didn't want to risk killing his excitement for dance because a stranger too harshly judged him. After a lot of thought, and more reassurance from our studio's director that it would all be just fine, I let it go. In the end, I realized that I didn't want them to set their expectations too low, before even having a chance to see the performance.
Alex was so proud that day to spend time with all of the company dancers from our studio, and to cheer them on in their performances. Eventually, it was his group's turn, and he received tremendous support from his dance friends. They showed him just as much enthusiasm as he'd shown them, and it was fantastic. I nervously stood in the audience (there was no way I could sit still in a chair!) and watched as he took the stage. Once the music started, and he began performing his choreography, the crowd began to cheer for him. I will never forget the moment he realized they were cheering for him and his group; his whole face lit up.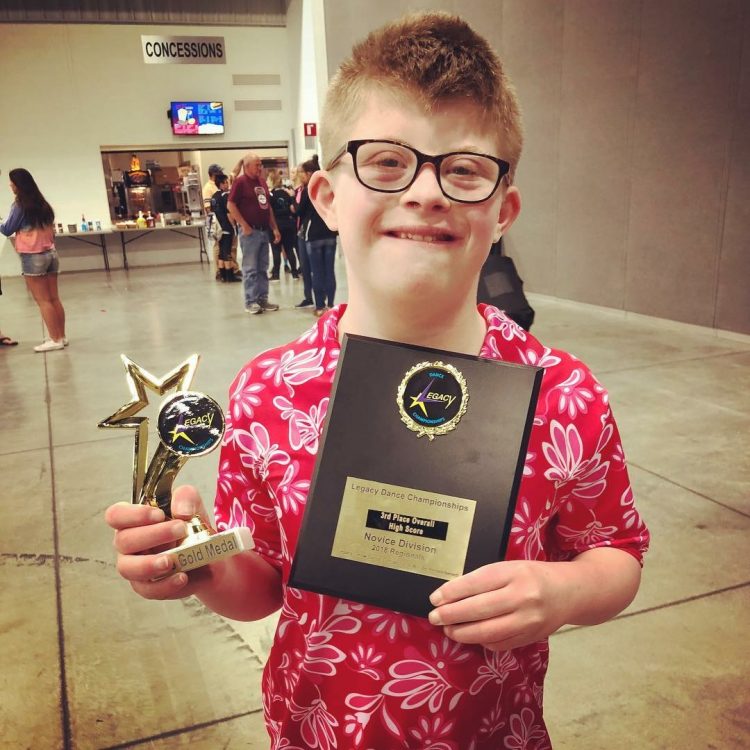 While their performance was amazing, and it was so fun to hear their scores, one of the best moments came as we were preparing to leave the competition for the day. We were walking through the building, on our way to pack up to leave, and Alex was carrying his award. Still in his costume and beaming from his latest accomplishment, Alex was stopped by another dancer at the competition. She gave him a big hug, exclaiming "You did a great job!" She then quickly went on her way, and I asked Alex if he knew her from school. He had no idea who she was. How remarkable, in such a competitive environment, another young dancer stopped and offered encouragement to Alex!
Advocacy can truly be absolutely exhausting; ensuring that Alex has every opportunity he deserves as he grows up is a lot of work. As tiring as it can be, though, these little moments of pure awesomeness really make it worth all the stress. Not only are these experiences good for Alex and our family, they are also great for everyone else who gets to witness them. We are raising awareness that people with Down syndrome are capable of so much, and in turn, we are raising expectations. These instances are exactly why inclusion matters.
Alex is looking forward to starting the new dance season soon, where he'll once again be a member of the Ensemble Company. We can't wait to see him shine, both on the stage and off.