Thank You Dads Of Kids With Down Syndrome
---
Days before World Down Syndrome Day in March 2018, Mark Johnson did the seemingly impossible by completing a double Ironman. A double ironman involves 4.8 miles of swimming, a 224-mile bike ride and culminates in a 52.4-mile run. What inspired him to undertake such a feat in rural Texas? His inspiration was his sister, Wendy, who has Down syndrome.
Although Wendy is 50, the Johnson family remembers her birth and subsequent diagnosis clearly. Doctors suggested to the family that they should leave Wendy at the hospital because of her diagnosis.  Richard Johnson, Wendy's father, said, "I did not know a lot about Down syndrome, but I knew Wendy was special and her diagnosis did not bother me."
As Wendy grew, her father treated his daughter just like his other children. The Johnson family made sure Wendy was included in school, community and church. "Wendy has been a blessing to us," Richard said. "We have learned more than we need to about human nature by watching Wendy grow and develop into a fine young lady."
Mr. Johnson is proud because he believes having a daughter with Down syndrome has made him a better father. "Wendy has taught me acceptance," Richard said.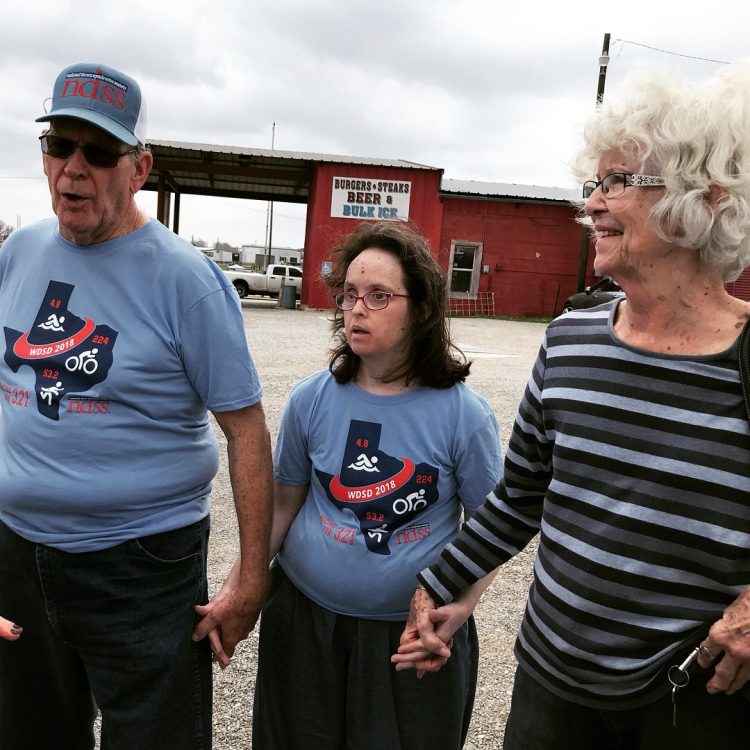 Mark observed his parents raise Wendy over the years and applied their parenting style to his own family. "My dad provided a lot of fatherly love, compassion and patience," Mark said. "Just by watching how my dad surrounded Wendy with love put something on my heart to ensure I was always fighting and advocating for my kids."
The Johnson family never allowed Wendy's diagnosis to impact or determine what she could or couldn't do. They have been changed for the better because of Wendy.
The story of the Johnson family and their love for Wendy made an impact on the Down syndrome community across the United States. Mark's double ironman feat raised almost $30,000 for the National Down Sydrome Society, the leading human rights organization for all individuals with Down syndrome.
This Father's Day, the National Down Syndrome Society (NDSS) is proud to honor all fathers of individuals with Down syndrome. We are grateful for the love and support offered by every #DSDAD to the Down syndrome community. Consider making a charitable donation to NDSS this Father's Day in honor of that super hero dad in your life. #DSDAD
Share your #DSDAD story with us on social media! Facebook: @NDSS1979 Twitter: @NDSSInstagram: @ndssorg
Originally published: June 18, 2018