People With Down Syndrome and Other Disabilities Deserve a Fair Wage
---
Editor's Note
This piece was written by Adrian Forsythe. Adrian is an individual who has Down syndrome. Adrian is the Advocacy Programs Specialist at the National Down Syndrome Society. He uses his voice to help all individuals with disabilities.
June 25 was the 80th Anniversary of the Fair Labor Standards Act of 1938. From the perspective of someone with Down syndrome, we want to highlight why the Transitioning to Integrative and Meaningful Employment (TIME) Act is so important for people with disabilities to phasing out sub-minimum wages.
The TIME Act would phase out section 14(c) of the Fair Labor Standards Act over a six-year period. Section 14(c) allows the Department of Labor to issue employers special wage certificates to pay people with disabilities below minimum wage.
The six-year phase out period would allow employers to gather resources that are already available to transition away from the certificate. Section 14(c) of the Fair Labor Standards Act of 1938 is one of many laws that is outdated and must be reformed.
We, as people with disabilities, have the right to be valued as adults contributing in our communities as those without disabilities. People with disabilities have the right to fight for an equal wage. This is a right we should pursue because people with disabilities are more alike than different. It is unfair that any brother/sister, friend or co-worker is doing the exact same job but receiving a higher pay.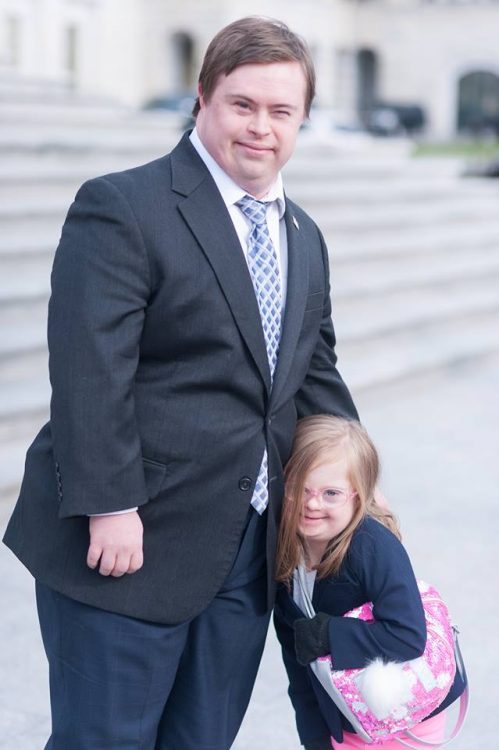 Every job has a purpose and is important, and everyone should be paid a fair wage for his or her performance at work. The Transitioning to Integrative and Meaningful Employment (TIME) Act (HR1377) proposes equal opportunities for people with disabilities. We are adults living adult lives and contributing to our communities.The TIME act is a civil rights matter because we deserve to be valued the same amount as everybody else.
I am thrilled to say working with my colleagues to advocate for people with Down syndrome really made an impact on me. NDSS is a great work environment and an ideal job for me because it is equal pay for equal work; a job where an equal share is a right that I never thought could happen. I want other people with disabilities to have the same opportunities as I have working with NDSS.
The TIME Act is important to me and the wider disability community.
Originally published: July 2, 2018