To Parents Who Think Their Kid Will Never Ride a Bike
---
I'm 52 and still don't know what I want to be when I grow up. What I do know is that I'm here to give David, my phenomenal 8-year-old son with Down syndrome, every opportunity to not just survive but thrive.
It isn't always easy. Some days when I'm completely stressed and exhausted, I'll sit down, put my head in my hands, cry and ask, "Why did this happen to me?" Then David bounds in, gives me a precious smile that lights up my heart and says, "Mom, I love you so much!" 
We've encouraged David to develop a strong, healthy attitude for life. Instead of saying "I can't," we've taught him to say, "No give up, I can do!" David's successes are pretty amazing; they include winning the first-ever STRIDER Championship bike race for special needs last June, something we never dreamed would be possible.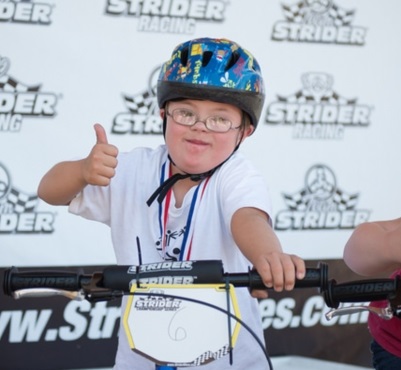 When he was little, we never thought he'd ever ride a two-wheeled bike. Like typical parents, we bought a tricycle, then tried a bike with training wheels and never thought beyond that. 
At the 2013 National Down Syndrome conference in Denver, I met Dona and Susie from STRIDER. They had a booth with some of their new, larger balance bikes. Before we knew it, David took off on a bike. You would have thought he'd practiced before. We were astonished! 
David eventually did a STRIDER Camp to perfect his skills and even learned to ride a pedal bike. It's changed his whole dynamic. Besides improved balance and coordination, he's more confident and social with peers and adults. He's excelling at dance, track, and even his physical endurance has improved. We recently tackled up a steep, 3-mile hike in the Black Hills. I think I was panting harder than him.
After witnessing David's transformation, I realized the other important job I have in this life is to encourage parents to be open to biking and other sports by saying, "Yes, my child can do this! I will give them the opportunity." 
I'm now a coach for the Special Olympics Young Athletes Program and STRIDER Camps. These two programs have reached many individuals who have been given the opportunity to succeed — and are having fun doing it. We've transitioned several kids with special needs to pedal bikes without training wheels. Younger kids do seem to have less fear. It's important to get kids on bikes early, so we even have a class for 3- to 5-year-olds.
One little boy in my current class has emotional challenges and is afraid of praise or excitement. If you get excited when he does something, he'll cry. His parents can't even sing "Happy Birthday" to him. Last week, he was the first one in class to do the "one foot take off" on his bike, and it was so amazing for him. I gave him the OK sign with my hand, then cautiously asked if I could get excited and do a dance behind him. He got a big smile on his face and nodded. So I did. He's not only learning to ride a bike but opening up his heart.
That experience made my day and reinforces why I'm here: to teach kids — and their parents — to say, "Yes I can," no matter what others may tell them.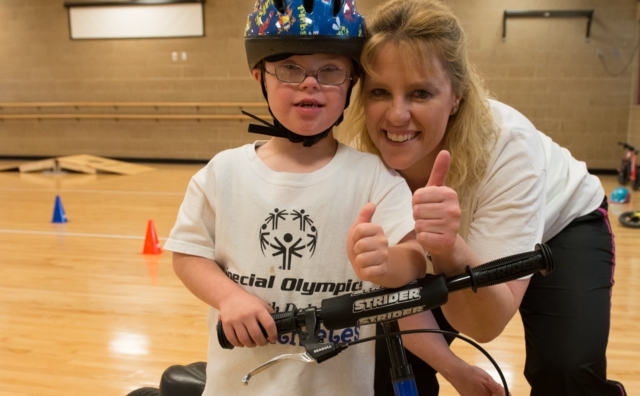 The Mighty is asking its readers the following: Describe the moment someone changed the way you think about disability and/or disease. If you'd like to participate, please send a blog post to community@themighty.com. Please  include a photo for the piece, a photo of yourself and 1-2 sentence bio.