To the Girl Who Said She's Sorry My Sister Has Down Syndrome
---
"You have a sister with Down syndrome? Oh, I'm sorry."
I was a freshman in college when this happened. Now, going into my senior year, I'll never forget what that girl said to me. There is no way she remembers this conversation. I wish I gave her a reason to.
I didn't really know what to say back. I probably just gave her a weird look and changed the subject. But I shouldn't have.
First of all I should have said having a sibling with a disability is not something to be sorry about. Marie is my little sister and she is the best thing that has ever happened to my family. Marie is always happy and has so much love to give.
One day, I saw my mother looking at her and saying to herself, "Poor kid. She has no friends but is still so happy." It's true, essentially my sister has just one friend, Jasmine, but that is all she needs. She loves Jasmine so much and always wants to see her, buy her presents or invite her over. Trust me when I say I hear the name Jasmine five times a day.
Marie is hilarious. She calls my mom and dad by their first names, Michael and Pati. You can really tell who runs the house. Move over Bruce Springsteen, because Marie is the boss here.
She is also so smart. She may not be able to do what most 10-year-olds do in school, but she always manages to impress me. The other day, her school bus driver got lost on the way home. Marie took over and showed him how to get not only to our house but to Jasmine's as well.
She is incredibly selfless and loves life. She lives every day like it's a new day and does not understand why everyone else can't love life as much as she does. She gets this look of confusion on her face when she has seen me cry. She can't really speak full sentences, but her actions speak louder than words. If I am crying, she runs over to hug me, asks who or what made me cry, and then she yells at the imaginary person in front of her for hurting me. Then she hugs me again and says "All good."
One of my favorite memories with her is from last Christmas. She loves presents and unwrapping them. People get upset around this time of year because they don't get what they asked for on their Christmas lists. Marie got way too many presents that year but nothing beats the reaction to her favorite present of all. My uncle handed her a box and in it was a bag of Cheetos as well as a dollar bill. She ran around hugging everyone screaming, "Money! Food!" So simple, yet so perfect.
So, the dollar was spent and those Cheetos were eaten but one thing is for sure, Marie, as well as anyone who has met her, is not sorry she has Down syndrome.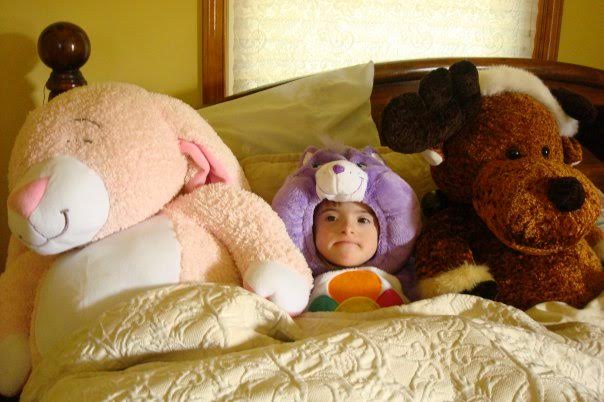 She has inspired me to embrace life as it is. It's a beautiful thing and I'm happy she's living it to the fullest. More importantly she has given my life more meaning. I could not thank her enough, and I can't wait to see where life takes us.
The Mighty is asking the following: Describe a moment you were met with extreme negativity or adversity related to your disability and/or disease (or a loved one's) and why you were proud of your response — or how you wish you could've responded. If you'd like to participate, please send a blog post to community@themighty.com. Please include a photo for the piece, a photo of yourself and 1-2 sentence bio. Check out our "Share Your Story" page for more about our submission guidelines.