When a Woman Commented on My Daughter Growing Up in an 'Evil World'
---
A friend of ours was married today. This was one of the first major social outings we've had with our daughter, Elva, so she generated a little bit of interest, mostly from people we knew but had yet to see since her birth. At one point, Elva was lying in her pram when I walked a few steps away to pick up a drink and returned to find two older women standing over her. I have no idea who they were, and they didn't introduce themselves to me at all. I was a little unsure what to do, so I wedged myself in and started stroking her head. They smiled at me and told me how lovely she was, and then the older of the two said, "It's a shame she has to grow up in such an evil world."
I really didn't know what to make of that. Was it a religious statement? "Children growing up in this day and age have to contend with an exceptionally sinful world." Or was it intended to refer to Elva's Down syndrome and that she would have an especially hard time growing up in our society? Likely it was both. I gave a nervous chuckle, half nodded and stroked her head, but I wonder if I should have said something.
You see, I believe there's never been a better time in history to be born with Down syndrome. We have great intervention programs, treatments, supplements and even funding in many countries. Advancements in medical science can mean longer and more fulfilling lives. Routine institutionalization is no longer practiced in most places, and people are starting to realize that those who have Down syndrome are capable of being productive and useful members of society — we just need to give them the chance. But all that being said, we still have so far to go.
Recently I saw a video of a woman with Down syndrome singing the song "Colors of the Wind" from the Disney movie "Pocahontas." I learned all the words to that song as a kid, but it was only while watching this woman sing that I realized how just how incredibly poignant and moving the words are. "You think the only people who are people, are the people who look and think like you. But if you walk the footsteps of a stranger you'll learn things you never knew you never knew." Apt words for any kind of prejudice, really.
I will be the first to admit that I didn't understand the depth of my own prejudice toward people with disabilities and had no concept of the harm it can cause before the birth of my daughter.  Have you ever used the word "retard" in a derogatory fashion? Or perhaps the word "special? has come to replace it in your vocabulary. "It's a colloquialism," I hear you say. "There is no negative intent behind it. I'm not a bigot." And perhaps you're not. Perhaps you hold no actual malice toward people with a cognitive impairment. Perhaps you have friends or family members who have disabilities and you love them very much. That's wonderful, and I'm glad, but that doesn't change the fact that there is a prejudice that assumes people with a cognitive impairment are inept or worthless. When you use the words "retarded" or "special" as synonyms for those words, it's not funny or clever. It's not humorous or satirical. It's perpetuating an ugly and harmful prejudice.
This pervading prejudice means that society doesn't always see people like my daughter as functional people. They see Down syndrome and consequently might see mental disability and outdated, upsetting stereotypes from the days of institutionalization. But nowadays, people with Down syndrome also have more opportunities. Given access to Early Intervention services and appropriate support systems, people with Down syndrome can flourish. These days many people with Down syndrome can have jobs and work to support themselves. They can live out of home, keeping house and cooking for themselves with competency.
Our children have so much potential, but they have to fight to fulfill that potential in a world that still questions their capabilities and comprehension at every turn. So I think I agree, it's a terrible shame that Elva has to grow up in such an evil world. But boy am I glad she gets to grow up.
Think about these other lyrics from "Colors of the Wind": "How high does the sycamore grow? If you cut it down, then you'll never know."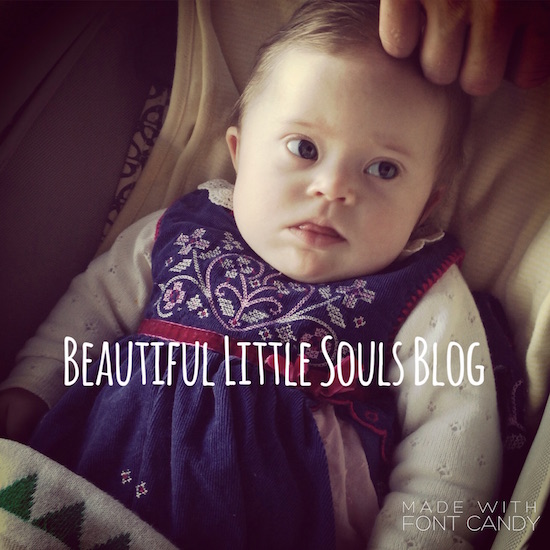 Follow this journey on Beautiful Little Souls Blog.
Originally published: August 14, 2015