When I Saw My Son With Down Syndrome on Times Square's Big Screen
---
As the mother of a child with Down syndrome, I sometimes feel like advocacy/raising awareness is just as much a full-time job as motherhood and my full-time job. But sometimes you have those really great snapshots in time when you feel you've made strides in advocacy and awareness, and those moments provide the fuel you need to get through the times it seems allies are scarce.
Each year, the National Down Syndrome Society (NDSS) runs a photo contest where pictures of people with Down syndrome are chosen to be part of a video that plays on the big screen in Times Square. The video, paired with the NY Buddy Walk, serves as a sort of kickoff for October's Down Syndrome Awareness Month.
We submitted a picture this year, choosing one that followed the year's theme: inclusion. It's hard to imagine what one picture captures inclusion, but for us, it was a rather ordinary picture — a candid photo taken just after a soccer game. My son, Evan, played on a team of typical kids, and after the game, he stood with his snack next to his teammate and cousin, Andrew. For us, that ordinary picture just resonated, and we submitted the photo.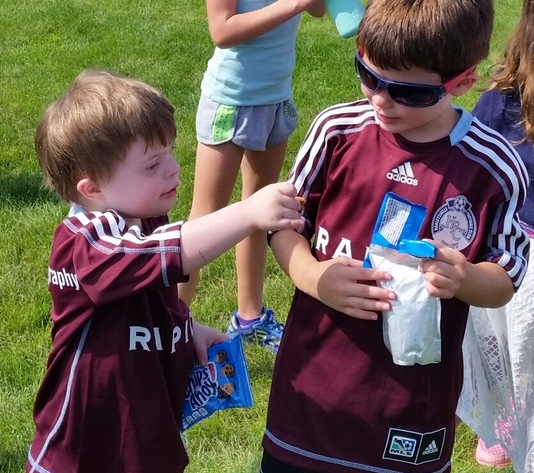 When we received the message that our picture was selected for the video, we were so excited and touched!  Our son would be part of something big that would be an awareness tool. For us, the message is huge. It's the thread that holds the fabric of society together: inclusion. We booked our hotel. We were going to New York.
For us, being selected for the video was an incredible honor and thrill, and it became even more meaningful when a local reporter contacted me to talk about Down syndrome, the picture we submitted and the video. Just a day later, my son and nephew were in an online story, and the next day, they were on the front page of the Lansdale Reporter and were in another paper, too.
On September 19, we stood with hundreds of people with or touched by Down syndrome and stared up at the enormous screen. While we watched, New Yorkers, probably many of whom are not so closely touched by Down syndrome, saw our children, saw the facts about Down syndrome playing on the screen and maybe learned a thing or two about the great capabilities of people with Down syndrome.
Throughout the audio-less video, the crowd provided its own soundtrack with cheers at the moment someone saw themselves, their loved ones or the new friends they made standing near them on the screen. At 42 minutes and 49 seconds, we saw Evan's photo on the big screen in Times Square. It was a truly proud mama moment that brought tears to my eyes as I cheered, snapped pictures and tried to point out the picture to Evan. He missed it, but we have the newspapers, the pictures and the video to show him.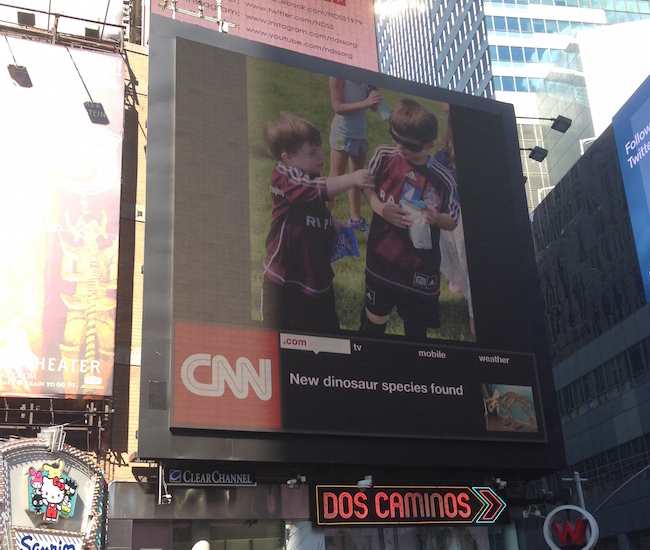 After the video was over we went to Central Park to participate in the NYC Buddy Walk, where we continued our awareness-raising activities. We'll be participating in our own local Buddy Walk (the Buddy Walk for CHOP) on October 4. We'll be celebrating abilities, awareness, and acceptance for people with Down syndrome. 
This time was filled with so much celebration of acceptance and awareness. Sometimes it seems like you really have to search for these things. Other times it's plentiful, and when it is, it can breathe so much more energy into you for the times when it's not. I wish for all of you similarly wonderful experiences in acceptance and awareness.
Originally published: September 25, 2015