When Socks Took on a Deeper Meaning for My Daughter With Down Syndrome
---
World Down Syndrome Day is celebrated annually on March 21, or 3/21, to represent the three copies of the 21st chromosome that people with Down syndrome are rockin'. It is a call for awareness, and more importantly, acceptance. We wear funky, mismatched socks to start a conversation.
The first World Down Syndrome Day we participated in was when Everly was just 4 months old. She was my snuggly, sweet newborn. We "rocked our socks" and I shared our story on social media. I read "47 Strings: Tessa's Special Code" by Becky Carey to my first-grade class and shared what it meant to have Down syndrome. They had lots of questions. They had watched my belly grow and saw pictures of her as a tiny newborn while I was on maternity leave. They were invested in our story and accepting people with differences. I received emails from parents that afternoon about the story of a little girl named Tessa their child listened to, and how Everly had something called Down syndrome, and she is more like them than different. I sprinkled a bit of awareness onto 18 6-year-olds that day, who shared it with their friends and families. I cried happy tears reading those emails and hearing them on the playground with friends from other classes. This was why World Down Syndrome Day was important.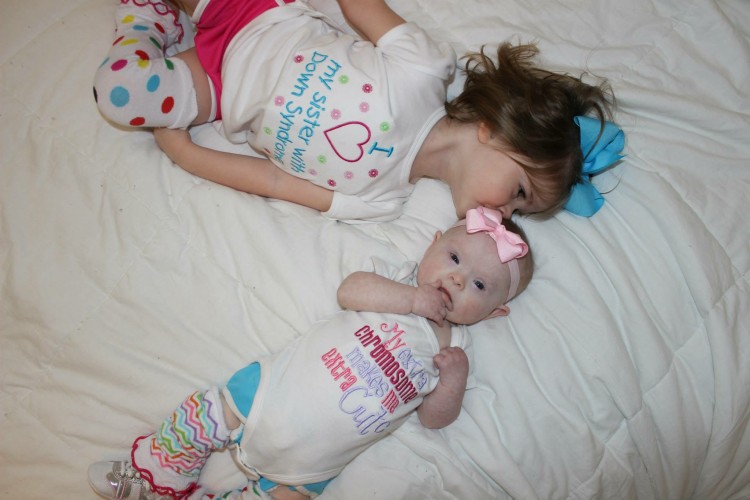 Wearing funky socks is about more than a silly outfit. It's about starting conversations. It's about spreading hope and acceptance to new generations. It's about Everly and her homies with extra chromies. We're investing in their future and shaping their present with love.
This is our third year participating in World Down Syndrome Day. Everly is now a spunky 2-year-old with loads of determination and sass. This year we will be rocking our socks and posting our pictures with #MyFriendsMyCommunity to join the movement. Please join us in this conversation; our children depend on it.
Follow this journey on Happily Everly After.
The Mighty is asking the following: How would you describe your disability, disease or mental illness to a child? If you've done this before, tell us about that moment and the child's reaction. If you'd like to participate, please send a blog post to community@themighty.com. Please include a photo for the piece, a photo of yourself and 1-2 sentence bio. Check out our Submit a Story page for more about our submission guidelines.
Originally published: March 21, 2016