Why Media Stories About People With Down Syndrome Frustrate Me
---
I've read stories about children with Down syndrome landing modeling contracts. I watch individuals with Down syndrome on the screen in acting roles. At conferences, I listen to adults with Down syndrome give speeches about their lives.
These are good stories. They change people's perspectives on Down syndrome and help fight stereotypes. This matters to me since I have a 9-year-old daughter with Down syndrome.
But then there's a part of me that gets frustrated with these messages embraced by the Down syndrome community and the media. Yes, these individuals have certainly overcome obstacles and should be celebrated. But what about my daughter and the countless other children like her? Do we only want to put the extra-special, talented individuals with Down syndrome front and center?
I know there may be unborn babies' lives at stake when trying to give parents hope. I know there may be many in the public with no knowledge of Down syndrome who need to see there are people with Down syndrome who lead productive and extraordinary lives. But sometimes I feel like I should hide in the corner of the room with my child when it comes to being an "example" of Down syndrome for others.
Jaycee has very limited speech; she's incapable of standing before a crowd and reciting even one sentence, let alone an entire speech. Jaycee will seldom look at me when I take a picture of her and will almost always have her head tilted to one side. Jaycee placed fourth in the softball throw at the Special Olympics state meet, but there were only four competitors. Jaycee's favorite thing to do in a store is to start an impromptu race with me. Oh the joy of sprinting past bananas and wondering if your abandoned cart and purse will be there when you get back.
Still, the love I have for my daughter is beyond words. Like any parent, I have my times of frustration, but we overcome them together. She doesn't have to do anything to earn my love and respect. Jaycee is an important person because she is a person.
Too many times, this world measures success by one's education, job, marital status, sports achievements and unique abilities. Those of us with children with a developmental diagnosis are often screaming that there's more to life than this, but our screams manage to get the attention of only a few.
Support comes from all directions celebrating those with Down syndrome with extra-special talents who seem to meet the world's view of success. These people have achieved something special indeed. With all the celebrating, it appears for the moment that only those who excel with a diagnosis really matter.
Again, I must ask the question. What about people like my daughter? Are we ever going to get to the place in society when the lives of all people with disabilities matter?
I for one am picking up Jaycee and leaving that corner we've been hiding in for too long. I'm not sure why I fell into the trap of believing that she was only worthy of recognition when she did something extra special. She's worthy without doing anything at all.
I believe we are the example people need to see and hear. Our family and extended family have embraced Jaycee. We fervently pray for her to live when she's sick in the hospital. None of us can imagine life without her. Jaycee gives our family reasons to laugh, smile and feel loved. That is her extra-special ability.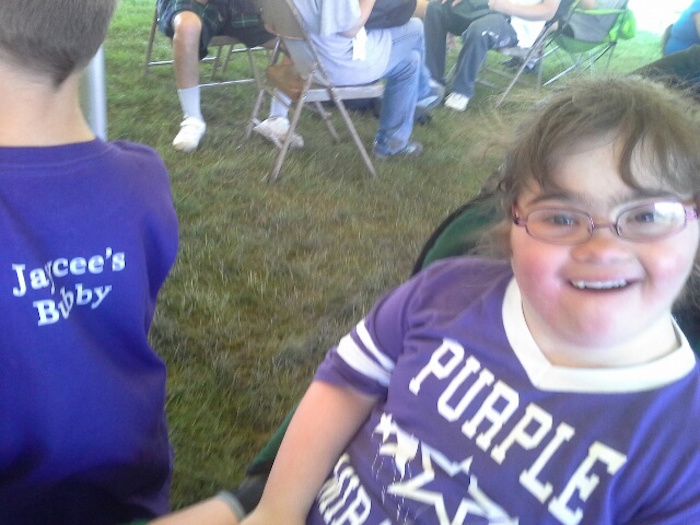 Follow this journey on A Special Purposed Life.
Originally published: October 14, 2015