When a Woman in Target Stopped to Talk to My Son With Down Syndrome
---
I never feel as hard-pressed as a mom as I do on Tuesdays. It's early morning preschool drop-off, back-to-back therapy sessions and one leftover hour to check something off the to-do list before pick-up. So off to Target I went this week with my exhausted 14-month-old in tow.
I pulled out all the stops. Peek-a-boo, tickle monster, letting him chew on something he shouldn't have… None of it worked. That was until I was on my last aisle, the home stretch, when a woman stopped my red buggy in its tired tracks and started talking to Anderson.
Of course, the tears magically stopped and he turned on all of his charm. She looked at me and said, "I have a 'special' son, too."
I'm sure she saw the stunned look on my face. I've brought up the fact that Anderson has Down syndrome to a few strangers before, but it's never been the other way around.
She told me about all of the therapies she used to take her now 23-year-old son to, the advocacy group she joined — that I myself am now a part of. She talked about the busy-ness of her younger-mom life and looked at me and said, "I consider Down syndrome a gift."
Now the tears were pouring down my face. Standing next to the bananas and avocados, we hugged as I choked out, "I agree."
She told me how she treated her son the same — that he faced consequences when he got into trouble — echoing sentiments my husband and I share. She added, "I told everyone, we were climbing the same mountain, it was just going to take us longer to get there."
Anderson danced the whole time. She told me she knew she was supposed to meet us that day. She called Anderson an angel.
Angel can be translated to "messenger." On a Tuesday in Target, I feel I met one.
She delivered a message I needed to hear. In the stress of am I doing enough for him, in the uncertainty that lies ahead, she told me that I'm on the right track. I'm on the right track because I'm loving him. I'm loving him by trying. Trying to do what I believe is best for him. But also by loving all of him. Embracing the entire gift that is Anderson.
On a Tuesday in Target, I met an angel. Her name was Karen.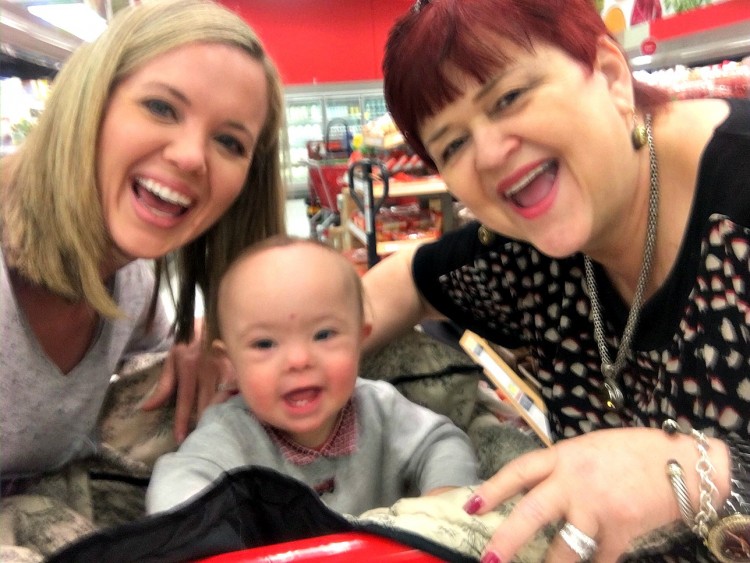 Follow this journey on News Anchor to Homemaker.
The Mighty is asking its readers the following: Describe the moment a stranger — or someone you don't know very well — showed you or a loved one incredible love. If you'd like to participate, please send a blog post to community@themighty.com. Please include a photo for the piece, a photo of yourself and 1-2 sentence bio. Check out our Submit a Story page for more about our submission guidelines.
Originally published: March 17, 2016