Woman With Down Syndrome Retires After Working at McDonald's for 32 Years
---
Freia David has been working the fry station at McDonald's since 1984. Now, after 32 years, David, who was born with Down syndrome, is retiring. David, now 52, has been a regular fixture at the fast food restaurant in Needham, Massachusetts, since she was 22, working five days a week from 11 a.m. to 2 p.m.
As part of her job, David worked during the lunch time rush manning the fry station as well as cleaning-up and interacting with customers. "Freia's smile, her enthusiasm, and her daily hugs made our restaurant more than just a restaurant," Timothy McCoy, Owner Operator of the Needham McDonald's, said. "She is loved and respected by all of our employees, customers, and anyone she has come into contact with. We are so sad that she is retiring, but very happy for the time we had to work with her."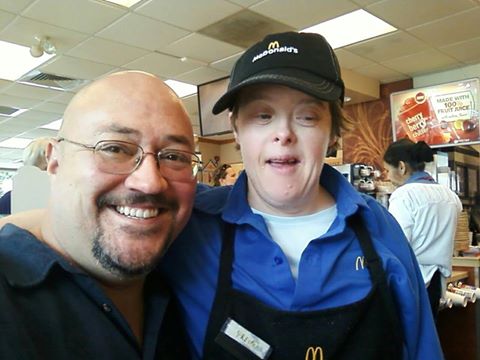 David began working at McDonald's with the help of the Charles River Center, the group home where she lives. Today, the center continues to help people with developmental disabilities find jobs. More than 80 of its clients  hold jobs at companies such as TJ Maxx, CVS, Bertucci's and other local businesses.
"Her long-term employment is a fantastic example of how people with developmental disabilities such as Down syndrome can lead productive and fulfilling lives and contribute to their communities," said Anne-Marie Bajwa, chief operating officer at the Charles River Center.
Now that she is retiring, David will be participating in the center's day habilitation program, which provides physical, occupational, speech and music therapies as well as cooking, art and exercise programs.
Originally published: August 29, 2016