The Time My Son Taught Me More About Autism Than Anything I'd Read
---
"Ma-ee whats hearts mean?"
"Why don't you tell me?"
"Ma-ee hearts, hearts, its mean love Ma-ee."
So says the amazing wonderboy. Hearts mean love. Whenever he says this, and it is quite often because there are hearts everywhere, he gets this open, innocent smile that spreads into his eyes. He has the most incredible smile.  He's latched onto this symbol and can spot them a mile off. In a room full of paraphernalia and dust collectors, he bee-lines to the hearts and says, "Look Ma-ee look, hearts, its mean love."
He came to my home when he was 6 years old. Stuttering, crossing fingers, twirling and just plain scared. We had transitioned a couple of months where I visited him at his foster mom's house and he had come down to visit us. But I was such an unknown to him.
Years before I had decided that I wanted to adopt again. I had adopted my daughter when she was almost 6 and was now a beautiful, well-adjusted 18-year-old. I thought we were ready. I got my foster license specifically to adopt an older child and then waited and waited. No referrals. I contacted people across the state and said I was here, wanting to provide permanency. I felt like I was in a room with hundreds of other foster and potential foster parents jumping up and down in the back, waving my arms and yelling across the din, "I want to adopt! I want to give a child security," but I waited.
As I was sending my homestudy across the state and outside the state to any contact that was mentioned, I talked to Erica, the recruiter for Wendy's Wonderful Kids, a remarkable program started by the Dave Thomas Foundation. Erica and I touched bases a couple of times within a few months and then one day she sent me an email that said, "There's this little boy, but I have to be honest, he has autism." Autism? What did I know about autism? Absolutely nothing. So I read and read and cried and laughed. I asked Erica for more information and she sent a picture of a beautiful little boy, dark hair, dark, soul-filled eyes. And a hint of a smile.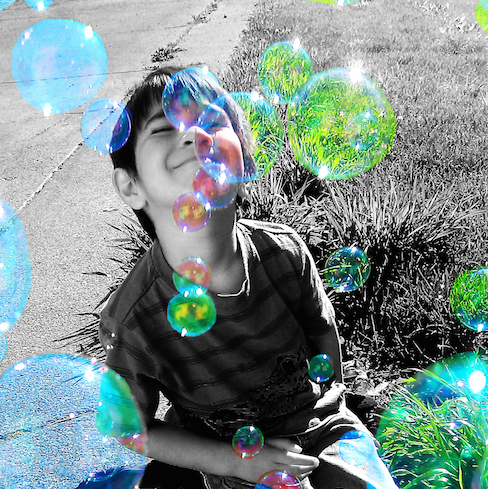 I received some records on him. Could I really do this? I read a little about his past life and inside, then and there, I knew I could give him security and advocacy. Love was a given. It is easy for me to love a child, but security is what he and every child is entitled to that they all aren't getting. I read his records. Wow, they scared me. I still didn't have a grasp on what autism meant, and then the paperwork mentioned developmental and cognitive delays. I envisioned essentially a child who would have no concept of what was going on in the world. But, I remembered that hint on his face. Something unique was brewing under that smile and that flash in his eyes that you could see sparkling in the picture. I went to meet him.
He brought me his favorite Dr. Seuss book and I read to him and made him laugh. He twirled and talked into a fan and laughed at his voice and turned and looked at me, right in the eyes to see if I was laughing also. What? I was so confused. This wasn't the autism I read about. The autism I read about was the lack of connection. (I think I was reading the wrong book…) This was a little boy who was funny and maybe not so articulate at times but loved to laugh.
He moved in with me. Months later, we found his true diagnosis through genetic testing and I understood even more about his "flavor" of autism. He has a duplication of his fifteenth chromosome, what's commonly called Dup15q syndrome. I realized this is a part of him and always will be. It is in his chromosome makeup, just like dark brown eyes and brown hair. Soon after getting his results, I adopted him. It has been three years since we finalized the adoption. He struggles at times because there are parts of life he doesn't understand, but there are also parts of life that he understands in a very unique way. I love hearing those bits of wisdom. He is quirky, funny, loud, an awesome mimicker of noises, energetic, a brother… he is my love and he is my son!
In the early morning, he soars out of bed and pounds down the hall. Then he throws himself into my arms. I hold him for his special early morning ritual. I stoke his back and tightly hug him, not uttering a word. Seconds go by with his arm wrapped around my neck. His breathing is slow. I can feel his heart beat and then he says, "Ma-ee, there are hearts coming out of my head." And I tell him I love him too.
The Mighty is asking the following: Share with us the moment, if you've had it, where you knew everything was going to be okay. If you'd like to participate, please send a blog post to community@themighty.com. Please include a photo for the piece, a photo of yourself and 1-2 sentence bio.
Want to end the stigma around disability? Like us on Facebook.
And sign up for what we hope will be your favorite thing to read at night.
Originally published: May 5, 2015