The Complex Ways Dyspraxia Can Affect Children and Adults
---
Dyspraxia is a neurological disorder that impacts an individual's ability to plan and process motor tasks. As a result things like writing, arts and crafts, riding a bicycle, eating properly, recess, getting dressed, communicating clearly and other basic activities are often very difficult. My first childhood memory of the challenges caused by my disability was being made fun of by others for not wanting use to the monkey bars and for swinging very low and slow. In my parents' eyes this meant the beginning of a long and lonely life. For me, the hardest part was struggling to communicate clearly as I was reminded of that struggle every day. I knew what I wanted to say, but the muscles needed for clear speech just couldn't coordinate correctly. As a young kid, I kept thinking everything was so frustrating.
Dyspraxia often starts becoming noticeable because of speech delays followed by the gross and fine motor skill delays I mentioned. The formal name for this is apraxia of speech, an uncommon speech disorder in which a child has difficulty making accurate movements when speaking or performing other oral motor skills. It not only brings communication challenges, it also makes it difficult or is even impossible to blow bubbles, lick ice cream, swallow and smile properly.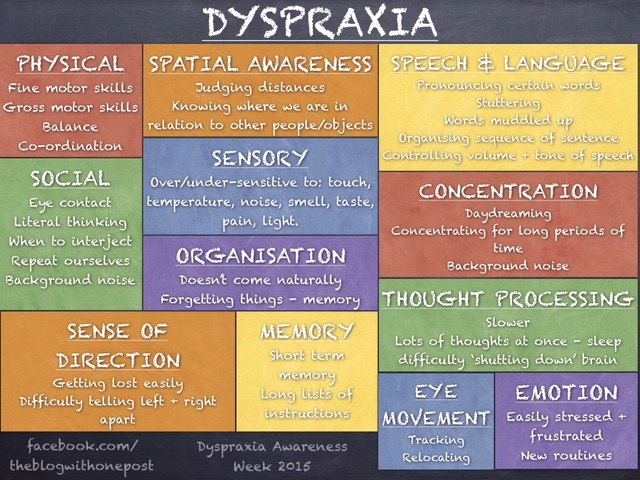 These weaknesses can lead to disappointments. Due to the multiple motor skills challenges it is not unusual for a child to require intensive individual speech, occupational and physical therapy, which can be challenging as young children often struggle persevering through one-on-one interactions. Individual therapy, though painstaking at times, can allow you or your child to make more significant progress, so services can become less intensive and hopefully eventually end. With that being said, it is important to have your child start services early so they can express their needs appropriately, along with getting them involved in activities at a very young age to help build social acceptance. Joining cross-country and track teams at my school helped me make significant strides and made a huge difference. It is important you don't try to overcome everything at once, as in my experience, you need downtime and social interactions too.
Since dyspraxia is a range of co-occurring difficulties, it can also have serious negative impacts on daily life. There are safety concerns as your child has a higher risk for accidents compared to other children their age. Due to oral motor weaknesses, they have an extremely high risk for choking as it makes chewing and swallowing harder. One of the most common choking situations occurs when eating a hot dog with a roll or eating meat. Due to sensory challenges which cause extreme sensitivity to temperatures, swallowing something really hot or cold like having a very cold glass of ice water or eating a dish like chili can also be hard. Unfortunately, when this happens it can lead to anxiousness among your family and those around you as it's unpredictable.
In addition, since fine motor skills are hard at mealtime, it is not uncommon to cut yourself with a knife. Using a pair of scissors can be dangerous as well. In terms of gross motor deficits, riding a bike is the most common place where injuries can occur. The amount of motor skills required is well beyond the ability of most with the disability. This can lead to multiple frustrations, as it's supposed to be fun. Overall, the most important thing you can do if you have dyspraxia is be honest about your personal needs. It will help prevent you from being physically or emotionally hurt.
The journey of having dyspraxia will be different for everyone. Some will struggle in all areas of motor skills; others will just have struggles in one area. Dyspraxia often coexists with other disabilities such as autism, emotional disturbance, nonverbal learning disability or ADD. Again, the most important thing you can do is begin services early so you or your child can gain as many skills as possible. Always remember no matter how hard it is, it is so important to stay involved and never give up, as I can tell you personally it leads to successful outcomes. If you are feeling discouraged, remember Daniel Radcliffe has dyspraxia and became a successful actor. He is truly a great example that no matter how hard things are, you still have wonderful talents and you should embrace them.
Getty image by WIP-Studio Lublin.
Originally published: February 11, 2019